Social media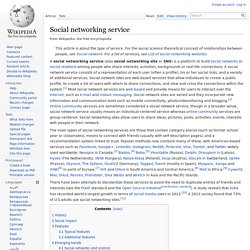 A social networking service is a platform to build social networks or social relations among people who, for example, share interests, activities, backgrounds or real-life connections. A social network service consists of a representation of each user (often a profile), his social links, and a variety of additional services.
30+ Twitter Tools for Research Posted by Ana ADI on November 6, 2010 · 28 Comments NOTE: If you find this blog post useful please bookmark it. I am planning to include here the latest info on Twitter tools. For some time now, I am doing my best to participate in a Twitter chat dedicated to social media measurement, #smmeasure, as a means of exploring what practitioners do and of discovering new tools. Last Thursday (November 4) the discussion who brought together marketing/communications practitioners, bloggers and representatives of social media measurement companies have focused on influence and influencers – identifying them, measuring their influence/reach, engaging them.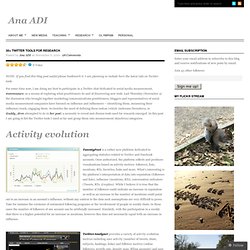 Nokia leads other Smartphone Manufacturers with its high Net Perception Score in May 2012. When SocialNuggets analyzed social conversations on smartphones, we found that conversations around Nokia smartphones are more positive than negative. People seem to be satisfied with the Nokia smartphones overall.
Social Nuggets | Real-time Market Intelligence from Social Data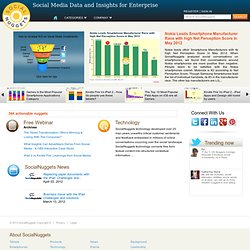 Understanding how your brand is doing online is about more than clicks and page views. It's about the audience. Nielsen's comprehensive and innovative online measurement methodologies analyze consumer behavior and trends, advertising effectiveness, brand advocacy, social media buzz and more to provide a 360 degree view of how consumers engage with online media.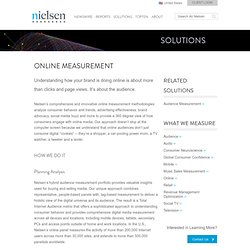 Nielsen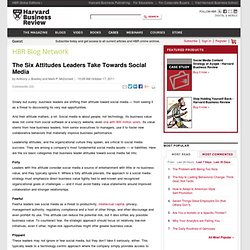 by Anthony J. Bradley and Mark P. McDonald | 10:08 AM October 17, 2011 Slowly but surely, business leaders are shifting their attitude toward social media — from seeing it as a threat to discovering its very real opportunities.
19,608 views Featured in: Business, Technology OK, maybe not EVERYTHING, but a lot.... OK, maybe not EVERYTHING, but a lot.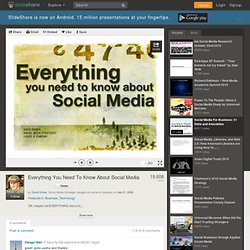 Everything You Need To Know About Social Media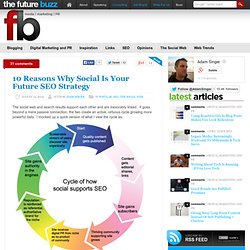 10 Reasons Why Social Is Your Future SEO Strategy
The social web and search results support each other and are inexorably linked. It goes beyond a mere passive connection, the two create an active, virtuous cycle growing more powerful daily. I mocked up a quick version of what I view the cycle as: The link between search and social media only becomes tighter as the engines and the social web innovate and integrate together in ways which make both more valuable. From the standpoint of staying relevant and at the edge, the engines and the social web need each other. They are working together for the benefit of users, but site owners can benefit too by creating a strategy embracing the connection.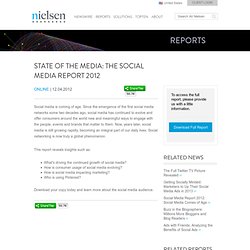 Social media is coming of age. Since the emergence of the first social media networks some two decades ago, social media has continued to evolve and offer consumers around the world new and meaningful ways to engage with the people, events and brands that matter to them. Now, years later, social media is still growing rapidly, becoming an integral part of our daily lives. Social networking is now truly a global phenomenon.
Home
The social media ROI: It's not about immediate results
Remember a week or two ago when I told everyone to invite me to join your mafia in Crime City on Google+ Games because I just loved it so, so much? Yeah. Stop that. There's no way for me to individually mute the other games, so people are inviting me to a bunch of crap I don't even play — cough, CityVille, cough. This inevitably means that the invites I actually want to respond to get lost within the floods of "so-and-so has sent you a message", which means that there are way too many actual notifications to individually sort through. This on top of several other minor issues — Phew!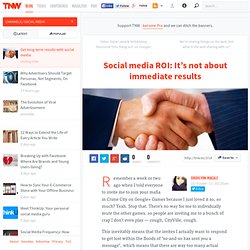 Joe Devine is the Chief Executive Officer of The Search Engine Guys, LLC (TSEG), a full-service web marketing company based in Austin, Texas. Facebook and Bing announced last week an agreement that would allow Microsoft's search engine to return results based on the Facebook "Likes" of the searcher's friends. Additionally, Google recently began including Twitter updates in its search returns. It's a natural innovation that fits into the business models of both companies and takes the trend of individualized search results to its next logical level: results tailored to the searcher's existing social footprint.