Une autre Vie
ZEGG-Belzig ZEGG (Zentrum für experimentelle Gesellschaftsgestaltung or Center for Experimental Cultural Design) is an ecovillage located on the outskirts of Bad Belzig, Germany, about 80 km (50 mi) south-west of Berlin. It is an intentional community and an international seminar centre aiming to develop and implement practical models for a socially and ecologically sustainable way of living. To do this, it integrates personal growth work, the establishment of a cooperative and environment-friendly way of living and participation in political issues.
ZEGG (community)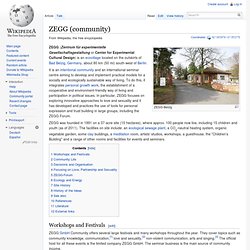 Gilles Balbastre réalisateur Ancien pigiste à France 2, France 3 et M6, Gilles Balbastre a tiré de cette expérience une analyse lucide des ressorts socio-économiques de la profession, décrits dans Journalistes précaires (Le Mascaret, 1997), ainsi qu'une détermination ferme à corriger le « parti de la presse et de l'argent » (il fut directeur de la publication du Plan B, un journal de critique radicale des médias). Il est l'auteur d'une série de documentaires consacrés aux rouages et aux effets de l'ordre libéral, tous diffusés sur France 5, dont Le chômage a une histoire (2001), Moulinex, la mécanique du pire (2003), EDF, les apprentis sorciers (2006) et Fortunes, Infortunes (2008).
Les nouveaux chiens de garde
30 Einwohner / Slowenien/Italien, Ankaran - Venedig Eine Gruppe amerikanischer Künstler hat das Unmögliche möglich gemacht: Auf drei aus Müll und Schrott gebauten Flößen traten sie die Reise von Slowenien nach Venedig an. Sie durchquerten die Adria, um an ihrem Zielort die Biennale zu erobern. Die Eingebung zu ihrem Projekt "Swimming Cities of Serenissima" hatte Caledonia Dance Curry, auch bekannt unter ihrem Künstlernamen Swoon, bei ihrem ersten Besuch in Venedig. Die italienische Stadt, deren Beiname Serenissima lautet und die aus dem Meer zu entspringen scheint, hat die Künstlerin nicht nur zum Titel ihres Projektes, sondern auch zu der Route ihres wohl ambitioniertesten Floßprojektes inspiriert.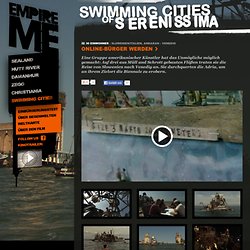 EmpireMe