Cupcakes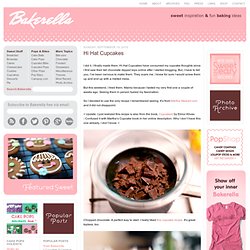 I did it. I finally made them. Hi Hat Cupcakes have consumed my cupcake thoughts since I first saw their tall chocolate dipped tops online after I started blogging. But, I have to tell you, I've been nervous to make them. They scare me. I knew for sure I would screw them up and end up with a melted mess.
Cupcakes are a blast. They're easy to make, easy to transport and serve, and they're delicious. They make awesome gifts and great last minute treats for a kid's homeroom or the office. A lot of people put more thought into decorating them than they put into the actual recipes they use. While any cake mix will do, sometimes there are better options that will make a big difference in how your cupcakes are received and remembered.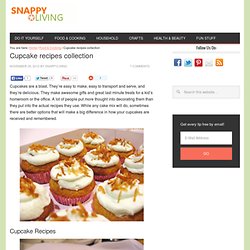 Preheat the oven to 350 F. Line muffin pan with paper liners. In a medium bowl, whisk together the flour and cocoa powder. In the bowl of a stand mixer fitted with the paddle attachment, cream together the butter, sugar, salt, baking soda, vanilla, and coconut extract until fluffy and light, at least 3-4 minutes.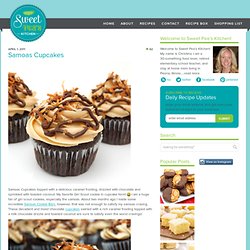 The moment I saw these cupcakes I knew I HAD to make them. Unfortunately, I have this feeling about almost every cupcake recipe I see (not to mention all other desserts). I am saving recipes at an alarming rate, but thankfully, I have a wonderful outlet for my baking – the teachers' lounge at Ben's school! I can bake my little heart out, sample the results, and send the rest to school with Ben.
Apple Pie Cupcakes » Annie's Eats
My daughter is a Nutella freak and just loves the creamy chocolaty spread! She would take a jar of it to school and her classmates would pass it around during lunch and eat it straight from the container. Probably not the most sanitary thing to do, but teens live for the moment and don't put much thought into that kind of stuff. I wanted to bake my daughter something special, so I decided to search for recipes using Nutella and found Self Frosting Nutella Cupcakes at Baking Bites. Nutella Self Frosted Cupcakes 10 tbsp(140 grams) butter, softened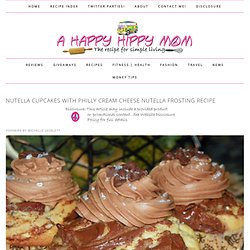 My kids have been running around the house like chickens with their heads cut off. Tornados really. I don't know if it is because we got our usual winter snowstorm in early spring, or if they are just tired of being in the house. Maybe a combination of both.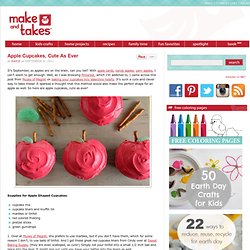 It's September, so apples are on the brain, can you tell? With apple cards , candy apples , yarn apples , I can't seem to get enough. Well, as I was browsing Pinterest , which I'm addicted to, I came across this post from Muses of Megret on baking your cupcakes into Valentine hearts . It's such a cute and clever way to bake these! It sparked a thought that this method would also make the perfect shape for an apple as well. So here are apple cupcakes, cute as ever!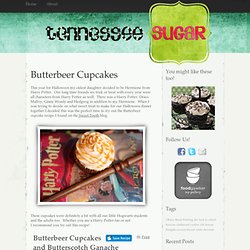 This year for Halloween my oldest daughter decided to be Hermione from Harry Potter. Our long time friends we trick or treat with every year were all characters from Harry Potter as well. There was a Harry Potter, Draco Malfoy, Ginny Weasly and Hedgwig in addition to my Hermione. When I was trying to decide on what sweet treat to make for our Halloween dinner together I decided this was the perfect time to try out the Butterbeer cupcake recipe I found on the Sweet Tooth blog. These cupcakes were definitely a hit with all our little Hogwarts students and the adults too. Whether you are a Harry Potter fan or not I recommend you try out this recipe!
Call me easily amused, but these little torch-topped cupcakes delight me. Besides being a cute novelty item for a party, I think they would add a little drama to the end of a romantic meal. I've been looking for something different to serve for Valentine's dessert, and this is definitely different. The strawberries are hollowed out and filled with a bit of liquor, then ignited with a match.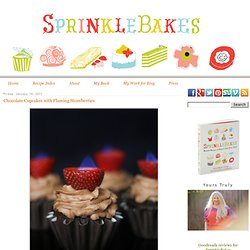 Save to your Collections Sorry for the inconvenience! Saving is temporarily unavailable as we work through a few kinks in our new recipe design (we hope you like it!).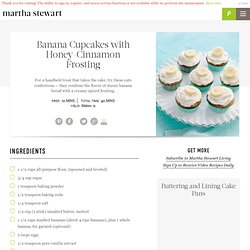 I couldn't believe my eyes this week when I saw the ad for Pumpkin Spice Lattes in my local Starbucks. Pumpkin Spice already? But there's still a little more summer to be had, isn't there? Of course, it was impossible to stay upset for too long; after all, this is lovely pumpkin -- one of my favorite flavors of all time -- that we're talking about!
Margarita Cupcakes & Masshole Mommy
Hey, there's wrong with a little booze in your cupcakes every now and then, right? Admittedly, I'm not much of a baker, but every now and then I can pull off something that's just pure awesomeness. Hence these amazing margarita cupcakes. They're a little bit of work, but trust me, these are well worth it. I think they're perfect for a night with the girls – or do what I do, down about six of them on a stressful day after the kids are in bed. This recipe combines the best of both worlds: eating sweets and booze.
I don't drink coca-cola. But I do eat it. Weird. Yeah, I dunno.
8 tablespoon(s) (1 stick) unsalted butter , room temperature, plus more for pan 1 3/4 cup(s) all-purpose flour (spooned and leveled) , plus more for pan 2 teaspoon(s) baking powder 1/2 teaspoon(s) salt 3/4 cup(s) sugar 2 large eggs , room temperature 1 teaspoon(s) pure vanilla extract 1/2 cup(s) whole milk Vanilla, raspberry, or chocolate buttercream Preheat oven to 350 degrees. Butter and flour a standard 12-cup muffin pan, or use paper liners.
Cupcakes Three Ways Recipe
Cupcakes 1 1/4 cups unbleached, all-purpose flour 2 teaspoons baking soda 2 teaspoons baking powder 1/4 teaspoon coarse salt 1 1/4 cups granulated sugar 4 ounces unsweetened chocolate, chopped 1 stick unsalted butter, cut into pieces 2 teaspoons pure vanilla extract 2 large eggs, lightly beaten Filling 4 tablespoons unsalted butter, at room temperature 1 cup powdered sugar 2 teaspoons pure vanilla exrtact 3 tablespoons heavy cream 1 cup marshmallow creme Ganache 6 ounces bittersweet chocolate, chopped 1/2 cup heavy cream 1 tablespoon unsalted butter 2 teaspoons pure vanilla extract
Dirty Girl Scout Cupcakes
Brownie Batter + Cupcake = The SECOND BEST Cupcake. Ever Recipe
Nutella Cupcakes with Nutella Buttercream
Chocolate Chip Cookie Dough Cupcakes