Architecture
Exploring the Secret River Flowing Beneath London. The River Fleet's long and fascinating history goes all the way back to Roman times, when it was a major river and contained one of the oldest tidal mills in the world.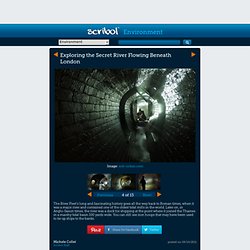 Later on, in Anglo-Saxon times, the river was a dock for shipping at the point where it joined the Thames in a marshy tidal basin 100 yards wide. You can still see iron hoops that may have been used to tie up ships to the banks. Alejandro Aravena :: ELEMENTAL. ELE­MEN­TAL is a for pro­fit com­pany with so­cial in­ter­est, who­se sha­rehol­ders are the Uni­ver­si­dad Ca­tó­li­ca de Chi­le, CO­PEC (Chi­lean Oil Com­pany) and the Ele­men­tal foun­ders.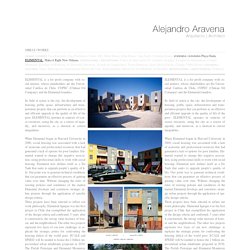 Its field of ac­tion is the city: the de­ve­lop­ment of hou­sing, pu­blic spa­ce, in­fras­truc­tu­re and trans­por­ta­tion pro­jects that can per­form as an ef­fec­ti­ve and ef­fi­cient up­gra­de in the qua­lity of li­fe of the poor. ELE­MEN­TAL ope­ra­tes in con­texts of scar­ce re­sour­ces, using the city as a sour­ce of equa­lity, and mo­reo­ver, as a short­cut to co­rrect inequa­li­ties. When Ele­men­tal be­gan in Har­vard Uni­ver­sity in 2000, so­cial hou­sing was as­so­cia­ted with a la­ck of eco­no­mic and pro­fes­sio­nal re­sour­ces that had ge­ne­ra­ted a la­ck of op­tions for poor fa­mi­lies.
Ele­men­tal wan­ted to chan­ge this ne­ga­ti­ve as­so­cia­tion, using pro­fes­sio­nal ski­lls to work with so­cial hou­sing. Anna Heringer | Architecture: Vision. Exploring the Centuries-Old Sewers Beneath the City of Light. The Bièvre, once a river whose course ran above ground but which has now been diverted underground into the sewer tunnels.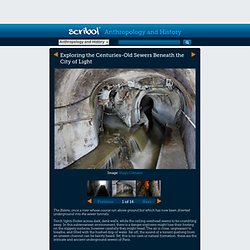 Torch lights flicker across dark, dank walls, while the ceiling overhead seems to be crumbling away. In this subterranean environment, there is a danger explorers might lose their footing on the slippery surfaces, however carefully they might tread. Architectes de l'urgence - Actualités. Dionisio Gonzalez. Living in Sin City's Underground Tunnels. Bellastock. Www.SKATEPARKSPERU.com.
MONSTRUM. Baan - photography. New Concordia Island :: Evaluation Page. Documento sin título. TYIN tegnestue Architects. TRANSIT-CITY / URBAN & MOBILE THINK TANK. Europaconcorsi.
EXPLORATEURS DE LA DIVERSITE URBAINE AU MOYEN D'ARCHITECTURES, PAYSAGES, FILMS ET INSTALLATIONSCOLOCO / Miguel Georgieff, Nicolas Bonnenfant, Pablo Georgieff. Tournée architecturale - Douglas Cardinal. L'architecte -DOUGLAS CARDINAL Le choix de Cardinal fut accueilli avec un certain étonnement dans le monde de l'architecture.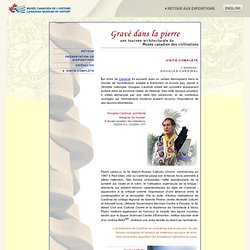 Installé à Edmonton et encore peu réputé à l'échelle nationale, Douglas Cardinal s'était fait connaître auparavant surtout dans sa province natale de l'Alberta. Dès cette époque pourtant, il s'était démarqué par son style très personnel, et de nombreux ouvrages sur l'architecture moderne avaient reconnu l'importance de ses œuvres albertaines. Parmi celles-ci, la St. Mary's Roman Catholic Church, commencée en 1967 à Red Deer, ville où Cardinal passa son enfance, fut la première à attirer l'attention. David Chipperfield Architects.
Atelier Bow-Wow.
Participatif
TORRE DAVID. Caracas En Retrospectiva. [pop-up] urbain - Tendances et conseil en prospective urbaine. Auroville Earth Institute. Recherche/Theorique. PAS House / Blog / etnies - Action Sports Footwear and Apparel. Posted By dustin in Skate, BMX | Jun 30 2011 / Thursday Skip To The Comments (17) Created by Pierre-André Senizergues Design: Gil Le Bon Delapointe | Architecture: Francois Perrin Download in high quality (352.4 MB) | Download for mobile (38.4 MB) Download in high quality (170 MB) | Download for mobile (11.7 MB) Imagine a city of the future where skateboards are used as the primary form of transportation and recreation – in and out of your home.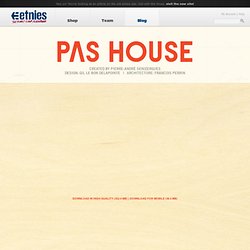 A utopia city for skateboarders would mean that a skateable path, like a ribbon connecting everything together, links each building in an unending ability to keep in motion on your board. The Museum of Copying by FAT at Venice Architecture Biennale 2012. London studio FAT will create an exhibition dedicated to architectural copying inside a 5-metre-high model of Palladio's Villa Rotunda for the Venice Architecture Biennale 2012 next week.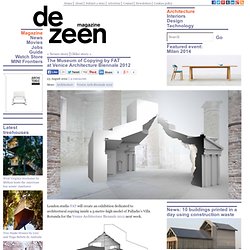 A CNC-cut mould will form one quarter of the historic symmetrical building, while a second will be a spray-foam cast taken from inside it. The two quarters will be arranged opposite one another to create the structure, named the Museum of Copying. "There is a history of copies of the Villa Rotunda that have been important staging posts for architectural culture," explains FAT director Sam Jacob.
"We hope to extend this history and explore how copying something is, strangely, a way of inventing new forms of architecture. " CRAterre :: Accueil. Synaptic Stimuli. Seisakusho Co., Ltd. Martin Rauch | Loam Clay Earth, Martin Rauch, Vorarlberg. "Rauch discovered clay architecture not through architecture, but through his education and his first projects as a ceramicist, oven builder and sculptor.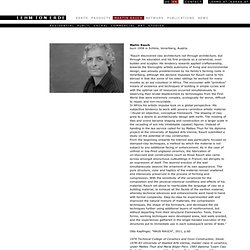 His tendency towards applied craftsmanship, towards the thoroughly artistic autonomy of living and environmental design, was already predetermined by his family's farming roots in Vorarlberg, although the decisive impulses for Rauch came to him abroad in that like some of his older siblings he worked for many months as an aid volunteer in Africa. The encounter with "primitive" means of existence and techniques of building in simple cycles and with the optimal use of resources occurred simultaneously to observing their brutal displacement by technologies from the First World that were extremely complex, ecologically far worse, difficult to repair, and non-recyclable. In Africa his artistic impulse took on a global perspective. John McAslan + Partners | Conservation and Regeneration. PlayTheVoid. Playthevoid is a collection of photos that have the game of basketball as subject.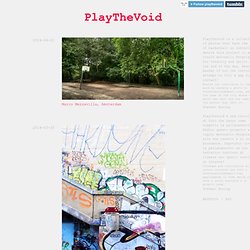 I devote this project to my cousin Antonello Pergola, to his tenacity and spirit. At the end of the day, what is basket if not the continuous attempt to fill a gap for an instant? Architectes.
---