Architecture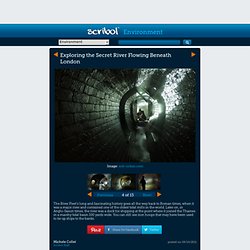 Miners' lamps flash against the cold, damp subterranean walls and the tunnel ahead looks interminable. And if claustrophobia and darkness were not enough to deter the faint of heart, there are rats and the rising tide to think about while splashing through a foot of dirty water. The Thames is not the only great river to have graced London in the city's long history. The Fleet was a clear sparkling river that for centuries ran from its source at Hampstead Heath to the Thames. Now its banks are found in a series of labyrinthine sewer tunnels, deep underground, for the brave and hardy to explore.
Exploring the Secret River Flowing Beneath London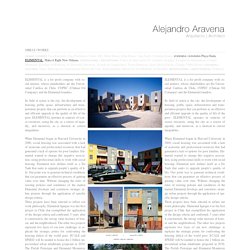 ELE­MEN­TAL is a for pro­fit com­pany with so­cial in­ter­est, who­se sha­rehol­ders are the Uni­ver­si­dad Ca­tó­li­ca de Chi­le, CO­PEC (Chi­lean Oil Com­pany) and the Ele­men­tal foun­ders. Its field of ac­tion is the city: the de­ve­lop­ment of hou­sing, pu­blic spa­ce, in­fras­truc­tu­re and trans­por­ta­tion pro­jects that can per­form as an ef­fec­ti­ve and ef­fi­cient up­gra­de in the qua­lity of li­fe of the poor. ELE­MEN­TAL ope­ra­tes in con­texts of scar­ce re­sour­ces, using the city as a sour­ce of equa­lity, and mo­reo­ver, as a short­cut to co­rrect inequa­li­ties. When Ele­men­tal be­gan in Har­vard Uni­ver­sity in 2000, so­cial hou­sing was as­so­cia­ted with a la­ck of eco­no­mic and pro­fes­sio­nal re­sour­ces that had ge­ne­ra­ted a la­ck of op­tions for poor fa­mi­lies. Ele­men­tal wan­ted to chan­ge this ne­ga­ti­ve as­so­cia­tion, using pro­fes­sio­nal ski­lls to work with so­cial hou­sing.
Alejandro Aravena :: ELEMENTAL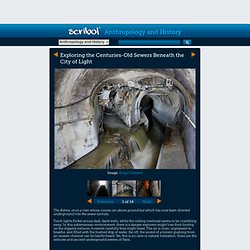 The Bièvre, once a river whose course ran above ground but which has now been diverted underground into the sewer tunnels. Torch lights flicker across dark, dank walls, while the ceiling overhead seems to be crumbling away. In this subterranean environment, there is a danger explorers might lose their footing on the slippery surfaces, however carefully they might tread. The air is close, unpleasant to breathe, and filled with the hushed drip of water. Far off, the sound of a torrent gushing from an unseen channel can be faintly heard. Yet, this is no cave or natural formation; these are the intricate and ancient underground sewers of Paris.
Exploring the Centuries-Old Sewers Beneath the City of Light
Les travaux dans les écoles de Tanza Norte et Tanza City (Panay, Capiz, Philippines) se sont bien déroulés et vont bientôt se terminer. Les derniers éléments de toiture sont en train d'être posés. Les 507 élèves et leurs 17 professeurs vont bientôt retrouver les salles de classe finalisées et retrouver une ambiance scolaire des plus normales.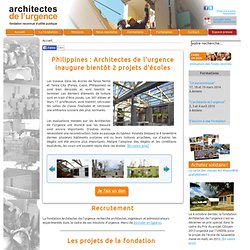 Dionisio Gonzalez
Living in Sin City's Underground Tunnels
Unless otherwise stated, all images courtesy of Austin Hargrave The irony is hard to overlook. There are few, if any, cities on earth where the show of wealth and consumption is so shamelessly on display, and yet hidden beneath the surface of Las Vegas, another world exists. In sobering contrast with the bright lights and bustle of the famous strip up above, dispossessed people inhabit the storm drains that run below, venturing up into the casinos to make ends meet scouring the slot machines for coins or credits left by drunken gamblers.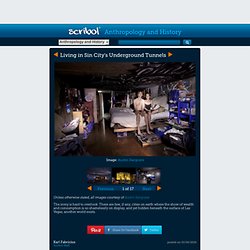 www.SKATEPARKSPERU.com
Kristinebergs Slottspark Kristinebergs Slottspark S/S Oceanliner in Gorky Park S/S Oceanliner in Gorky Park Spööökitetsparken in Varberg
MONSTRUM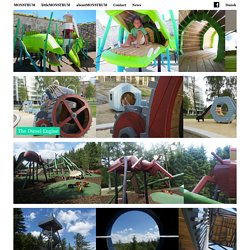 Baan - photography
New Concordia Island :: Evaluation Page
Au départ, il y avait de simples hypothèses sur l'évolution du sport et du corps - là ou là. Mais aussi des réflexions sur la banalisation de la prothèse et de l'exosquelette - là ou là. Puis des des hypothèses sur le poids des cyborgs dans notre quotidien - là, là ou là.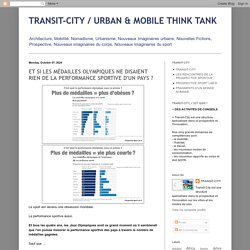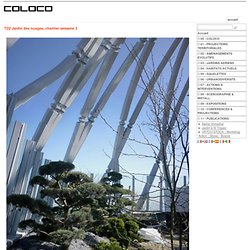 Par Stéphanie Lemoine Cernée de palissades, la zone d'aménagement concerté (ZAC) du Plateau, à Ivry-sur-Seine (Val-de-Marne), pourrait presque passer pour un chantier banal. Depuis 2007, Stefan Shankland, artiste plasticien, y accompagne la construction d'un millier de logements au gré d'une « recherche-action », financée par la mairie et déployée sur dix ans. L'idée ?
EXPLORATEURS DE LA DIVERSITE URBAINE AU MOYEN D'ARCHITECTURES, PAYSAGES, FILMS ET INSTALLATIONSCOLOCO / Miguel Georgieff, Nicolas Bonnenfant, Pablo Georgieff
L'architecte -DOUGLAS CARDINAL Le choix de Cardinal fut accueilli avec un certain étonnement dans le monde de l'architecture. Installé à Edmonton et encore peu réputé à l'échelle nationale, Douglas Cardinal s'était fait connaître auparavant surtout dans sa province natale de l'Alberta. Dès cette époque pourtant, il s'était démarqué par son style très personnel, et de nombreux ouvrages sur l'architecture moderne avaient reconnu l'importance de ses œuvres albertaines. Parmi celles-ci, la St. Mary's Roman Catholic Church, commencée en 1967 à Red Deer, ville où Cardinal passa son enfance, fut la première à attirer l'attention.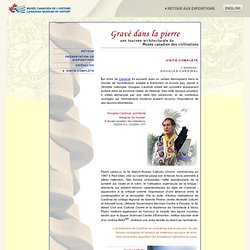 Civilisations.ca - Tournée architecturale - Douglas Cardinal
Atelier Bow-Wow
Maravillosa Imagen de Carolina Méndez El limonero del Señor Andrés Eloy Blanco En la esquina de Miracielos agoniza la tradición. ¿Qué mano avara cortaría el limonero del Señor...?
Caracas En Retrospectiva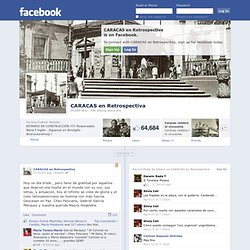 Nous avons récemment eu le plaisir de découvrir les travaux d'Aurore Rapin, diplômée d'Etat en architecture et urbaniste des zones de chalandises excentrées. Pour clore sa formation à l'Ecole normale d'architecture de Lyon en 2009-2010, la jeune femme a choisi de consacrer son projet de fin d'étude au réenchantement de zones commerciales de la métropole rhodanienne. Son carnet de recherche, intitulé « Pôle de distribution habitable« , constitue une étude particulièrement précieuse sur la question du renouvellement des espaces de la grande distribution. Nous lui avons donc posé quelques questions, afin de nourrir nos modestes observations du déclin imaginal des centres commerciaux. Pouvez-vous nous présenter votre projet en quelques mots ?
Auroville Earth Institute
PAS House / Blog / etnies - Action Sports Footwear and Apparel
The Museum of Copying by FAT at Venice Architecture Biennale 2012
Seisakusho Co., Ltd.
Martin Rauch | Loam Clay Earth, Martin Rauch, Vorarlberg
John McAslan + Partners | Conservation and Regeneration
PlayTheVoid