Educação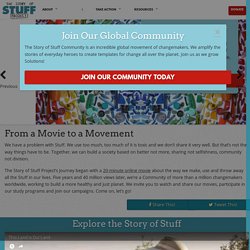 Podcast The Good Stuff features interviews with changemakers, entrepreneurs, scientists, and folks just like you who are growing Solutions in their communities. Listen Teaching Tools Whether you're a teacher, a faith leader, or just somebody who is interested in learning more about how we make, use, and throw away Stuff, we offer a diverse set of curricula and resources for all ages. Learn Blog Our latest take on what's happening in the world of Stuff -- what's good, what's not so good, and what people just like you are doing to grow Solutions in their communities. read
Academic Earth believes everyone deserves access to a world-class education, which is why we continue to offer a comprehensive collection of free online college courses from the world's top universities. And now, we take learning outside the classroom with our original series of thought-provoking videos, designed to spark your intellectual curiosity and start a conversation. Watch, learn, share, debate. After all, only through questioning the world around us, can we come to better understand it.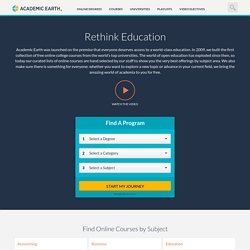 Crisis of Capitalism
The Economics of Enough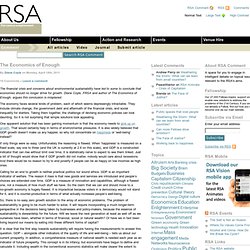 The financial crisis and concerns about environmental sustainability have led to some to conclude that economies should no longer strive for growth. Diane Coyle, FRSA and author of The Economics of Enough, argues this conclusion is misplaced. The economy faces several kinds of problem, each of which seems depressingly intractable. They include climate change, the government debt and aftermath of the financial crisis, and social inequality for starters. Taking them together, the challenge of devising economic policies can look daunting. So it is not surprising that simple solutions look appealing.
The Internet in Society: Empowering and Censoring Citizen?
Can Free Schools Work?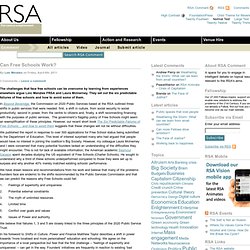 The challenges that face free schools can be overcome by learning from experiences elsewhere argue Loic Menzies FRSA and Laura McInerney. They set out the six predictable failures of free schools and how to avoid some of them. In Beyond Beveridge, the Commission on 2020 Public Services based at the RSA outlined three shifts in public services that were needed: first, a shift in culture, from social security to social productivity; second in power, from the centre to citizens and, finally, a shift reconnecting financing with the purposes of public services. The government's flagship policy of Free Schools might seem an exemplification of these principles.
RSA Projects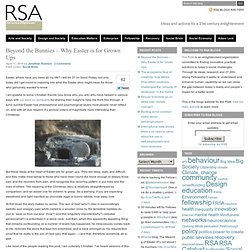 When was the last time you read a good literary book? Or recommended one? Though a staple for some, reading a good novel increasingly feels like a luxury not all of us can afford in the midst of busy schedules and digital distraction. Additionally, in a time where literary novel sales are declining and libraries are closing, it's clear that our appreciation for the literary masterpiece is waning. It also seems as if children are beginning to mirror our increasing disengagement with literature; according to the National Literary Trust, only 40% of children aged 8-16 read daily in 2005, a figure which dropped to 30% in 2011 and by a further 2% in 2012.
Melinda Gates and Bill Gates Why giving away our wealth has been the most satisfying thing we've done In 1993, Bill and Melinda Gates—then engaged—took a walk on a beach in Zanzibar, and made a bold decision on how they would make sure that their wealth from Microsoft went back into society. In a conversation with Chris Anderson, the couple talks about their work at the Bill & Melinda Gates Foundation, as well as about their marriage, their children, their failures and the satisfaction of giving most of their wealth away.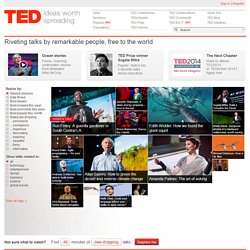 A Greener Future? 123 Talks The environmental debate has traditionally been characterized as a conflict between economic progress and preservatio... Africa: The Next Chapter 60 Talks In June 2007, TED held its first conference in Africa, titled "Africa: The Next Chapter." Thought leaders from across... Animals That Amaze 73 Talks What do animals have to do with technology, entertainment, design and the world of ideas?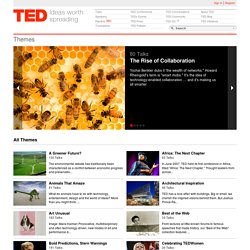 Chimamanda Adichie: O perigo da história única