Twitter
Social media: like the staffroom, but without all the negativity | Teacher Network | Guardian Professional
Kierna Corr explains why social media is like the staffroom, but without all the negativity.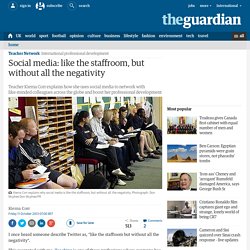 Using Twitter in the classroom is a no-brainer. It's a powerful and free tool that already has wide adoption among educators, students, administrators, and parents. So how do you effectively use Twitter to resonate with students?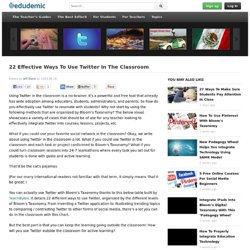 Welcome to Forbes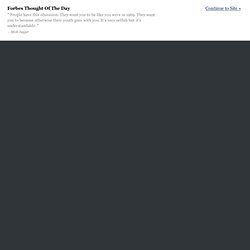 Twitter is increasingly mandatory for public school districts.
Twitter has proven itself to be an indispensable tool for educators around the globe.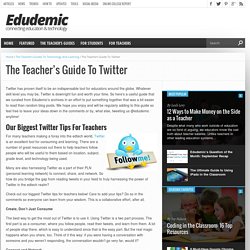 The Teacher's Guide To Twitter
Mar 14, 2013 |
Crestwood students tweet their way into history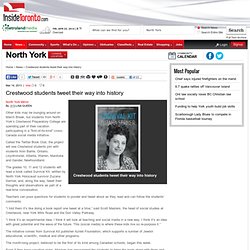 Can Twitter open up a new space for learning, teaching and thinking? | Higher Education Network | Guardian Professional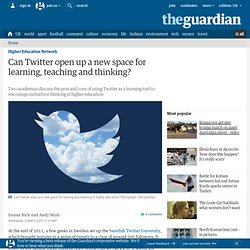 Can Twitter open up a new space for learning and teaching in higher education?
Ethnographic Qualitative Observations using Twitter (with tweets) · verenanz
For a number of reasons, Twitter and events are a good match: Before the event, it is a great tool to spread the word about the contents of your event (speakers, topics etc.), to engage and to connect with potential attendees. During the event, it is perfect to add a virtual component to your conference or meeting, by linking the real life audience with the tweeps out there. It is also great to collect feedback, questions, do polls during the event.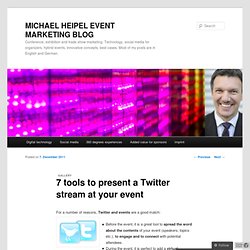 7 tools to present a Twitter stream at your event | MICHAEL HEIPEL EVENT MARKETING BLOG
Twitter and my Self Directed PD
As I reflect upon the completion of my 11th year as an educational professional, I can't think of a better or more powerful PD tool than Twitter. Yes, you read that accurately, Twitter. When I tell my friends and colleagues this fact, they look at me in a way that makes me feel as though all my professional credibility is being stripped away.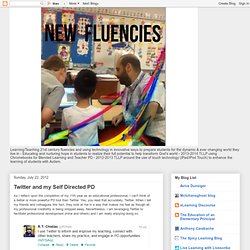 Survey on Teachers who use Twitter
Jack Dorsey, the co-founder and chairman of Twitter Photograph by Brian Harkin/Getty Images. Almost a year ago, I proposed that Twitter double its character limit from 140 to 280 . The microblogging site long ago outgrew its original purpose as a platform for simple status updates.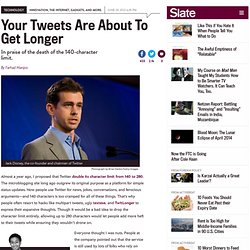 Expanded tweets: Tweets are about to get a whole lot longer. Hooray!
Look more closely, and you'll find that Twitter has been augmented, by the company and by other Internet toolmakers, with a virtual appliance store of simple, utilitarian features, widgets and services that let users find interesting posts, create photo albums or search Twitter more efficiently. Yet unlike, say, Facebook or Microsoft Office, Twitter's power tools are easy to find and easy to figure out. UPLOAD PHOTOS If you post a link to a photo from one of a long list of other sites, Twitter can display the photo right under your post when someone clicks the "View photo" link. These sites have a post-to-Twitter option on their image upload pages. There are 16 supported sites: DailyBooth, DeviantArt, Etsy, Flickr, Justin.tv, Kickstarter, Kiva, Photozou, Plixi, Twitgoo, TwitPic, Twitvid, Ustream, Vimeo, Yfrog and YouTube. MAKE A GALLERY Moreover, Twitter creates a photo gallery page that displays each user's last 100 uploaded images.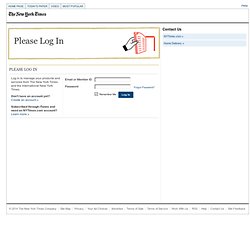 Nine Things You Didn't Know About Twitter
All About Twitter / Be Better at Twitter: The Definitive, Data-Driven Guide
I'm prepping for a workshop on Twitter for Professional Learning that I will be facilitating at the TCEA 2012 convention in a couple of weeks. Today, as I was discussing my agenda with a colleague, she offered up a suggestion for something I should include. It was an awesome suggestion, and it made me realize that there are probably a lot more suggestions out there in my PLN! So, here I am, asking you for input on what important info you think I should include.
Twitter Questions and Tips
All About Twitter / How to Get More Clicks on Twitter
"Twitter essentially prepared me to go into my second year and not give up," said Josephson, now in her third year at Woodrow Wilson High in Northwest Washington. "I never would have imagined that it would have been the place to find support." Josephson (known to fellow tweeters by her handle, @dontworryteach ) is one of a small but growing number of teachers who are delving into the world of hashtags and retweets, using Twitter to improve their craft by reaching beyond the boundaries of their schools to connect with colleagues across the country and around the world. They say the camaraderie and free, instantaneous help they find through Twitter — and its steady stream of pithy messages, maximum 140 characters each — is far more useful than traditional school training programs, which often feature fixed agendas, airless rooms and canned speeches by hired experts.
Teachers take to Twitter to improve craft and commiserate
Social Media & Tech / Hootsuite - 3 years, 3 million users
All About Twitter / Twitter in the Classroom
All About Twitter / Capture More Inbound Marketing Leads From Twitter With Tweet Spinner
46 New Digital Media Resources You May Have Missed
Get ready, because it's time for another weekly serving of features. This week, we got ready for CES. Not making the trip out to Vegas? Don't worry, we'll keep you covered here.
Klout's CEO Joe Fernandez gave an interview this summer—before the new Klout algorithm rolled out—in which he said, ""When you think about it, the idea of measuring influence is kind of crazy. Influence has always been something that we each see through our own lens." Don't get me going, pal. Enough people have flamed Klout for their scoring mechanics over the past three weeks that I don't need to add my rant to that pile. But I need to write this post to explain the ethical problem Klout poses for those of us who use social networks for a significant amount of connection, communication and information. And to ask you to do something about it.
Delete Your Klout Profile Now!
How To: Find Killer Twitter Content To Tweet
Here's the scene: You've been on Twitter a while, you've had fun tweeting about what you are doing, you've been retweeting the power users, but now you are ready to up your game. You are ready to start providing valuable links and content to your followers. You are ready to start being a contributor to the great information that is passed through the twitterverse every single day.
35 Interesting Ways to use Twitter in the Classroom
Twitter Has Changed My Life!
Twitter in K Video
Twitter launches major redesign | Geek Gestalt
So you want to tweet with kindergarten...
13% of Online Americans Use Twitter [STATS]
Philadelphia, US / Childcare
Best individual tweeter2011
Big Brands Sponsor College Classes to get Social-Media Help
Twitter Tips: Everything You Wanted To Know But Were Afraid To Ask
18 Months of Parenting on Twitter
34 Interesting Ways to use Twitter in the Classroom
Like Tweeting in a Crowded Theater
10 New Twitter Tools That Will Make Your Life Easier
Quick Twitter Tips: A Twitter Guide For Beginners
Meet Twitter's New Homepage [PIC]
Types of Tweets and Where They Appear
@Junkie: How I Went from Mocking Twitter to Dreaming in Tweets
The 5 Stages Of 'Getting' Twitter | Twitter - Professional Tool
Soccer Team Places Twitter Handles on Jerseys
PlusTo - beta
Nine great reasons why teachers should use Twitter - Laura Doggett
Why teachers should use twitter by mosaic Sep 3
Has Inclusion Been Effective? How Can We Tell?
A guide to using Twitter for teachers
Top 20 Sites To Improve Your Twitter Experience
Feature: Join the Flock
Wiki and other ways to share learning online : Article : Nature
micromobs |
micromob for tweeting, fb and messaging within a group by mosaic May 26
HootCourse to use Twitter in your course - can embed it in BB by mosaic May 24
tweetworks
Tweet in groups, threaded convos, etc by mosaic May 30
Twitter Blackboard » eLearning Learning
Blackboard & eLearning tools/resources by mosaic May 24
IM
Twitter Releases Videos To Teach You How To Tweet
Twitter Tips: for Teachers & Educators | eLearning Blog Dont Was
twitter for teachers and educators by mosaic Aug 2
Twitter tips for teachers & educators by mosaic Jun 11