Twitter
The Value of a Twitter Follower. Social media: like the staffroom, but without all the negativity | Teacher Network | Guardian Professional. I once heard someone describe Twitter as, "like the staffroom but without all the negativity".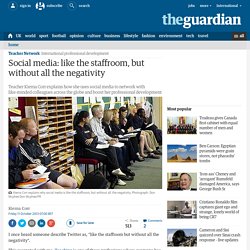 This resonated with me. Teaching is one of those professions where everyone has an opinion on how it should be done; teachers are often harangued for short working hours and long summer holidays, and whenever things go wrong in schools it makes national headlines. But very rarely do you see good practice being celebrated. 22 Effective Ways To Use Twitter In The Classroom. Using Twitter in the classroom is a no-brainer.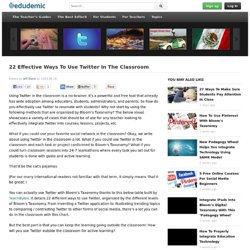 It's a powerful and free tool that already has wide adoption among educators, students, administrators, and parents. So how do you effectively use Twitter to resonate with students? Welcome to Forbes. The Teacher's Guide To Twitter. Twitter has proven itself to be an indispensable tool for educators around the globe.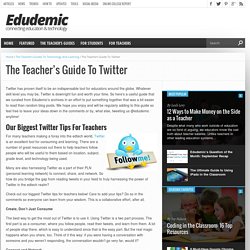 Whatever skill level you may be, Twitter is downright fun and worth your time. So here's a useful guide that we curated from Edudemic's archives in an effort to put something together that was a bit easier to read than random blog posts. We hope you enjoy and will be regularly adding to this guide so feel free to leave your ideas down in the comments or by, what else, tweeting us @edudemic anytime! A Basic Walkthrough Of Twitter.
Crestwood students tweet their way into history. North York Mirror Other kids may be lounging around on March Break, but students from North York's Crestwood Preparatory College are spending part of their vacation participating in a "first-of-its-kind" cross-Canada social media initiative.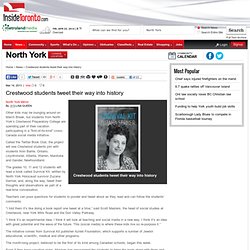 Called the Twitter Book Club, the project will see Crestwood students join with students from Barrie, Ontario, Lloydminster, Alberta, Warren, Manitoba and Gander, Newfoundland. The grades 10, 11 and 12 students will read a book called Survival Kit, written by North York Holocaust survivor Zuzana Sermer, and, along the way, tweet their thoughts and observations as part of a real-time conversation. Can Twitter open up a new space for learning, teaching and thinking? | Higher Education Network | Guardian Professional. At the end of 2011, a few geeks in Sweden set up the Swedish Twitter University, which brought lectures in a series of tweets to a class of around 500 followers.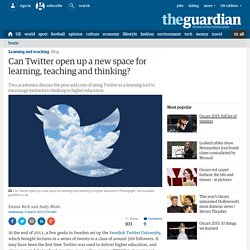 It may have been the first time Twitter was used to deliver higher education, and given recent debate about massive open online courses (MOOCs), it seems apt that we reflect on what Twitter might do to transform the classroom and open up a new space for public education? Last month we put together an experiment that tested these limits, using a bespoke hashtag to bring together all of the content. Running a seminar in Twitter might sound like a relatively simple exercise: ensure students have devices through which to tweet, then position your visiting professor – aka Andy Miah of the University of the West of Scotland – in front of his computer and let rip, but there was a bit of prep time involved too. Is there something to gain by being 'alone together', as MIT's Sherry Turkle would say? Ethnographic Qualitative Observations using Twitter (with tweets) · verenanz. 7 tools to present a Twitter stream at your event. For a number of reasons, Twitter and events are a good match: Before the event, it is a great tool to spread the word about the contents of your event (speakers, topics etc.), to engage and to connect with potential attendees.During the event, it is perfect to add a virtual component to your conference or meeting, by linking the real life audience with the tweeps out there.It is also great to collect feedback, questions, do polls during the event.After the event, it allows you to refer back to useful content like slides, videos, blog summaries etc.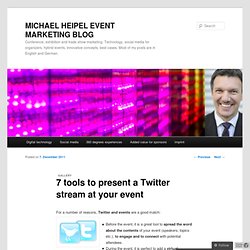 You can also track and analyze who took part in the discussions, what the sentiment was, what you can improve and what was particularly appreciated.It is a perfect foundation to create a post-conference review, using Storify. Check out this example from the Emerge Conference 2011 in Oxford. Twitter and my Self Directed PD. As I reflect upon the completion of my 11th year as an educational professional, I can't think of a better or more powerful PD tool than Twitter.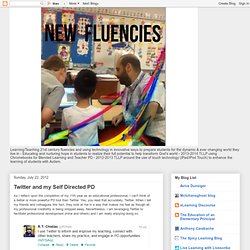 Yes, you read that accurately, Twitter. When I tell my friends and colleagues this fact, they look at me in a way that makes me feel as though all my professional credibility is being stripped away. Survey on Teachers who use Twitter. Expanded tweets: Tweets are about to get a whole lot longer. Hooray! Photograph by Brian Harkin/Getty Images.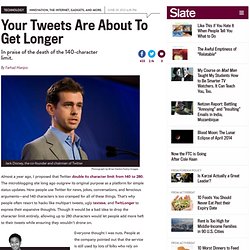 Almost a year ago, I proposed that Twitter double its character limit from 140 to 280. The microblogging site long ago outgrew its original purpose as a platform for simple status updates. Now people use Twitter for news, jokes, conversations, and ferocious arguments—and 140 characters is too cramped for all of these things. Nine Things You Didn't Know About Twitter. All About Twitter / Be Better at Twitter: The Definitive, Data-Driven Guide. Twitter Questions and Tips. I'm prepping for a workshop on Twitter for Professional Learning that I will be facilitating at the TCEA 2012 convention in a couple of weeks.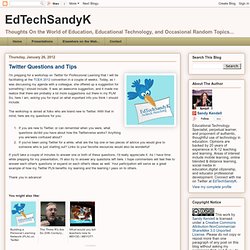 Today, as I was discussing my agenda with a colleague, she offered up a suggestion for something I should include. It was an awesome suggestion, and it made me realize that there are probably a lot more suggestions out there in my PLN! So, here I am, asking you for input on what important info you think I should include. All About Twitter / How to Get More Clicks on Twitter. Teachers take to Twitter to improve craft and commiserate. "Twitter essentially prepared me to go into my second year and not give up," said Josephson, now in her third year at Woodrow Wilson High in Northwest Washington.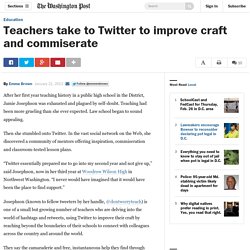 "I never would have imagined that it would have been the place to find support." Josephson (known to fellow tweeters by her handle, @dontworryteach) is one of a small but growing number of teachers who are delving into the world of hashtags and retweets, using Twitter to improve their craft by reaching beyond the boundaries of their schools to connect with colleagues across the country and around the world. They say the camaraderie and free, instantaneous help they find through Twitter — and its steady stream of pithy messages, maximum 140 characters each — is far more useful than traditional school training programs, which often feature fixed agendas, airless rooms and canned speeches by hired experts.
Social Media & Tech / Hootsuite - 3 years, 3 million users. All About Twitter / Twitter in the Classroom. All About Twitter / Capture More Inbound Marketing Leads From Twitter With Tweet Spinner. 46 New Digital Media Resources You May Have Missed. Get ready, because it's time for another weekly serving of features. This week, we got ready for CES. Not making the trip out to Vegas? Don't worry, we'll keep you covered here. Delete Your Klout Profile Now! Klout's CEO Joe Fernandez gave an interview this summer—before the new Klout algorithm rolled out—in which he said, ""When you think about it, the idea of measuring influence is kind of crazy. Influence has always been something that we each see through our own lens."
Don't get me going, pal. Enough people have flamed Klout for their scoring mechanics over the past three weeks that I don't need to add my rant to that pile. But I need to write this post to explain the ethical problem Klout poses for those of us who use social networks for a significant amount of connection, communication and information. And to ask you to do something about it. How To: Find Killer Twitter Content To Tweet. Here's the scene: You've been on Twitter a while, you've had fun tweeting about what you are doing, you've been retweeting the power users, but now you are ready to up your game. You are ready to start providing valuable links and content to your followers. You are ready to start being a contributor to the great information that is passed through the twitterverse every single day. Get TwitSprout. Why Educators Should Join Twitter - Finding Common Ground. In late July I decided to join Twitter . To be perfectly honest with you I had no idea what I was supposed to do when I got on there but I heard so much about it I thought it would be a worthwhile experience.
The only concern was that we have so many distractions already in life that I wasn't sure that I needed to add one more the list. I consider myself fairly technological, and given the amount of time I spend checking e-mail I know that I am "connected. " 35 Interesting Ways to use Twitter in the Classroom.
Twitter Has Changed My Life! Twitter Tidbits: Twitter Has Changed My Life! By Laura Komos Twitter has changed my life. Yes. You read that correctly! I'll admit, when I first joined Twitter, I had absolutely no clue what I was doing or how it all worked. Twitter in K Video. Twitter launches major redesign | Geek Gestalt. So you want to tweet with kindergarten... Kuvva. Visual awesomeness. 13% of Online Americans Use Twitter [STATS] Best individual tweeter2011.
Big Brands Sponsor College Classes to get Social-Media Help. Twitter Tips: Everything You Wanted To Know But Were Afraid To Ask. Map your Twitter Followers. 18 Months of Parenting on Twitter. 34 Interesting Ways to use Twitter in the Classroom. Like Tweeting in a Crowded Theater. 10 New Twitter Tools That Will Make Your Life Easier. Quick Twitter Tips: A Twitter Guide For Beginners. Meet Twitter's New Homepage [PIC] Types of Tweets and Where They Appear. @Junkie: How I Went from Mocking Twitter to Dreaming in Tweets. The 5 Stages Of 'Getting' Twitter | Twitter - Professional Tool. Soccer Team Places Twitter Handles on Jerseys. @twitterstories. PlusTo - beta. Tweetree - Birds in a tree. Nine great reasons why teachers should use Twitter - Laura Doggett.
Has Inclusion Been Effective? How Can We Tell? A guide to using Twitter for teachers. Twiigs - Online Polls: Create, Vote, Share. Top 20 Sites To Improve Your Twitter Experience. Feature: Join the Flock. TodaysMeet. Micromobs | HootCourse. Tweetworks. Twitter Blackboard » eLearning Learning. IM. How to Use Twitter to Grow Your PLN. Twitter Releases Videos To Teach You How To Tweet. Twitter Tips: for Teachers & Educators | eLearning Blog Dont Was.
---