Research Facilities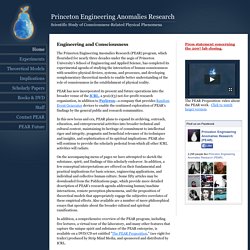 The Princeton Engineering Anomalies Research (PEAR) program, which flourished for nearly three decades under the aegis of Princeton University's School of Engineering and Applied Science, has completed its experimental agenda of studying the interaction of human consciousness with sensitive physical devices, systems, and processes, and developing complementary theoretical models to enable better understanding of the role of consciousness in the establishment of physical reality. PEAR has now incorporated its present and future operations into the broader venue of the ICRL, a 501(c)(3) not-for-profit research organization, in addition to Psyleron—a company that provides Random Event Generator devices to enable the continued exploration of PEAR's findings by the general public and research communities.
The Kavli Foundation is dedicated to advancing science for the benefit of humanity, promoting public understanding of scientific research, and supporting scientists and their work. The Foundation's mission is implemented through an international program of research institutes, professorships, symposia and other initiatives in the fields of astrophysics, nanoscience, neuroscience and theoretical physics. The Foundation is also a founding partner of the Kavli Prizes, which recognize scientists for their seminal advances in astrophysics, nanoscience and neuroscience.
The Kavli Foundation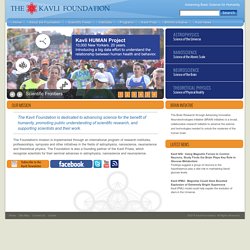 MSU Research
Ideas Lab | Made Possible by GE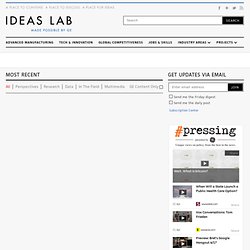 January 22, 2014 Power Meetings and Power Plugs: Challenges for World Economic Forum in Davos One thing always occurs to me when I arrive in Davos for the World Economic Forum meeting: If we were … Read More Davos Special Project Page Launches
Lawrence Livermore National Laboratory Science & Technology Review Current Issue December 2013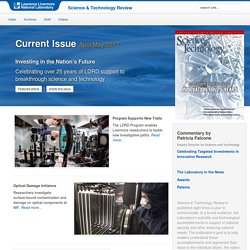 S&TR | September 2013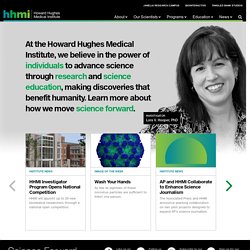 Skip to main content At the Howard Hughes Medical Institute, we believe in the power of individuals to advance science through research and science education, making discoveries that benefit humanity. Learn more about our approach.
Welcome to NWO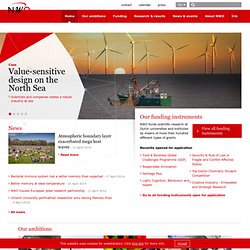 1 of 24 Earth and Life Sciences Encourages research into all aspects of life in solid earth, oceans and atmosphere. Subjects range from geology to molecular mechanisms in living cells. More about Earth and Life Sciences 2 of 24 Chemical Sciences Links physics, technology and life sciences by encouraging research into nanotechnology and complex molecular systems, for example. More about Chemical Sciences 3 of 24 Physical Sciences Contributes to the worldwide top position of the Netherlands in astronomy, mathematics and ICT. More about Physical Sciences 4 of 24 Humanities Encourages research into history, language, literature, culture, religion, media and philosophy.
BLAST and its balloon on the launch pad at McMurdo Station, Antarctica.(Photo by M. Halpern)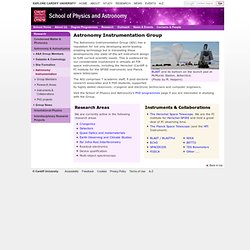 Cardiff School of Physics and Astronomy
Many research challenges today require interdisciplinary teams with strong foundations in discipline-based research. The combination of expertise from numerous disciplines leads to novel approaches to resolving specific scientific problems. Many of the intellectual breakthroughs of modern times were obtained by crossing disciplinary boundaries and many of society's major problems, such as environmental issues and healthcare, require integrated approaches from different disciplines. Cardiff School of Physics and Astronomy strongly supports interdisciplinary research. Scientists from across the School are making use of their core skills to address problems in a number of subject areas, including the humanities, social sciences, biological sciences and music.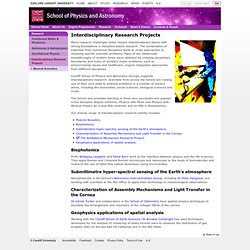 Interdisciplinary Research
projects | Space Sciences Laboratory
Note: All links open in a new browser widow AstroPulse A Search for Evaporating Black Holes Antarctic Balloons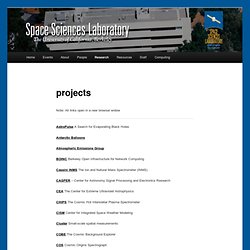 Nanoprobe Laboratory for Bio- and Nanotechnology & Biomimetics
CSA - In focus - Archive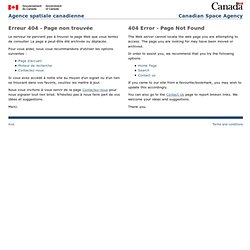 Le serveur ne parvient pas à trouver la page Web que vous tentez de consulter. La page a peut-être été archivée ou déplacée. Pour vous aider, nous vous recommandons d'utiliser les options suivantes : Si vous avez accédé à notre site au moyen d'un signet ou d'un lien se trouvant dans vos favoris, veuillez les mettre à jour. Nous vous invitons à vous servir de la page Contactez-nous pour nous signaler tout lien brisé. N'hésitez pas à nous faire part de vos idées et suggestions.
Swedish Defence Research Agency
Norwegian Defence Research Establishment
FFI is the chief adviser on defence-related science and technology to the Ministry of Defence and the Norwegian Armed Forces. The Establishment focuses particularly on developments in science and military technology, which have an impact on political security and defence planning. The demand for expert and flexible armed forces requires continuous renewal and Norway's unflagging emphasize on defence technology keeps FFI busy. It is a true challenge to make significant contributions to the development of the Armed Forces – both in its principal national defence role as well as in its various roles as an effective participant in international security operations. Relevant defence research now requires international cooperation. In order to maintain a position at the forefront of science and technology within chosen sectors, FFI collaborates with national and international scientific institutions and industry.
Home
NAE Reports A list of consensus studies, workshop proceedings, and other reports produced by the National Academy of Engineering NAE Staff Directory Complete list of National Academy of Engineering staff, including executive, program, and membership offices
EPFL | École Polytechnique Fédérale de Lausanne
The Jet Propulsion Laboratory has several state-of-the-art research facilities and laboratories. These facilities help enable our scientists, technologists, and engineers to conduct their research, build new instruments, and conduct experiments. This area contains information on select facilities, what tasks they perform, what projects they support, and who can be contacted for additional information.
Science and Technology: Laboratories and Facilities
Children Cancer Research Institute in St. Louis, Missouri - Children's Discovery Institute
Institute of Cognitive Neuroscience
Home - CLOCKSS
Home | HMS
About Research at BIDMC
Smithsonian Research Online -- Home
Smithsonian Science | A Web site featuring highlights of the Smithsonian Institution's scientific research in the fields of anthropology, astrophysics, conservation biology, geology, materials science, paleontology and zoology