Cyberspace Privacy
Frequently Asked Questions on Identity Cards » NO2ID
What is an ID card? The government is planning to establish a system that will involve unprecedented collation and monitoring of personal information.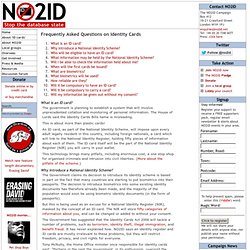 What Is ACTA? The Anti-Counterfeiting Trade Agreement (ACTA) is an agreement to create new global intellectual property (IP) enforcement standards that go beyond current international law, shifting the discussion from more democratic multilateral forums, such as the World Trade Organization (WTO) and the World Intellectual Property Organization (WIPO), to secret regional negotiations. Through ACTA, the US aims to hand over increased authority to enforcement agencies to act on their own initiative, to seize any goods that are related to infringement activities (including domain names), criminalize circumvention of digital security technologies, and address piracy on digital networks. ACTA was negotiated from 2007 through 2010 by the US, the EU, Switzerland, Canada, Australia, New Zealand, Mexico, Singapore, Morocco, Japan, and South Korea.
Anti-Counterfeiting Trade Agreement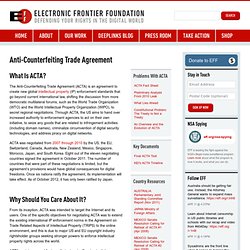 FBI launch facial recognition program
Home > Data Privacy Laws > European Data Protection Authorities Publish Guidelines Clarifying Exemptions to Cookie Consent Requirement On June 7, 2012, the Article 29 Working Party, an independent advisory body composed of representatives from the national data protection authorities of the EU Member States, the European Data Protection Supervisor and the European Commission, issued Opinion 04/2012 regarding which types of cookies are exempted from the informed user-consent requirement under Directive 2002/58 of the European Parliament (the E-Privacy Directive). Article 5.3 of the E-Privacy Directive requires that websites must obtain informed consent from users prior to storing cookies on users' equipment.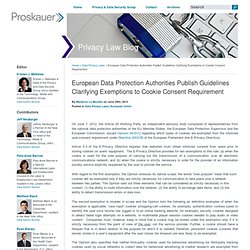 European Data Protection Authorities Publish Guidelines Clarifying Exemptions to Cookie Consent Requirement : Privacy Law Blog
WP 29 use of Location based data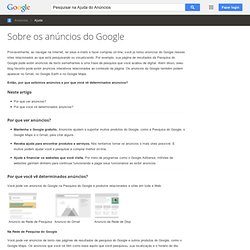 About Ads on Search, Gmail and across the web - Ads Help
Ao navegar na Internet, ler seus e-mails e fazer compras on-line, provavelmente você já notou anúncios nesses sites relacionados ao que está pesquisando ou visualizando. Por exemplo, sua página de resultados de pesquisa do Google pode exibir anúncios de texto semelhantes a uma frase de pesquisa que você acabou de digitar ou seu blog favorito pode exibir anúncios interativos relacionados ao conteúdo da página.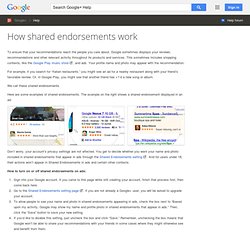 How shared endorsements work - Google+ Help
To ensure that your recommendations reach the people you care about, Google sometimes displays your reviews, recommendations and other relevant activity throughout its products and services.
Self Regulatory Frameworks – Policies & Principles – Google
The RFID Ecosystem Project - University of Washington, CSE
But now — nothing personal, mind you — the Internet is growing up and lifting its gaze to the wider world. To be sure, the economy of Internet self-gratification is thriving. Web start-ups for the consumer market still sprout at a torrid pace.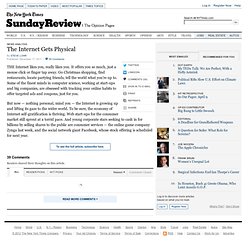 The Internet Gets Physical
(20th Century Fox / Dreamworks Pictures) It's not quite "Minority Report"-levels of creepiness, but it's getting there. Mondelez International, whose properties include Chips Ahoy, Nabisco, Ritz and other high-profile snack brands, says it's planning to debut a grocery shelf in 2015 that comes equipped with sensors to determine the age and sex of passing customers.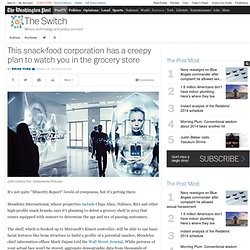 This snack-food corporation has a creepy plan to watch you in the grocery store
Opt Out of Online Behavioral Advertising NAI members are committed to transparency and choice. The NAI opt-out tool was developed in conjunction with our members for the express purpose of allowing consumers to "opt out" of the behavioral advertising delivered by our members. Some of the ads you receive on Web pages are customized based on predictions about your interests generated from your visits over time and across different Web sites. This type of ad customization — sometimes called "online behavioral" or "interest-based" advertising — is enabled through your computer browser and browser cookies . Such online advertising helps support the free content, products and services you get online .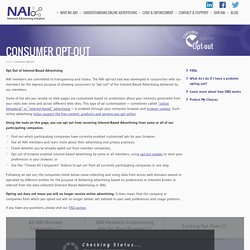 In the space of one hour, my entire digital life was destroyed. First my Google account was taken over, then deleted. Next my Twitter account was compromised, and used as a platform to broadcast racist and homophobic messages. And worst of all, my AppleID account was broken into, and my hackers used it to remotely erase all of the data on my iPhone, iPad, and MacBook. In many ways, this was all my fault. My accounts were daisy-chained together.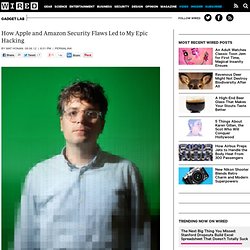 SecureUDID | a Crashlytics Innovation
Engage
What is OpenID?
OpenID allows you to use an existing account to sign in to multiple websites, without needing to create new passwords. You may choose to associate information with your OpenID that can be shared with the websites you visit, such as a name or email address. With OpenID, you control how much of that information is shared with the websites you visit. With OpenID, your password is only given to your identity provider, and that provider then confirms your identity to the websites you visit. Other than your provider, no website ever sees your password, so you don't need to worry about an unscrupulous or insecure website compromising your identity.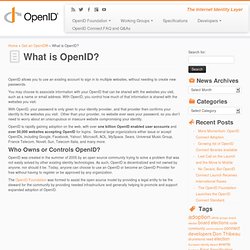 OpenID Explained
Surprise! You may already have an OpenID. If you use any of the following services, you already have your own OpenID. Below are instructions on how to sign in with each of the following providers on an OpenID enabled website.
May 16 2010 If you value your rapidly disappearing privacy while surfing the Internet you need to know about these tools. Whether you want to protect yourself from snoopers, want to spy on those out to get you, or want to be able to track trends that you know will lead to something big, then these tools will help you get the job done. The best part about them is they are FREE! "If you have something that you don't want anyone to know, maybe you shouldn't be doing it in the first place."
In the field of telecommunications , data retention (or data preservation ) generally refers to the storage of call detail records (CDRs) of telephony and internet traffic and transaction data (IPDRs) by governments and commercial organisations. In the case of government data retention, the data that is stored is usually of telephone calls made and received, emails sent and received and web sites visited. Location data is also collected. The primary objective in government data retention is traffic analysis and mass surveillance . By analysing the retained data, governments can identify the locations of individuals, an individual's associates and the members of a group such as political opponents.
Telecommunications data retention
Big Brother Watch | Defending civil liberties, protecting privacy
2012 Law Enforcement Requests Report
2012 Law Enforcement Requests Report
Windows Live ID
Manage your data – Good to Know – Google
We believe it's important for you to have the controls you need to manage your data online. There are many different settings and tools out there, so to make it a bit simpler, here is an overview of some of the ways that you can manage what you share online, with Google and with others. We offer a collection of privacy tools , the most popular of which are described in this section.
Media : 10 Reasons To Delete Your Facebook Account
Facebook Privacy
Facebook raises fears with ad tracking
Facebook reveals its evil plans | Cringely
Audiences: Syndicated Segments for Online Consumer Targeting
Your Mom's Guide to Those Facebook Changes, and How to Block The
Codes/processes - Simplify Facebook Wall
Protect Your Privacy Opt Out of Facebook's New Instant Personali
FB asks users to identify friends
Facebook no longer lets users hide from search