ESL activities
Oral English Activities. This site is no longer being actively maintained, but I've received enough grateful emails from teachers over the years to know that it's still being used.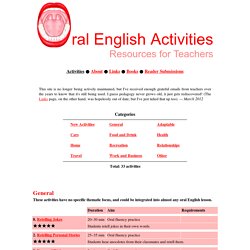 I guess pedagogy never grows old, it just gets rediscovered! (The Links page, on the other hand, was hopelessly out of date, but I've just tidied that up too). — March 2012 KEYWORDS: ESL, EFL, TEFL, TESL, China, communicative oral english activities, communicative verbal english activities, communicative spoken english activities, communicative conversational english activities, oral english classes, verbal english classes, spoken english classes, conversational english classes, english conversation classes, oral english lessons, oral english lesson plans, verbal english lessons, verbal english lesson plans, spoken english lessons, spoken english lesson plans, conversational english lessons, conversational english lesson plans.
Technology lesson plans for ESL Teachers. PowerPoint Games. Word Search Maker - Free Online Word Search Puzzle Generators. Word search puzzles are a good way for kids to learn new words and improve their spelling.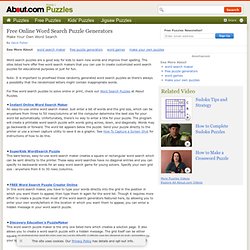 The sites listed here offer free word search makers that you can use to create customized word search puzzles for educational purposes or just for fun. Note: It is important to proofread these randomly generated word search puzzles as there's always a possibility that the randomized letters might contain inappropriate words. For free word search puzzles to solve online or print, check out Word Search Puzzles at About Puzzles. Instant Online Word Search Maker. Free Reading Comprehension Worksheets.
"Your reading comprehension materials are the best I've found on the web.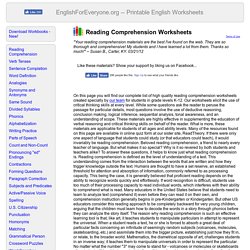 They are so thorough and comprehensive! My students and I have learned a lot from them. Thanks so much! " -- Susan B., Carter, KY. 03/21/12 Like these materials? Enhancing Vocabulary Learning and Teaching at Primary Level. Enhancing English Vocabulary Learning and Teaching at Primary Level is a resource package produced by the English Language Education Section, Curriculum Development Institute, the Education Bureau, the Hong Kong Special Administrative Region, in support of the implementation of the English Language Curriculum Guide (Primary 1-6) (2004).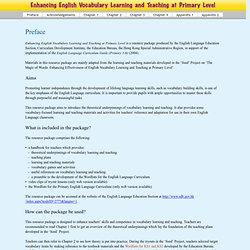 Materials in this resource package are mainly adapted from the learning and teaching materials developed in the 'Seed' Project on 'The Magic of Words: Enhancing Effectiveness of English Vocabulary Learning and Teaching at Primary Level'. Aims. FOR ESL STUDENTS. Chaîne de JenniferESL. Haiku LMS | The K12 learning management system | Randall's ESL Cyber Listening Lab - For English as a Second Language. Second Grade Vocabulary Games. As possible.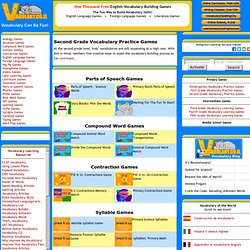 Online vocabulary games are an excellent resource tool that can be used both in the classroom and at home. Second graders enjoy complementing their regular vocabulary lessons with entertaining learning games that not only give them the opportunity to acquire new Language Arts skills but also set the stage for a lifetime of learning.
Teachers who teach second grade writing do so knowing that vocabulary acquisition plays an extremely important part at this level. At home, parents can help their children hone their second grade vocabulary skills by having them play quality online vocabulary learning games. This is a great way for students to practice at home by playing second grade math vocabulary games, second grade science vocabulary games, second grade Dolch words games and other second grade vocabulary word lists. Free printable English worksheets, wordsearches, crosswords, board games, grammar worksheets, phonics worksheets to print. MES-English.com offers free ESL worksheets for download and printing.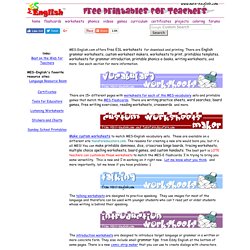 There are , worksheets for grammar introduction, printable phonics e-books, writing worksheets , and more. Ressources audio. Chaîne de JenniferESL. Printable Teacher Forms and Templates. Busy Teacher Forms - 600 Instant Forms - For All Grade Levels View Now...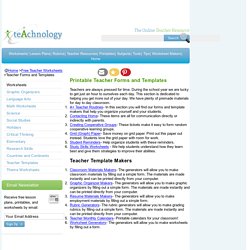 Endless Worksheets. Ressources péda. World English : test, learn and study the English language online. Cakir - Musical Activities for Young Learners of EFL. The Internet TESL Journal Abdulvahit Cakirabdulcakir [at] yahoo.comGazi University (Ankara, Turkey) Introduction It has been said that children have a natural musical taste and that play is the only activity that they take seriously.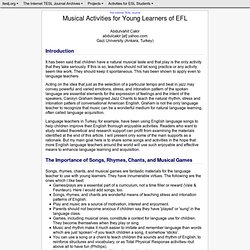 If this is so, teachers should not let song practice or any activity seem like work. They should keep it spontaneous. Activities for ESL/EFL Students (English Study) World English : test, learn and study the English language online. Free printable English worksheets, wordsearches, crosswords, board games, grammar worksheets, phonics worksheets to print.
---