Greatest Mathematicians
John F. Nash, Jr. - Autobiography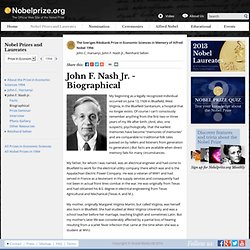 My beginning as a legally recognized individual occurred on June 13, 1928 in Bluefield, West Virginia, in the Bluefield Sanitarium, a hospital that no longer exists. Of course I can't consciously remember anything from the first two or three years of my life after birth. (And, also, one suspects, psychologically, that the earliest memories have become "memories of memories" and are comparable to traditional folk tales passed on by tellers and listeners from generation to generation.) But facts are available when direct memory fails for many circumstances.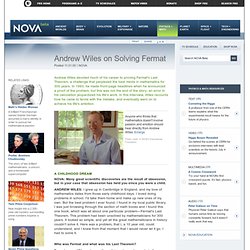 NOVA Online | The Proof | Solving Fermat: Andrew Wiles
Posted 11.01.00 NOVA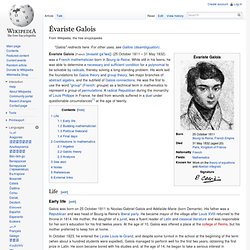 Life[edit]
Évariste Galois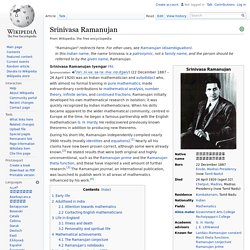 Srinivasa Ramanujan
Srinivasa Ramanujan FRS ( pronunciation ) (22 December 1887 – 26 April 1920) was an Indian mathematician and autodidact who, with almost no formal training in pure mathematics, made extraordinary contributions to mathematical analysis, number theory, infinite series, and continued fractions. Living in India with no access to the larger mathematical community, which was centred in Europe at the time, Ramanujan developed his own mathematical research in isolation.
Johann Carl Friedrich Gauß (/ɡaʊs/; German: Gauß, pronounced [ɡaʊs] (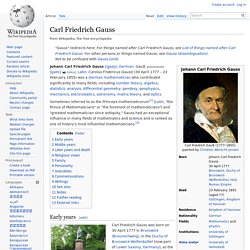 Leonhard Euler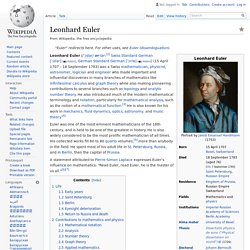 Leonhard Euler (/ˈɔɪlər/ OY-lər;[2] German pronunciation: [ˈɔʏlɐ] ( ), local pronunciation: [ˈɔɪlr̩] ( ); 15 April 1707 – 18 September 1783) was a pioneering Swiss mathematician and physicist.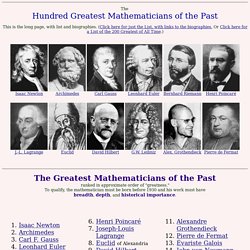 This is primarily a list of Greatest Mathematicians of the Past, but I use 1930 birth as an arbitrary cutoff, and three of the "Top 100" are still alive as I write.