Funny
Ultimex et Steve le faire-valoir prodige
Emily's Vlog - Walk of Shame - a Expression Libre video
Ma vie est tout à fait fascinante
l'entretien d'embauche parfait || les céréales du dimanche matin [fr]
Tous les comics
Invisible cats : les chats dans tous leurs états - diaporama - Fluctuat.net
Best & Worst Lists - Top 10 Worst Fast-Food Meals
NoObz! - Webcomic
Human and Robots relations: Visions of the Future
Poorly Dressed People of the World – This is Your Fashion Wake-U
WEDINATOR – Trashing Your Special Day Is Our Prime Directive
Lolcats 'n' Funny Pictures of Cats - I Can Has Cheezburger?
FAIL Blog: Epic Fail Funny Pictures and Funny Videos of Owned, P
Lamebook – Funny Facebook Statuses, Fails, LOLs and More – The Original
SmartphOWNED - Fail Autocorrects and Awkward Parent Texts
Vie de merde : Vos histoires de la vie quotidienne
Derniers ajouts (page / 597) Page suivante → Bahaking : j'ai raté mon DST de mathMi-k-l : ça arrive, l'erreur est humaine x)Bahaking : peut être, mais moi je suis un dragon V_vMi-k-l : faut vraiment que t'aille consulter un psy par contre...Bahaking : la dernière fois que je suis allé en voir un il m'a conseillé d'assassiner toute ma famille...Mi-k-l : ...Mi-k-l : faut consulter un PSYchiatre... pas un PSYchopathe -____- #15251 - Votez : (+) 233 (-) 50 0 - <3 - 11 commentaires Pierre: T'es pu avec ta copine?!Moi: Bah nan.Maxime: T'as tout compris à la vie!
Derniers ajouts DTC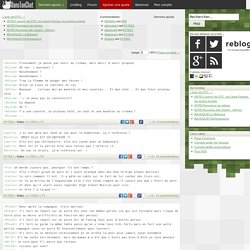 L'actu en patates - Blog LeMonde.fr
Dark Legacy Comics
Margaux Motin
Deconstructing Tonino by Katika
Mimi Stinguette
Tu mourras moins bête
= BOULETCORP = LE BLOG =
The official Dilbert website with Scott Adams' color comic strip
Au clair de la plume
fuck yeah dementia!!1!
Accueil
INFOS-GRAPHOS - Blog LeMonde.fr