Misc Sites
The Walking Dead. An Essay by Einstein -- The World As I See It. "How strange is the lot of us mortals!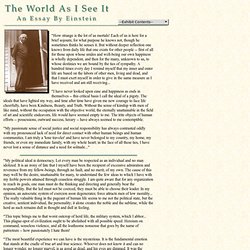 Each of us is here for a brief sojourn; for what purpose he knows not, though he sometimes thinks he senses it. But without deeper reflection one knows from daily life that one exists for other people -- first of all for those upon whose smiles and well-being our own happiness is wholly dependent, and then for the many, unknown to us, to whose destinies we are bound by the ties of sympathy.
A hundred times every day I remind myself that my inner and outer life are based on the labors of other men, living and dead, and that I must exert myself in order to give in the same measure as I have received and am still receiving... "I have never looked upon ease and happiness as ends in themselves -- this critical basis I call the ideal of a pigsty.
How To Become A Hacker. Copyright © 2001 Eric S.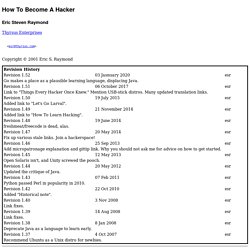 Raymond As editor of the Jargon File and author of a few other well-known documents of similar nature, I often get email requests from enthusiastic network newbies asking (in effect) "how can I learn to be a wizardly hacker? ". Back in 1996 I noticed that there didn't seem to be any other FAQs or web documents that addressed this vital question, so I started this one. A lot of hackers now consider it definitive, and I suppose that means it is. An Online Graphic Novel by Daniel Lieske - Chapter 1 - The Last Day Of School. Tumblring - All things Tumblr | Tumblring - All things Tumblr.
Mental_floss Blog » Debunking Grammar Myths. This week we're joined by a special guest blogger.
Patricia T. O'Conner, a former editor at The New York Times Book Review, is the author of the national best-seller Woe Is I: The Grammarphobe's Guide to Better English in Plain English, as well as other books about language. HOW TO WRITE GOOD. uWall.tv | Listen to a Wall of Music. Loans that change lives.
Find quotes about anything and everything.
---