Graphers
Click one of the links below to launch a Grapher in a new window. If you don't have JavaScript enabled, you will need to use one of the links in the next section If you don't have JavaScript installed, choose one of the links below: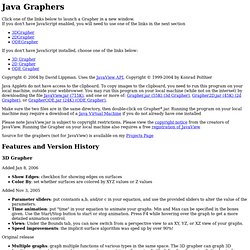 Java Graphers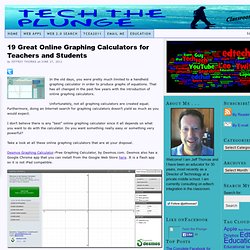 In the old days, you were pretty much limited to a handheld graphing calculator in order to produce graphs of equations. That has all changed in the past few years with the introduction of online graphing calculators. Unfortunately, not all graphing calculators are created equal. Furthermore, doing an Internet search for graphing calculators doesn't yield as much as you would expect. I don't believe there is any "best" online graphing calculator since it all depends on what you want to do with the calculator.
19 Great Online Graphing Calculators for Teachers and Students
EquationExplorer — Online graphing calculator supporting implicit equations
About gCalcD Graphing Calculator with Derivatives
The gCalcD Online Graphing Calculator is the most sophisticated and yet the most easy-to-use Java applet ( app lication+ let -- small application run on a web page) for graphing functions ( function Graphing Calculator ), graphing parametric curves ( parametric Graphing Calculator ), graphing equations ( equation Graphing Calculator ) (including implicitly defined functions , level curves and conic sections) and for plotting points ( point set plotter ) using the Cartesian (rectangular) and polar coordinate systems ( Polar Graphing Calculator ). You can also use the this Graphing Calculator for solving equation s ( equation solving calculator ) and calculating derivatives ( derivative Graphing Calculator ). The intelligently designed gCalcD Graphing Calculator has many unique, innovative features that no other graphing calculators have provided before.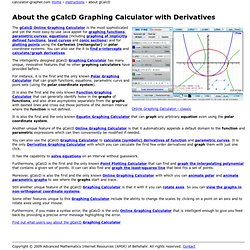 Online Graphing Calculator: 1-Click Delivers Complete Graphs