Games
Participatory Chinatown. AndreasZecher Understan ding Games. Understanding Games is series of four games explaining the basic concepts of video games.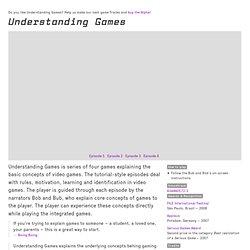 The tutorial-style episodes deal with rules, motivation, learning and identification in video games. The player is guided through each episode by the narrators Bob and Bub, who explain core concepts of games to the player. The player can experience these concepts directly while playing the integrated games. If you're trying to explain games to someone – a student, a loved one, your parents – this is a great way to start. Theory. Moraba from Afroes. SPENT. 3D GameLab: Let the journey begin! Encyclopedia | Game Mechanics Resource. Cancer Game. Your resource on net art, software art, and other computer based art forms - netkunst, softwarekunst og andre computerbaserede kunstformer. Admongo.gov.
The Curfew. On The Ground Reporter - Afghanistan (beta) People Power. 10 Gamification Predictions for 2012. In 2011, "gamification" grew from what many considered a funny-sounding word to a significant and sustainable business strategy.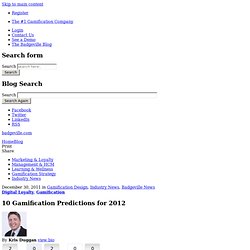 Now top analysts and business leaders are predicting gamification to be one of the top trends of 2012, and for good reason. As the gold standard for gamification and reputation programs, it has been quite a remarkable year for Badgeville, following our launch in the fall of 2010. HighScore House! Motion Math: Hungry Fish | Motion Math. Your fish is hungry – hungry for numbers!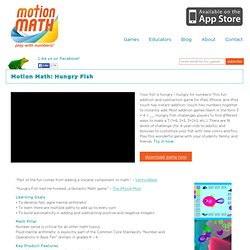 This fun addition and subtraction game for iPad, iPhone, and iPod touch has instant addition: touch two numbers together to instantly add. Most addition games teach in the form 3 + 4 = __; Hungry Fish challenges players to find different ways to make a 7 (1+6, 2+5, 3+2+2, etc.). There are 18 levels of challenge (for 4-year-olds to adults) and bonuses to customize your fish with new colors and fins. Play this wonderful game with your students, family, and friends. Try it now: Civic Tripod | Activism / Art / Learning. ARIS - Mobile Learning Experiences - Creating educational games on the iPhone. Online Leadership Program | Free 2D Game Engine. Rapid Results Blazingly Fast Development Engineered with stability, performance and care.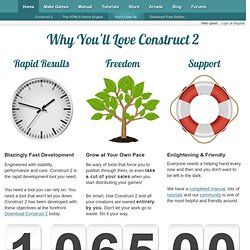 Construct 2 is the rapid development tool you need. You need a tool you can rely on. Construct 2 the HTML5 Game Maker. GDC Presentations - 2012. Game Design 1 - Fall 2011. The Intro Video. Build Worlds If you're used to graphics editors like Photoshop, you'll feel right at home in the Scene Designer.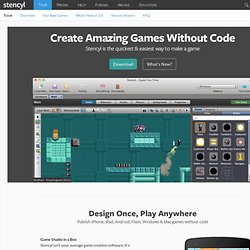 Familiar features, such as a selection tool, zooming, grid-snapping and flood fill, will help you quickly craft complex worlds out of Actors, Tiles and Terrain. Create Actors Drop in graphics from your computer to create Actors on the fly. Then use Stencyl's Actor Editor to tweak your Actors' appearances, behaviors and physical properties, and to get them ready for showtime. » Jenova Chen on morality in games Valuable Games.
Locative games. Gamification. Mobile games. Gamedevelopment. Augmented reality. Theory. Games. Gamestorming. Serious games.
---