Games
Participatory Chinatown is a 3-D immersive game designed to be part of the master planning process for Boston's Chinatown. You assume the role of one of 15 virtual residents and you work to complete their assigned quest - finding a job, housing, or place to socialize. But look out! Sometimes language skills, income level, or other circumstances can make your task more challenging.
Participatory Chinatown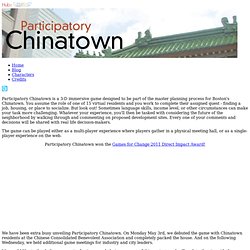 Understanding Games is series of four games explaining the basic concepts of video games. The tutorial-style episodes deal with rules, motivation, learning and identification in video games. The player is guided through each episode by the narrators Bob and Bub, who explain core concepts of games to the player. The player can experience these concepts directly while playing the integrated games. If you're trying to explain games to someone – a student, a loved one, your parents – this is a great way to start.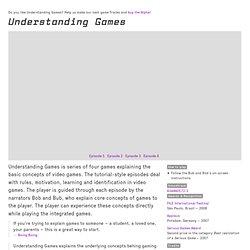 AndreasZecher Understan ding Games
Moraba from Afroes | AppCircus
Encyclopedia | Game Mechanics Resource
your resource on net art, software art, and other computer based art forms - netkunst, softwarekunst og andre computerbaserede kunstformer
The Curfew
The Curfew is an adventure web-game created by Littleloud, published by Channel 4 and written by acclaimed comic book author, Kieron Gillen. Set in 2027 in the heart of an authoritarian security state, The Curfew could be described as a miniature Canterbury Tales set in a not-so-distant future, where citizens must abide by government security measures and 'sub citizens' are placed under curfew at night. The player must navigate this complex political world and engage with the characters they meet along the way to work out who they should trust in order to gain freedom. Choose wisely and you could change the course of history.
On The Ground Reporter - Afghanistan (beta)
View Screenshots People Power is about politics, about strategy and about social change. As a leader of a popular movement you fight against tough adversaries who control the police, the army and bureaucracy, even the media.
People Power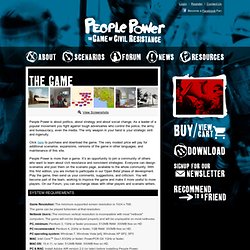 In 2011, "gamification" grew from what many considered a funny-sounding word to a significant and sustainable business strategy. Now top analysts and business leaders are predicting gamification to be one of the top trends of 2012, and for good reason. As the gold standard for gamification and reputation programs, it has been quite a remarkable year for Badgeville, following our launch in the fall of 2010.
10 Gamification Predictions for 2012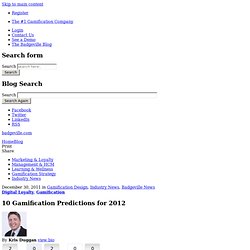 Turn household chores into a game with real rewards! Create positive behavior while having fun! Teach important lessons about long-term planning and delayed gratification! Empower your children to earn the things they want! What Is This? HighScore House is an online game that is powered by the real-world.
HighScore House!
Motion Math: Hungry Fish | Motion Math
Your fish is hungry – hungry for numbers! This fun addition and subtraction game for iPad, iPhone, and iPod touch has instant addition: touch two numbers together to instantly add. Most addition games teach in the form 3 + 4 = __; Hungry Fish challenges players to find different ways to make a 7 (1+6, 2+5, 3+2+2, etc.). There are 18 levels of challenge (for 4-year-olds to adults) and bonuses to customize your fish with new colors and fins. Play this wonderful game with your students, family, and friends. Try it now: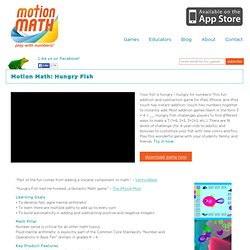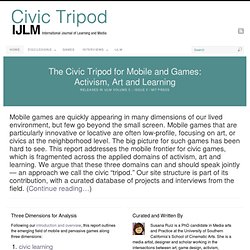 Civic Tripod | Activism / Art / Learning
Susana Ruiz is a PhD candidate in Media arts and Practice at the University of Southern California's School of Cinematic Arts. She is a media artist, designer and scholar working in the intersections between art, game design, activism, documentary and ethics. Benjamin Stokes is a civic media researcher and designer, focused on informal learning and social change. He is currently working on his PhD at the USC Annenberg School for Communication and Journalism. Jeff Watson is a media artist and Research Associate at the University of Southern California's School of Cinematic Arts. His work focuses on investigating how game mechanics and mobile/social media can enable new forms of storytelling and participation.
ARIS is a user-friendly, open-source platform for creating and playing mobile games, tours and interactive stories. Using GPS and QR Codes, ARIS players experience a hybrid world of virtual interactive characters, items, and media placed in physical space. Make Games ARIS is a platform for creating, not just playing. Get involved with us as we create layers of story, science, art and history all over the globe!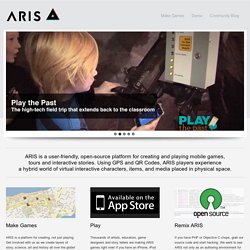 Online Leadership Program |
This Fall, dozens of middle and high schoolers are transforming into game designers as Global Kids' signature program, Playing for Keeps, ramps up at schools around the city and at GK headquarters. Students at the School for Human Rights in Flatbush, Global Neighborhood Secondary School in East Harlem, and I.S. 109 in East Flatbush have been taking a deep dive into the core elements of a game -- creating their own games from found objects, hacking classics like Tic-Tac-Toe and Rock Paper Scissors, and designing, iterating and playtesting levels on Gamestar Mechanic software.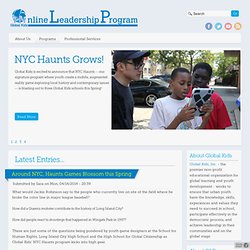 Rapid Results Blazingly Fast Development Engineered with stability, performance and care. Construct 2 is the rapid development tool you need. You need a tool you can rely on.
Free 2D Game Engine
Construct 2 is a game maker for Windows that lets everyone create amazing games. BuyDownload Make games for... Web (HTML5) Wii U iOS * Android Windows 8 & RT Windows Phone 8 Windows Desktop Mac Desktop Linux Desktop Blackberry 10 Firefox Marketplace Tizen Facebook Chrome Web Store Amazon Appstore All platforms for one price — No subscription — Free updates Physics
GDC Presentations - 2012
Game Design 1 - Fall 2011
The Intro Video
Build Worlds If you're used to graphics editors like Photoshop, you'll feel right at home in the Scene Designer. Familiar features, such as a selection tool, zooming, grid-snapping and flood fill, will help you quickly craft complex worlds out of Actors, Tiles and Terrain. Create Actors Drop in graphics from your computer to create Actors on the fly. Then use Stencyl's Actor Editor to tweak your Actors' appearances, behaviors and physical properties, and to get them ready for showtime.
» Jenova Chen on morality in games Valuable Games
Posted: January 14th, 2014 | Added by: Dave Gray | Filed under: Facilitator resources | No comments » Check out this Gamestorming cheat sheet by master Gamestormer Brynn Evans. Rating: 0.0/10 (0 votes cast) Posted: January 14th, 2014 | Added by: Dave Gray | Filed under: Facilitator resources | No comments » Check out this excellent Gamestorming design kit created by expert Gamestormer Brynn Evans. Posted: December 30th, 2013 | Added by: butlerhouse | Filed under: Games for design, Games for fresh thinking and ideas, Games for team-building and alignment | No comments »