Web
[pop-up] urbain - [pop]servatoire d'urbanités. AtypicStore. Medicine in Social Media. Jean-Nicolas Reyt - Blog e-business et e-marketing. Grégory Pouy - Echanger ses idées ! Le Publigeekaire : Blog publicitaire et geek.
Tendances. Strategic planning. Infographie – Dans la tête du community manager | Le Marketing sur le Web ... Social. Le blog GetSatisfaction répertorie les 10 rôles que le Community Manager doit jouer.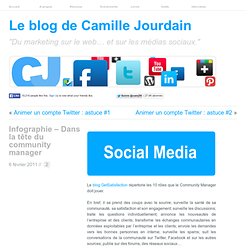 En bref, il se prend des coups avec le sourire; surveille la santé de sa communauté, sa satisfaction et son engagement; surveille les discussions; traite les questions individuellement; annonce les nouveautés de l'entreprise et des clients; transforme les échanges communautaires en données exploitables par l'entreprise et les clients; envoie les demandes vers les bonnes personnes en interne; surveille les spams; suit les conversations de la communauté sur Twitter, Facebook et sur les autres sources; publie sur des forums, des réseaux sociaux… Digital Journalism. LOL. Darkplanneur Zone. Les Archivistes. Darkplanneur. Advertising Websites. Ads of the World™ | Creative Advertising Archive & Community.
---