Social media
The Use of Social Media in Schools. 7 YouTube Tricks You Probably Don't Know. Youtube is undoubtedly one of the most popular video streaming sites out there.
Whether you want to check out some new music videos or find the latest tutorials to use a software or gadget, the first place that generally pops to mind is YouTube. Despite it being very popular and powerful there are some tricks and features that are still not known by most users. This post intends to deliver tricks that will add more dimension to your experience on the YouTube platform, and allow you to enjoy some of the little-known shortcuts, hacks and special features you can use on Youtube.
Recommended Reading: Useful YouTube Keyboard Shortcuts You Should Know 1. Web 2.0 Diagrams. How are teachers using social media. "The internet: probably the most important human invention since the printing press…" A long-overdue technological revolution in education is at last under way, says The Economist.
This week, The Economist ran a briefing on education technology. As long ago as 1913, Thomas Edison predicted the motion picture would make the book obsolete in the classroom. Though it 'has been on the verge of transforming education for over a century, this time it looks as though it will'. This time is different, The Economist argues, because of high-speed networks, cheap tablets, big data, online gaming, adaptive software and private equity. 50+ Reasons Why Parents hate Social Networking sites. Social networking sites are becoming more and more popular among the people of all ages and specially children.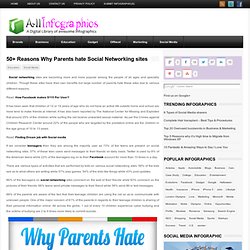 Though these sites have their own benefits but large number of parents hate these sites due to various different reasons. Read: How Facebook makes $115 Per User? It has been seen that children of 12 or 19 years of age who do not have an active life outside home and school are more tend to make friends at internet. Ten Tips for Becoming a Connected Educator. Image credit: iStockphoto (Updated 10/2013) At this year's ASCD conference one of the main themes that kept surfacing was the need for more "connected educators.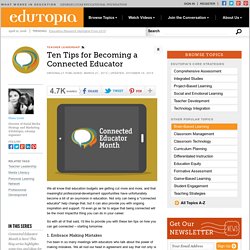 " At this conference, there were definitely some great "firsts. " The general session kicked off with a keynote from Freeman A. How to Get Hesitant Teachers to Use Technology. In my consulting as well as administrative technology work, I am often asked the same questions by different schools and officials.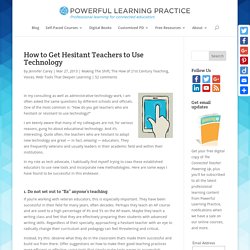 One of the most common is: "How do you get teachers who are hesitant or resistant to use technology?" I am keenly aware that many of my colleagues are not, for various reasons, gung ho about educational technology. And it's interesting. Quite often, the teachers who are hesitant to adopt new technology are great — in fact, amazing — educators. They are frequently veterans and usually leaders in their academic field and within their institutions. A Teacher's Guide to Social Media. 20 Interesting Ways To Use Twitter In The Classroom. 5 Reasons We Use Social Media. Why do you use social media?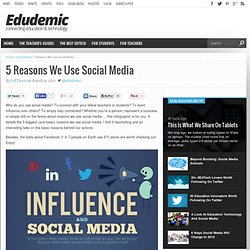 To connect with your fellow teachers or students? To exert influence over others? To simply stay connected? 36 Things Every 21st Century Teacher Should Be Able To Do. What should every teacher in the 21st century know and be able to do?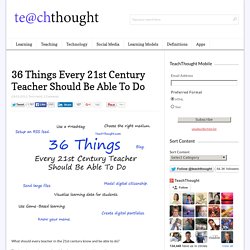 That's an interesting question. After just now seeing this excellent post on educatorstechnology.com, I thought I'd contribute to the conversation. Transparent School Leadership: Engaging Social Media as a Strategy. At the NCTIES Conference this week in Raleigh, North Carolina, my presentation was "Transparent School Leadership: Managing Your School or District's Online Reputation.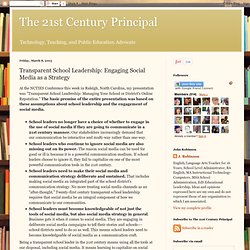 " The basic premise of the entire presentation was based on these assumptions about school leadership and the engagement of social media.School leaders no longer have a choice of whether to engage in the use of social media if they are going to communicate in a 21st century manner. Our stakeholders increasingly demand that our communication be interactive and multi-way rather than one-way. School leaders who continue to ignore social media are also missing out on its power. The reason social media can be used for good or ill is because it is a powerful communication medium. How Should Social Media Be Taught in Schools? Before we ask how, I think we should address why social media should be taught in schools.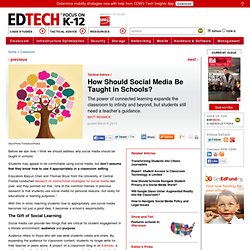 Students may appear to be comfortable using social media, but don't assume that they know how to use it appropriately in a classroom setting. Educators Baiyun Chen and Thomas Bryer from the University of Central Florida conducted research on instructional strategies for social media last year, and they pointed out that, "one of the common themes in previous research is that students use social media for personal reasons, but rarely for educational or learning purposes." With this in mind, teaching students how to appropriately use social media becomes not just a good idea; it becomes a school's responsibility. The Gift of Social Learning. A Printable Guide to Social Media [#Infographic] Cram a dozen educators into a conference room and ask them to name the most popular social media tools used by students, and it's a safe bet everybody at the table could rattle off the top two: Facebook and Twitter.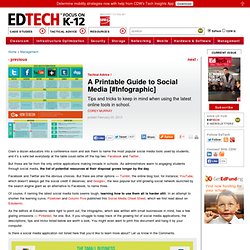 But those are far from the only online applications making inroads in schools. As administrators warm to engaging students through social media, the list of potential resources at their disposal grows longer by the day. Is Educational Technology Worth the Hype? Photo credit: iStockPhoto Each January, I have the opportunity to facilitate a course in Leading and Managing Technology for the Educational Leadership Program at St.
Mary's College of California. The Good, the Bad, and the Ugly of Educational Social Media. Image Credit: flickr.com The use of social media for educators to connect, learn and collaborate with each other is so powerful. But in the last six weeks I have been frustrated, discouraged and disheartened by the fact that each Saturday morning the chat I co-founded (#satchat) with Brad Currie (@bcurrie5) has been the victim of spam. This is unacceptable and a black eye on Twitter. As educators who use social media we should expect, dare I say demand, that all the social media services used to connect us will do so in a manner that provides us with what we want, professional connections with colleagues, in a safe environment and not what we are getting week after week, spam that invades and destroys the very fabric of our efforts.
This issue is bigger than our small Saturday morning educational conversation. INFOGRAPHIC: What Makes Social Media so Influential? If your impression of social media is limited to your friends posting cat videos and teenagers glued to their iPhones – think again. Social media possesses incredible influential power, and since the advent of the Internet it's evolved from a simple way for people to keep in touch into a massive global network connecting organizations, communities and people. Social media is the easiest, fastest and most explosive way to transmit and receive information! And best of all – absolutely anyone can take advantage of it. 7 Steps to Optimize Your Social Media Presence as an Educator. In his book, The New Rules of Marketing & PR, David Meerman Scott perhaps captures why a number of us so heavily engage in using social media: " It's fun to blog and tweet, and it makes you feel good to get your ideas out into the world."
It is fun to blog and tweet, and there is satisfaction that comes from "getting your ideas out there." But for me real satisfaction comes from making "connections" with other educators and growing my personal learning network. This real satisfaction also comes from developing an "online presence" that authentically represents who I am. New To Google+? Quick Tips You Need to Know. Google+ was never quite the Facebook killer it was hyped up to be, but it's been growing steadily ever since it's been introduced and now has over 100 million active users. Whether you're just getting started with Google+ or you signed up a while ago and never gave it a chance, these Google+ tips will help get you up to speed with Google's social network.
Google+ is packed with features and it would take one of our in-depth guides to cover every last thing you can do with it. For more in-depth information, be sure to download Get Into Google+: A Guide for Everyone, our free, in-depth guide to Google+. Manage Your Circles. Social Media in Education: Resource Roundup.
From Twitter to Edmodo: Schools Collaborate With Social Media. 7 Top Tips to Attract EdTech Twitter Followers. A Useful Social Media Cheat Sheet. A Great Twitter Cheat Sheet for Teachers. Social Media Video 2013. 5 Tips To Building A Healthy PLN With Twitter. 25 Ways To Use Twitter To Improve Your Professional Development | 21st Century Learning and Teaching | New learning. Teaching with Twitter: how the social network can contribute to learning | Higher Education Network | Guardian Professional.
Using Twitter to Bring About Educational Change. Is Twitter the Driving Force Behind Upcoming Educational Change? Don't Be Afraid of Using Twitter in Business. What Schools are Really Blocking When They Block Social Media. Share your great lesson ideas with the world. 10 Little Known Social Media Tools You Should Be Using -- Now. Educational Hash Tags and Live Channels | New learning | Scoop.it. The Oft-Ignored 21st Century Leadership Skill for School Leaders. New Twitter: 25 Tips and Tricks for Savvy Tweeters. "Twitter? I Don't Get It!" A 3-Step Guide For Newbies - Brandon Twyford – Marketing Communications.
How to Use Google Search More Effectively [INFOGRAPHIC] | teaching with technology | Scoop.it. Teaching students about the Creative Commons. A world of tweets. Blog. All My Faves | Education. How to Grow a Blog  » 100+ examples of use of social media for learning C4LPT | English 2.0. The 100 Best Web 2.0 Classroom Tools Chosen By You.
---