Connecting classrooms
A space for collecting advice and support for teachers who are connecting their classrooms with others internationally.
Why Connected Learning | Educator Innovator. For more than a century, educators have strived to customize education to the learner.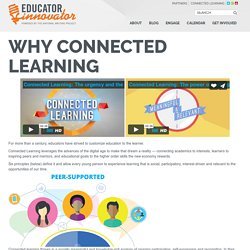 Connected Learning leverages the advances of the digital age to make that dream a reality — connecting academics to interests, learners to inspiring peers and mentors, and educational goals to the higher order skills the new economy rewards. Six principles (below) define it and allow every young person to experience learning that is social, participatory, interest-driven and relevant to the opportunities of our time.
Connected learning thrives in a socially meaningful and knowledge-rich ecology of ongoing participation, self-expression and recognition. In their everyday exchanges with peers and friends, young people fluidly contribute, share and give feedback. How Social-Emotional Learning Transforms Classrooms. Research clearly demonstrates that integrating social-emotional learning (SEL) into the classroom is good for both students and the adults who work with them.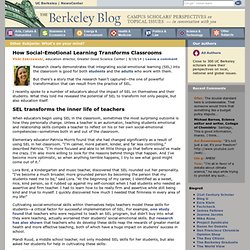 But there's a story that the research hasn't captured—the one of powerful transformation that can result from the practice of SEL. I recently spoke to a number of educators about the impact of SEL on themselves and their students. 20 Things You Can Do With Google Classroom. Google Classroom ( is available to schools with a Google Apps for Education (GAfE)domain.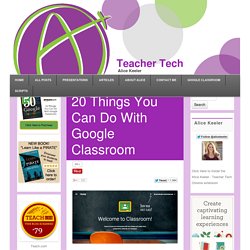 Classroom is a way to get all of your students in one place and allows you to easily assign work and for students to turn it in. Sharing Resources: Google Classroom allows you to take a document, video or link and push it out to your students.Create a Lesson: More than simply assigning work to students, Google Classroom allows you to build an assignment. Google Classroom Guide: Help and Support for Educators. Classroom: The Story So Far Google Classroom officially launches in September 2014, but educators like me who have been lucky enough to get access to it ahead of its public unveiling have largely been very impressed.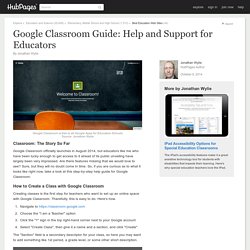 Are there features missing that we would love to see? Sure, but they will no doubt come in time, and many will hopefully be added over the summer before the official unveiling in September. However, if you are curious as to what it looks like right now, take a look at this step-by-step help guide for Google Classroom. How to Create a Class with Google Classroom. Michael Graffin's Page - Flat Connections.
Learning environments
Google Announces Classroom Their Take On A Learning Management System. This year at SXSWedu there was a lot of buzz in the Google lounge about a new product coming down the pike.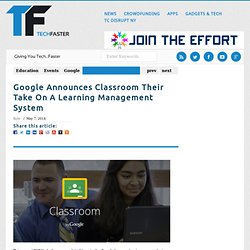 Thousands of teachers were already using Google Docs as part of Google Apps For Education as their own free LMS (learning management system). Teachers were adapting Google Apps For Education in the ways that best met their needs but it still wasn't totally an educational offering. Well Google heard that call. Educational Hash Tags. #fb4ed#FCE#FETC #FF#fft#filmclass#finnedchat#flatclass #flatclassroom#FLE#flipchat #flipclass#flteach #followalibrarian #followfriday#fooded#foodtechteachers #formativeassessment#forteachers #frimm#FYCchat #gaed#gafe#gamedeved#gamemooc#gamify#gamification#gapbis#gbl#GCSE#GCT#geniushour#geniustime#geochat#GeoEdChat#geographyteacher@geomchat #gifted #GlassEdExplorers#GlassExplorers#globalchem#globalclassroom#globaled#google #googlect#googleglass#G+eduhangout#googlesearch#GplusEd#grammar #grandparentlessons #graphic_organizers#gr8teacher#great-teaching #grtechedu #gt #gtaa #gtadmin #gtchat#gted#gtie #GTvoice#guidechat #health #healthed#highered #highschool #highscope #hiphoped#histedchat#history#historyteacher#historyteaching#homeschool#homeschoolers#homeschooling #hs #hsc#hsmath.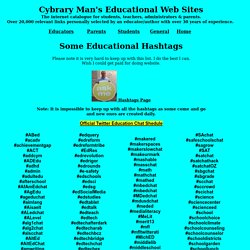 Week 0 webinar - learning the ropes. Twitter: How to archive event hashtags and create an interactive visualization of the conversation. The use of Twitter to collecting tweets around an event hashtag allowing participants to share and contribute continues to grow and has even become part of mass media events, various TV shows now having and publicising their own tag.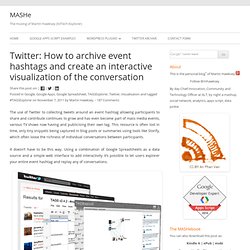 This resource is often lost in time, only tiny snippets being captured in blog posts or summaries using tools like Storify, which often loose the richness of individual conversations between participants. It doesn't have to be this way. Using a combination of Google Spreadsheets as a data source and a simple web interface to add interactivity it's possible to let users explorer your entire event hashtag and replay any of conversations.
Design Thinking « Design Thinking for Educators. It is a mindset Design Thinking is the confidence that everyone can be part of creating a more desirable future, and a process to take action when faced with a difficult challenge.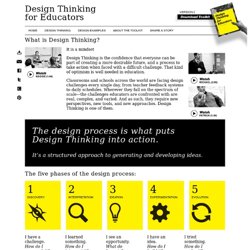 That kind of optimism is well needed in education. Classrooms and schools across the world are facing design challenges every single day, from teacher feedback systems to daily schedules. Wherever they fall on the spectrum of scale—the challenges educators are confronted with are real, complex, and varied. And as such, they require new perspectives, new tools, and new approaches. 'Team Teaching' as shared experience. For many educators the professional experience can be a paradoxically lonely one.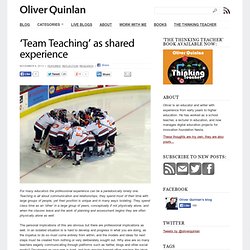 Teaching is all about communication and relationships, they spend most of their time with large groups of people, yet their position is unique and in many ways isolating. They spend class time as an 'other' in a large group of peers, conceptually if not physically alone, and when the classes leave and the work of planning and assessment begins they are often physically alone as well. The personal implications of this are obvious but there are professional implications as well. In an isolated situation is is hard to develop and progress in what you are doing, as the impetus to do so must come entirely from within, and the models and ideas for next steps must be created from nothing or very deliberately sought out. Why else are so many teachers eagerly communicating through platforms such as twitter, blogs and other social media? Internet mentors could supplant traditional lecturers.
Horizon Scanning study points to a 'new kind of pedagogy' in higher education by 2020 Traditional lecturers may soon be replaced by networks of online mentors working for several universities, a new study predicts.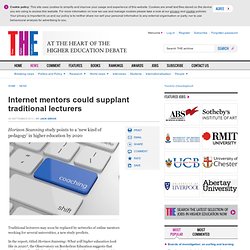 In the report, titled Horizon Scanning: What will higher education look like in 2020? How can we connect to other educators using Twitter? What A Week Of Groceries Looks Like Around The World « Nutrition News. If you're new here, you may want to subscribe to my RSS feed. Thanks for visiting! It seems as a people, we have a fascination with photographing our food. Teachers Tweeting Teachers: Building a Community of Practice through Twitter. During a leadership team (LT) meeting of the San Diego Area Writing Project (SDAWP) in January 2012 we were talking about digital tools and the ways that teachers—and all of us are teachers—use or don't use online forums for communication.
We have had this discussion before as we continue to explore ways to stay connected without (or in addition to) face-to-face meetings. And in spite of this wish for digital connections, we have found that many teachers, including many of us in this group, really don't participate in online forums. The Future of Education. 2-Character Alphabetical Country Codes - Digraphs of All Countries. International Education News l The PIE News l 2020: Demand for HE to outpace international student mobility. Improved domestic provision of higher education, increased intraregional student mobility and the overall growth of Transnational Education (TNE), will meet the growing demand for higher education in 2020 say over 20 global higher education leaders.
"TNE variants may prove to be a more prudent recruitment vehicle than relying only on international students" Growth in global HE international enrolments will decline from 5-6% to 1.4% annually in 2020 as demand in the developed world slows and supply in BRIC countries increases, the paper claims. Major destinations such as France, Germany and New Zealand are already experiencing this: their international enrolments grew by less than 10% from 2005 to 2010. "In practical terms I don't think it means anything dramatic. Using Video for Social Learning. 'Un autre monde/ Eine andere Welt : Echange scolaire virtuel à l'aide d'une plateforme Moodle et de Machinimas'
Building global learning communities | Cochrane. UNDG Report 2013. Qui sont nos camarades de classe? Faisons la connaissance. Tell users about Google+ - Google Apps Help. ESL EFL Conversation worksheets. Learn Mandarin the Chineasy Way. Using Digital and Multi-modal Texts. Primary Perspective. 3 Reasons To Try Google Chromebooks In The Classroom. Erasmus faces demand and management problems – LERU. 18 Things To Know About Education In Mexico.
Flipped Learning Network Ning - A professional learning community for teachers using screencasting in education. Q&A: Mimi Ito on Connected Learning for All. 50 Google Charts Tricks for Your Next Classroom Presentation. Technology: Virtual mobility with a difference « European Association for International Education European Association for International Education. Teacher's Guide to Using Shared Google Docs with Students. Fair Use: Remix Culture, Mashups, and Copyright | Teaching Copyright. Best Practices for Blackboard Collaborate | Center for Online Learning, Research & Service. Our New Interactive Book: Connected from the Start: Global Learning in the Primary Grades. EYES, the next gener@tion!
Accessibility Guides - Google Apps Help. Ten Tips for Becoming a Connected Educator. Languages @ Tile Hill Wood School: We had mail (from Japan)! Google Docs Collaboration In Hangouts Is Now Available To All Users [Updates] Five Essential Google Drive Skills For Teachers. UNI-COLLABORATION | intercultural exchange | Supporting virtual intercultural exchange between university classrooms across Europe and beyond. App Reviews | check out the TeacherCast review of the app: Skype. The language of Twitter: the rise of MFL teachers online | Teacher Network | Guardian Professional. JISC Quiz - ShareSWF.com - Upload and Share your Flash SWF Animations. How a Social Collaboration Platform Can Overcome Virtual Team Distance. Collaboration Basics. Launching The Global Classroom Mentors Project. Cross-Cultural/International Communication - Ethnocentrism, Factors affecting cross-cultural business communication. Rise of the Chromebook: Lenovo is the latest to challenge Windows laptops.
Wisconsin, United States Time Zone Converter Difference Calculator. Numérique éducatif : 5 bonnes idées pour le ministre. Classroom 2.0 LIVE! - Home. What Online Tools Work for Teaching Language Arts? 3 Core Essentials of Collaboration Tools. An Interactive Tutorial: Google Presentation.
Teaching with Online Collaboration Tools: U-M Faculty Examples. Waking the dead - Halloween, 31 October - Day of the Dead, 31 October to 2 November - resources. World Languages. Pédagogie. ACCUEIL - Site de ecouterlirelemonde !
15 Great Google tutorials for Teachers. Some quick notes on Google+ Hangouts On Air JISC CETIS MASHe. Classroom 2.0. A Relief Teacher's Journey - A new teacher's thoughts on working in the Western Australian education system. Classrooms as Complex Adaptive Systems: A Relational Model. Why Teachers Need Social Media Training, Not Just Rules. Jeunesses 2.0 et médias sociaux : comment explorer virtuellement la vraie vie ? Year 9 Passion-driven project … using social media to have a real world impact!
Designing for Participant Engagement with Blackboard Collaborate. Clivesir - Ed Blog Register. Advice for New Globaled Teachers. Are You Ready for BYOD? Using social media as a language learning tool | Teacher Network Blog | Guardian Professional. Tech For a Global Early Childhood Education | Globalizing Early Learning with Technology. Launching Blackboard Collaborate. Collaboration Grid. Les réseaux sociaux pour enseigner : n'en jetez plus ou jetez les tous ? Ridiculously Efficient - 5 Monday Must-Reads on a Collaborative Work Environment. Ten Sites Supporting Digital Classroom Collaboration In Project Based Learning.
---