Interesantes
9780310716006_samptxt. Analyze your Facebook page | Likealyzer. Watch Sex and the City online (TV Show) The Big Picture. Many indigenous groups, including the Huni Kui, Ashaninka, and Madija, live in villages in the Brazilian rainforest near the border with Peru.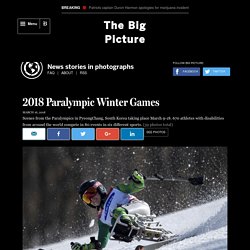 Over the past three years, the Ashaninka and Madija say that they have seen more and more incursions on their territory from uncontacted tribes, defined by Survival International as groups who have no peaceful contact with mainstream society. The "Bravos," or "Braves," as uncontacted Indians are called in the region, carry out raids on other villages, putting the communities along the Envira River on permanent alert.
Leaders of the Ashaninka tribe have asked the government and NGOs for help in controlling what they consider an encroachment on their area by these uncontacted indigenous groups, stating that the movement of these other tribes is the result of pressure caused by illegal logging across the border in Peru. Crisis Management and Communications. Introduction Crisis management is a critical organizational function.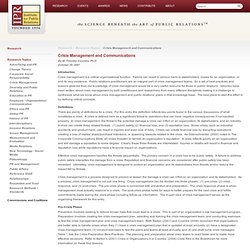 Failure can result in serious harm to stakeholders, losses for an organization, or end its very existence. Public relations practitioners are an integral part of crisis management teams. Social Network Sites: Definition, History, and Scholarship. Www.uoc.edu/rusc/2/2/dt/esp/sanz.pdf.
Que hacemos en PLATAFOR.MA. Ricardo Pombo Foto: El mundo digital tiene la particularidad de retar los modelos tradicionales para hacer negocios y a su vez de necesitar un talento que entienda las dinámicas que mueven el mercado.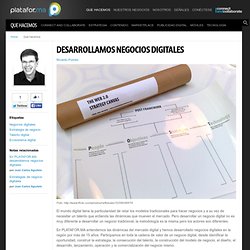 Pero desarrollar un negocio digital no es muy diferente a desarrollar un negocio tradicional, la metodología es la misma pero los actores son diferentes. En PLATAFOR.MA entendemos las dinámicas del mercado digital y hemos desarrollado negocios digitales en la región por más de 15 años. Participamos en toda la cadena de valor de un negocio digital, desde identificar la oportunidad, construir la estrategia, la consecución del talento, la construcción del modelo de negocio, el diseño, el desarrollo, lanzamiento, operación y la comercialización del negocio mismo.
Www.iso.org/iso/iso_26000_project_overview-es.pdf. Business Horizons - Users of the world, unite! The challenges and opportunities of Social Media. Abstract The concept of Social Media is top of the agenda for many business executives today.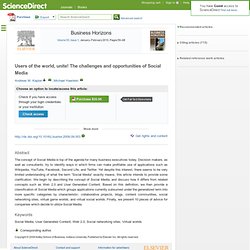 Decision makers, as well as consultants, try to identify ways in which firms can make profitable use of applications such as Wikipedia, YouTube, Facebook, Second Life, and Twitter. Yet despite this interest, there seems to be very limited understanding of what the term "Social Media" exactly means; this article intends to provide some clarification. We begin by describing the concept of Social Media, and discuss how it differs from related concepts such as Web 2.0 and User Generated Content. ScienceDirect.com | Search through over 10 million science, health, medical journal full text articles and books.
Ongoing Crisis Communication: Planning, Managing, and Responding - W. Timothy Coombs. Crisis communication is the life blood of crisis management: when communication is ineffective so is the crisis management effort.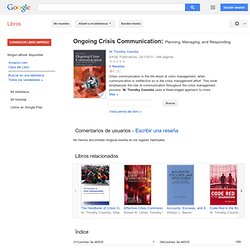 This book emphasizes the role of communication throughout the crisis management process. W. Timothy Coombs uses a three-staged approach to crisis management - pre-crisis, crisis, and post-crisis. The Social Media Bible: Tactics, Tools, and Strategies for Business Success - Lon Safko. The De-Branding of BP on the Social Web | - SmedioSmedio. There's no question that BP has messed up big time – not just with the oil spill but the way its PR team has managed the aftermath of the incident.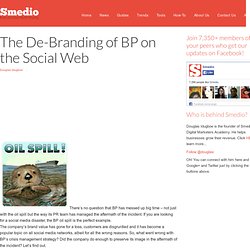 If you are looking for a social media disaster, the BP oil spill is the perfect example. The company's brand value has gone for a toss, customers are disgruntled and it has become a popular topic on all social media networks, albeit for all the wrong reasons. So, what went wrong with BP's crisis management strategy? Did the company do enough to preserve its image in the aftermath of the incident? Let's find out. Thus Spake Zarathustra/Part One. [edit] Three metamorphoses of the spirit do I designate to you: now the spirit becometh a camel, the camel a lion, and the lion at last a child.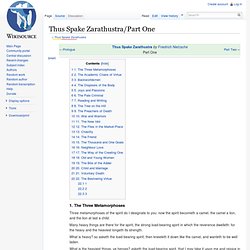 Many heavy things are there for the spirit, the strong load-bearing spirit in which the reverence dwelleth: for the heavy and the heaviest longeth its strength. What is heavy? So asketh the load-bearing spirit; then kneeleth it down like the camel, and wanteth to be well laden. What is the heaviest things, ye heroes? Así habló Zaratustra. Prólogo[editar] 1 [1][editar] Cuando Zaratustra tenía treinta años[2], abandonó su patria y el lago de su patria y fue a las montañas.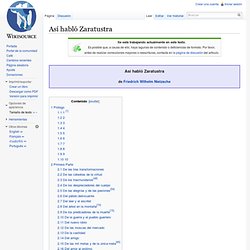 Allí gozó de su espíritu y de su soledad y durante diez años no se cansó de ello. Hmontielc.wikispaces.com/file/view/TALLER+DE+COMUNICACION+ORAL.pdf. Basics of APA Style. COLOR IN MOTION. TEST PERSONALIDAD (temperamentos) - Bienvenidos a infoespacio.net. Toma una hoja y de cada línea de 4 palabras selecciona una letra hasta llegar a la línea número 40.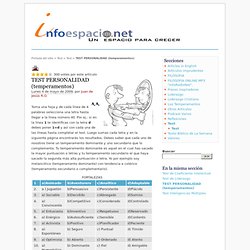 Por ej.: si en la línea 1 te identificas con la letra d debes poner 1=d y así con cada una de las líneas hasta completar el test. Luego sumas cada letra y en la siguiente página encontrarás los resultados. Debes saber que cada uno de nosotros tiene un temperamento dominante y uno secundario que lo complementa. Tu temperamento dominante es aquel en el cual has sacado la mayor puntuación o letras y tu temperamento secundario el que haya sacado la segunda más alta puntuación o letra. Yo por ejemplo soy melancólico (temperamento dominante) con tendencia a colérico (temperamento secundario o complementario). Temperamentos. 1 Corintios 13: 11-13 ¿Eres temperamental?
/ ¿Que entiendes por esta palabra? Es muy probable que en alguna situación de tu vida, te comportaste tan mal que a la hora de reflexionar en tu actitud, te preguntes: ¿Por qué actué de esta manera? /¿Y por qué otros compañeros actuaron tan bien en la misa situación que yo?... Una Esquina Cualquiera.
Family tree of the Greek gods. - StumbleUpon. Coca-Cola Marketing Shifts from Impressions to Expressions - Joe Tripodi - The Conversation. By Joe Tripodi | 9:05 AM April 27, 2011 This post is part of Creating a Customer-Centered Organization. A lot of us remember when the role of the CMO was much simpler.
---