Occupy/Inequality
A cautionary tale of a vibrant and thriving culture lost in time, these photographs collected on a community Facebook page in Afghanistan are likely to leave you in disbelief. The country we're so often shown today is comparable to a broken medieval society, but not so long ago, the barren landscape was dotted with stylish buildings, women wore pencil skirts and teenagers shopped at record stores. As you browse the photos that capture progress, hope and that rock'n'roll spirit in the air, keep in mind the implications of what happened to this culture in just a few decades.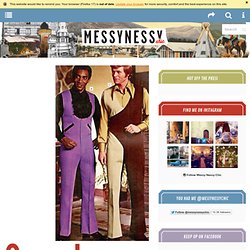 Lost in Time: Groovy Afghanistan
Buycott App
The One Comic That Explains Just How Screwed America Is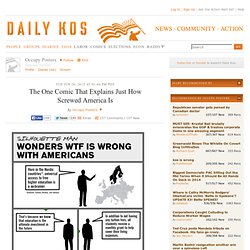 Sources in the Poster Student loan debt growth, take your pick of sources. Here's one For-profit school deregulation. http://huff.to/... Military expenditures, top 15 countures. http://bit.ly/...
What's Happening With the Chicago Teacher Strike, Explained
More than 350,000 kids in the Chicago Public School district got to sleep in on Monday because their teachers were up early striking for better benefits, job security, evaluations, and training. The Chicago Teachers Union has been in contract negotiations with Chicago Public Schools since November 2011, but this is the first actual teachers' strike to hit the Windy City in 25 years . There have been other teacher strikes this year in Oregon and Pennsylvania , but this latest movement has sparked a fierce debate about national education reform, raising questions about America's emphasis on standardized testing. It has also pit public schools against charter schools, which are often nonunionized and "tend to favor rookie teachers who are younger and far less likely to be minorities," according to the . Stephanie Gadlin, a spokesperson for the Chicago Teachers Union , says "we are fighting for educational justice. We do not intend on taking this anymore."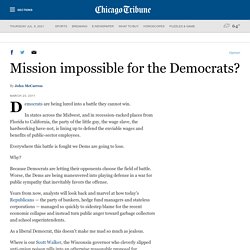 March 20, 2011 | By John McCarron Democrats are being lured into a battle they cannot win. In states across the Midwest, and in recession-racked places from Florida to California, the party of the little guy, the wage slave, the hardworking have-not, is lining up to defend the enviable wages and benefits of public-sector employees. Everywhere this battle is fought we Dems are going to lose.
Mission impossible for the Democrats?
5 Things You Never Knew About Microfinancing
Faceoff: Occupy Wall Street vs. Tea Party Movement (Infographic) | Accelerated Degree Programs
America's 10 Most Overpaid CEOs
Octopi Wall Street!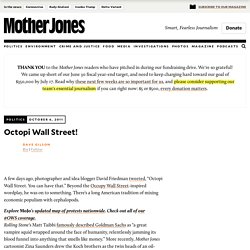 A few days ago, photographer and idea blogger David Friedman tweeted , "Octopi Wall Street. You can have that." Beyond the Occupy Wall Street -inspired wordplay, he was on to something. There's a long American tradition of mixing economic populism with cephalopods. Rolling Stone 's Matt Taibbi famously described Goldman Sachs as "a great vampire squid wrapped around the face of humanity, relentlessly jamming its blood funnel into anything that smells like money." More recently, Mother Jones cartoonist Zina Saunders drew the Koch brothers as the twin heads of an oil- and money-spewing "Kochtopus."
OWS Fact Sheet 09/30/2011
#OccupyWallStreet Is a Church of Dissent, Not a Protest
September 29th, 2011 6:07 PM By Matt Stoller Last weekend, I spent a few days with the protesters downtown near Wall Street, and it was an eye-opening experience. The people there want something, but it's not a list of demands, and it is entirely overlooked by the media and most commentators on the protest. If all you read are news stories and twitter feeds about #OccupyWallStreet, the most trenchant imagery that will stick in your mind is that of police brutality, and the politics of Wall Street greed.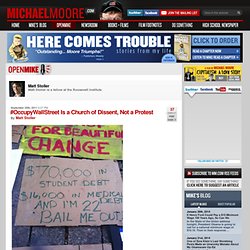 10th February 2013 Question with 24 notes Anonymous asked: On New Year's Eve I had a miscarriage at home. I do not have insurance and live off of $800.00 a month. If I called an ambulance I would not be able to afford to eat for months.
Want more charts like these? See our charts on the secrets of the jobless recovery , the richest 1 percent of Americans , and how the superwealthy beat the IRS . A huge share of the nation's economic growth over the past 30 years has gone to the top one-hundredth of one percent, who now make an average of $27 million per household. The average income for the bottom 90 percent of us? $31,244.