Biology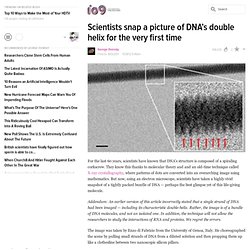 Scientists snap a picture of DNA's double helix for the very first time
For the last 60 years, scientists have known that DNA's structure is composed of a spiraling corkscrew.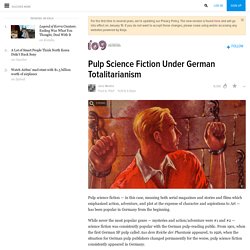 Pulp science fiction — in this case, meaning both serial magazines and stories and films which emphasized action, adventure, and plot at the expense of character and aspirations to Art — has been popular in Germany from the beginning. While never the most popular genre — mysteries and action/adventure were #1 and #2 — science fiction was consistently popular with the German pulp-reading public. From 1901, when the first German SF pulp called appeared, to 1926, when the situation for German pulp publishers changed permanently for the worse, pulp science fiction consistently appeared in Germany.
Pulp Science Fiction Under German Totalitarianism
Pulp Science Fiction Under German Totalitarianism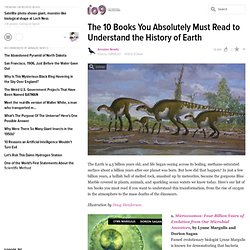 SExpand The Earth is 4.5 billion years old, and life began oozing across its boiling, methane-saturated surface about a billion years after our planet was born.
The 10 Books You Absolutely Must Read to Understand the History of Earth
The 10 Books You Absolutely Must Read to Understand the History of Earth
Thursday 26th July saw the launch of SciLogs.com, a new English language science blog network. SciLogs.com, the brand-new home for Nature Network bloggers, forms part of the SciLogs international collection of blogs which already exist in German, Spanish and Dutch.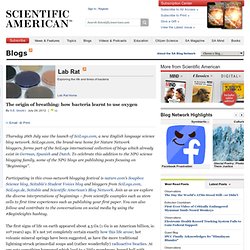 The origin of breathing: how bacteria learnt to use oxygen | Lab Rat
Dolly the sheep comes to mind when we think of cloned animals.
The first cloned animals were cloned over a century ago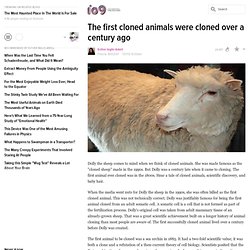 This post is written in a font made of DNA : Not Exactly Rocket Science
Ten Things You Probably Didn't Know About DNA
"One of the most commonly created forms of synthetic DNA is XNA,"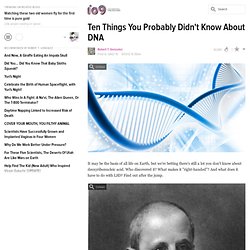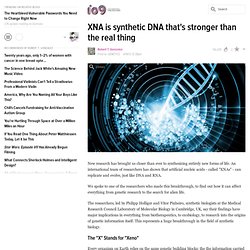 XNA is synthetic DNA that's stronger than the real thing
An XNA-based organism would be basically identical to a DNA-based organism. It's the nucleotides (the GATC) that encode the information into protein, and those are unchanged. So you may as well make a synthetic DNA organism from the ground up for a cheaper all-around cost.
Mark Gasson had caught a bad bug. Though he was not in pain, he was keenly aware of the infection raging in his left hand, knowing he could put others at risk by simply coming too close. But his virus wasn't a risk for humans.
Could Human and Computer Viruses Merge, Leaving Both Realms Vulnerable?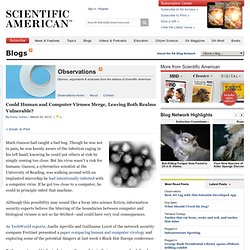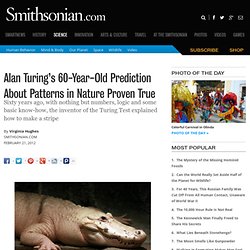 Image by Flickr user quinn.anya Nature, for all of its free-wheeling weeds and lightning strikes, is also full of biological regularity: the rows of an alligator's teeth, the stripes on a zebrafish, the spacing of a chicken's feathers.
Alan Turing's 60-Year-Old Prediction About Patterns in Nature Proven True | Surprising Science
Great project.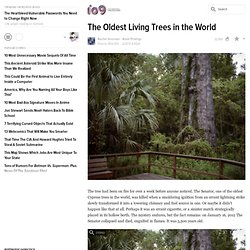 The Oldest Living Trees in the World
The recent Nature paper from Jef Boeke's group, "Synthetic chromosome arms function in yeast and generate phenotypic diversity by design," begins with an appropriately futuristic sentence: "The first phase of any genome engineering project is design." While there have been efforts to redesign viral genomes and chemically synthesize bacterial genomes, whole genomes of living cells are not yet something that can readily be designed from scratch. This new paper (excellently reviewed by Lab Rat a while back) approaches the design of genomes in a fascinating way; instead of trying to decide in advance what a good engineered/engineerable genome looks like or simply copying an existing genome, they designed the sequence of one arm of a yeast chromosome (about 90,000 base pairs) with built-in genetic flexibility, enabling future experiments and future evolution.
Diversity by Design | Oscillator
Evolution::Features::November 23, 2011:: ::Email::Print Microorganisms trying to eat one another may have led to the symbiotic merger of their genes—and also started the process of aging By Lynn Margulis
Did Sex Emerge from Cannibalism? Sex, Death and Kefir, by Lynn Margulis (1938–2011)
Discover the cosmos!
2012 August 21 - DNA: The Molecule that Defines You
Molecular Visualizations of DNA - Original High Quality Version
Longevity Shown for First Time to Be Inherited via a Non-DNA Mechanism
Evolution::News::October 19, 2011:: ::Email::Print Experiments with worms show that altering an enzyme can not only lengthen their life spans, but that the longevity effect can be carried across several generations By Sarah Fecht Research on nemotode worms is helping to illuminate ways to lengthen their lifetimes.
Lions and Tigers Bear Vocal Cords for Roars: Scientific American Podcast
Evolution::60-Second Science::November 2, 2011:: ::Email::Print Most animal vocal cords are triangular, but the uniquely stretchable square cords of the big cats let them produce their amazingly loud roars. Rose Eveleth reports For many potential entrée animals this [sound of lion roar] is one of the scariest sounds around.
Stunning Images Under the Microscope Capture the Lives of the Tiniest Creatures [Slide Show]: Scientific American Slideshows
Stunning Images Under the Microscope Capture the Lives of the Tiniest Creatures [Slide Show]
Evolution: The Rise of Complexity | Science Sushi
Infinity Imagined
Infinity Imagined
Infinity Imagined
Infinity Imagined
Infinity Imagined
Infinity Imagined
Infinity Imagined
Infinity Imagined
Infinity Imagined
Infinity Imagined
logy Magazine
Infinity Imagined
Infinity Imagined
Infinity Imagined
Infinity Imagined
Infinity Imagined
logy Magazine
BOLD Systems
New Magnetic Bacteria! | Lab Rat
Infinity Imagined
Greg Dunn | Visual Art | Neuroscience Art | Gold Leaf Painting
Microbes generate electricity while cleaning up nuclear waste
Lennart Nilsson Photography
Pictures of the day: 1 December 2011
Evolution World Tour: Galápagos Islands, Ecuador | Evotourism
Before DNA, before RNA: Life in the hodge-podge world - life - 08 January 2012
How I became we, which became I again | Not Exactly Rocket Science
Mammals Made By Viruses | The Loom
DNA Barcoding Goes Mainstream | Wired Science
8 Things You Won't Believe Plants Do When No One's Looking
VI. EVOLUTION GOING ON
Alan Turing's Patterns in Nature, and Beyond | Wired Science
Mini Motion: Award-Winning Microscope Videos | Wired Science
Meet the ancestor of all living things on Earth
Can a venus flytrap digest human flesh?
Timeline: The evolution of life - life - 14 July 2009
Behold, the future's bioluminescent billboards
Biological clock began ticking 2.5 billion years ago - life - 16 May 2012
Drew Berry: Animations of unseeable biology
Meet the molecule responsible for giving Earth all of its oxygen
Blonde hair evolved independently in Pacific islands - life - 03 May 2012
Watch this team of scientists make a lion roar. Oh, and did I mention the lion is dead?
A plausible end-of-the-world scenario you've probably never thought of
Why Albino Animals Aren't Always White (And Non-Albino Animals Are)
Why we evolved two nostrils (hint: it's all about domination)
For the first time in 75 years, an entire genus of mammal is on the brink of extinction
Whoa, a Petri Dish That Has a Pulse
A Microbe Metropolis
Nature Under Glass: Gallery of Victorian Microscope Slides | History of Science & Scientific Imagery
Life began with a planetary mega-organism - life - 25 November 2011
FAQ: What's reproductive cloning? | How does reproductive cloning work? | LiveScience
Is it possible to reanimate the dead? Can dead people be brought back to life? | LiveScience
Anti-Gravity Machine for Levitating Fruit Flies
Animals Shrink as Earth Warms | Global Warming & Temperature | Climate Change & Animal Body Size
Life on Earth began in . . . Greenland!?
Ancient Plants Resurrected from Siberian Permafrost | Silene Dtenophylla & Siberian Tundra | Oldest Regeneration of a Living Plant & Zombie Plants
Scientists confirm Alan Turing's 60-year-old theory for why tigers have stripes
Zoology & Animal behaviour