Insects
Pest. WhatBird | identify birds | bird identification guide | north am. David Sibley's Website. Avibase - The World Bird Database. I have completed a periodic review of eBird submissions for new potential regional records.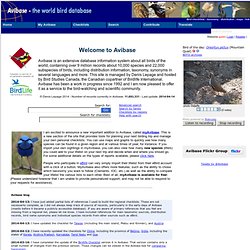 Over the last few months, several new country records have been submitted to eBird and have now been incorporated into Avibase. Here's a list of highlights (links lead to eBird checklist with additional details such as photos). In all cases, country records have been accepted by the eBird reviewers, but they may not have been reviewed by the rare bird committee of that region. Central America: Black-vented Shearwater (El Salvador), Southern Lapwing (Honduras), California Gull (Honduras), California Gull (Nicaragua), Kelp Gull (Honduras), Roseate Tern (Guatemala), Bicolored Wren (Panama), Tricolored Munia (Nicaragua). Caribbean: Herald Petrel (Bahamas), Cory's Shearwater (Turks and Caicos Islands), Snow Goose (Cayman Islands), Bald Eagle (Cuba). 1471026 - greenhead horse fly, Tabanus nigrovittatus (Diptera: T. CalPhotos: Browse Insect Common Names. Back to: CalPhotos > Animals > Browse Invertebrate-Insect Common Names Last updated: Apr 06 2014 see also: Browse Insect Thumbnail Photos.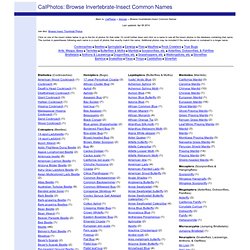 Common Names of Insects. Tabanus @ Insect Images. Animal Diversity Web. Field Guide to Birds - The BioDiversity Institute (BDI) - Identi. FieldGuides: Insects and Spiders. Field Guide: Birds of the World. Biological Resources. Northern Prairie Wildlife Research Center The mission, in part, of Northern Prairie Wildlife Research Center is to work with others to assess the biotic resources of the Great Plains, to facilitate information sharing among agencies, organizations, and individuals, and to synthesize that information.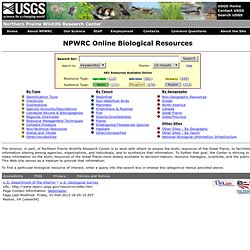 To further that goal, the Center is striving to make information on the biotic resources of the Great Plains more widely available to decision-makers, resource managers, scientists, and the public. This Web site serves as a medium to provide that information. Welcome to the PLANTS Database | USDA PLANTS. What's That Bug?
---