Insects
WhatBird | identify birds | bird identification guide | north am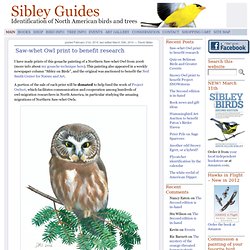 David Sibley's Website
Auction closed with a winning bid of $1660! Thanks to everyone for your support. And you can still make a donation at the ABC website here. Like so many other birders, I've had the great pleasure of sitting and birding in the Paton's backyard sanctuary in Patagonia, Arizona, where Violet-crowned Hummingbird is one of the specialties. I did this gouache painting of a Violet-crowned Hummingbird remembering my visits there, and 100% of the proceeds from the sale of this painting will be donated to help permanently preserve the property as a bird sanctuary and education center. I'm donating a painting because I support this cause, and you can make a donation even if you're not buying the painting.
I have completed a periodic review of eBird submissions for new potential regional records. Over the last few months, several new country records have been submitted to eBird and have now been incorporated into Avibase. Here's a list of highlights (links lead to eBird checklist with additional details such as photos). In all cases, country records have been accepted by the eBird reviewers, but they may not have been reviewed by the rare bird committee of that region. Central America: Black-vented Shearwater (El Salvador), Southern Lapwing (Honduras), California Gull (Honduras), California Gull (Nicaragua), Kelp Gull (Honduras), Roseate Tern (Guatemala), Bicolored Wren (Panama), Tricolored Munia (Nicaragua). Caribbean: Herald Petrel (Bahamas), Cory's Shearwater (Turks and Caicos Islands), Snow Goose (Cayman Islands), Bald Eagle (Cuba).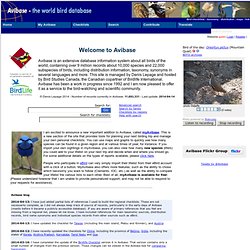 Avibase - The World Bird Database
1471026 - greenhead horse fly, Tabanus nigrovittatus (Diptera: T
Back to: CalPhotos > Animals > Browse Invertebrate-Insect Common Names Last updated: Apr 06 2014 see also: Browse Insect Thumbnail Photos
CalPhotos: Browse Insect Common Names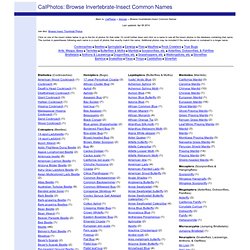 Common Names of Insects
Tabanus @ Insect Images
Animal Diversity Web
Field Guide to Birds - The BioDiversity Institute (BDI) - Identi
FieldGuides: Insects and Spiders
Field Guide: Birds of the World
NPWRC :: Biological Resources
Northern Prairie Wildlife Research Center The mission, in part, of Northern Prairie Wildlife Research Center is to work with others to assess the biotic resources of the Great Plains, to facilitate information sharing among agencies, organizations, and individuals, and to synthesize that information. To further that goal, the Center is striving to make information on the biotic resources of the Great Plains more widely available to decision-makers, resource managers, scientists, and the public. This Web site serves as a medium to provide that information.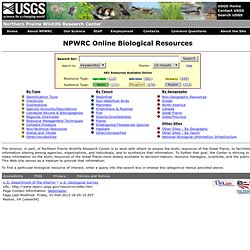 Welcome to the PLANTS Database | USDA PLANTS
What's That Bug?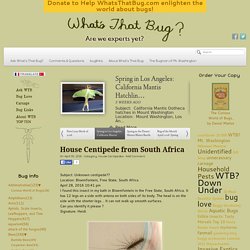 Subject: What are these tiny bugs? Location: Melbourne Australia April 9, 2014 1:11 am Hi There, I noticed thousands of these tiny little bugs sheltering on an indigenous tree & a neighbouring fence bollard today. i'm guessing the very small red ones are the nymph stage of the slightly larger ( still only a couple of millimeters ) black and white ones. I'm not sure if they would normally be in the tree as we have had an unusually large amount of rain in the last few days and they might have been trying to get to higher and dryer ground.