Music
Couch Seats - Watch Amazing Live Music Videos. Scale Theory Chart | WholeNote. Lessons. 2013 - The Chris Austin Songwriting Contest. The Chris Austin Songwriting Contest MerleFest offers songwriters the opportunity to have their original songs heard by a panel of professional songwriters and others from the Nashville music industry by participating in the Chris Austin Songwriting Contest!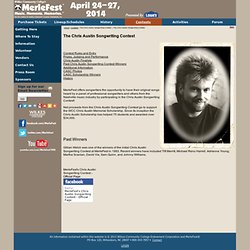 Net proceeds from the Chris Austin Songwriting Contest go to support the WCC Chris Austin Memorial Scholarship. Since its inception the Chris Austin Scholarship has helped 75 students and awarded over $34,000. Past Winners Gillian Welch was one of the winners of the initial Chris Austin Songwriting Contest at MerleFest in 1993. Enter Here - USA Songwriting Competition. Music Text Composition Generator ( A free online music utility) The P22 Music Text Composition Generator allows any text to be converted into a musical composition.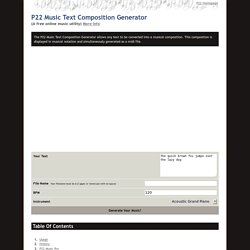 This composition is displayed in musical notation and simultaneously generated as a midi file. 1. Usage. - Songza. John Lennon Songwriting Contest. Ghostly International - Of Art & Artifice since 1999.
Alonetone, a damn fine home for musicians. Plern Piano Online Teacher and Composer, So Anyone Can Learn to Play or Write Music. Squareeater - binaural beats and brainwave entrainment for the psychedelic mind. Free Music with Neverending Playlist. Presto.fm - Free Music, Listen to Streaming Music Online on Presto Radio.
Good Ear - Online Ear Training Site. Akai MPK88 USB/MIDI Performance Keyboard MPK88. The MPK88 from Akai is an 88-key, USB based performance controller, that also features 16 genuine MPC drum pads.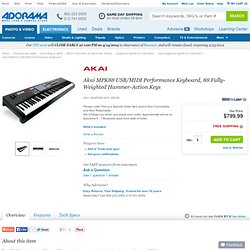 The fully-weighted keyboard is velocity and pressure sensitive, as are the drum pads. Sixty-four pads are accessible in total via 4 pad-banks which feature the MPC Note Repeat function and Swing parameters. The controller has its own arpeggiator, perfect for quickly creating creative riffs. Gnoosic - Discover new Music. Artists. Songs to lie on your bed and stare at the ceiling to | lytebryte25 | 39,000+ likes | 613.
Stereomood – emotional internet radio - music for my mood and activities. Everyone's Mixtape. uWall.tv | Listen to a Wall of Music. Home | Renoise. Digital Musician. Music-Map - The tourist map of music. Free printable staff paper @ Blank Sheet Music .net. Key Chords. Key Chords is an interactive chord chart that allows you hear and see and arrange chords. - Click on a chord to preview how it sounds. - Drag and drop to arrange chords on the timeline - Tweak the settings to control the playback speed Or role the dice until you discover something that fits your mood.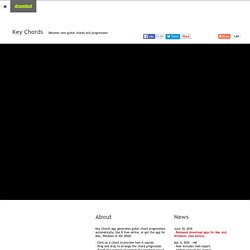 Select a Key: Select your favorite "Key" and whether you want to use the "Major" or "Minor" scale. Slow dancing | kisslock | 700+ likes | 3,100. Search for Music Using Your Voice by Singing or Humming, View Music Videos, Join Fan Clubs, Share with Friends, Be Discovered and Much More For Free! - midomi.com. Unhear it - get that damn song out of your head! Musicovery.
---