Stuff
DIY Friendship Bracelet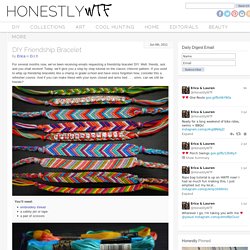 For several months now, we've been receiving emails requesting a friendship bracelet DIY. Well, friends, ask and you shall receive! Today, we'll give you a step by step tutorial on the classic chevron pattern. If you used to whip up friendship bracelets like a champ in grade school and have since forgotten how, consider this a refresher course. And if you can make these with your eyes closed and arms tied . . . umm, can we still be friends? You'll need:embroidery threada safety pin or tapea pair of scissors
DIY Braided TShirt Bracelets
☩DIY☩ Dannijo Friendship Bracelet
Handmade Accessories on Etsy - Belts, hats, pins, scarves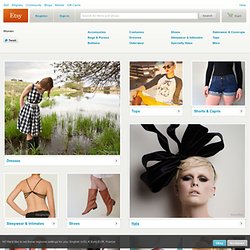 <div id="javascript-nag" class="notice"><p> Take full advantage of our site features by enabling JavaScript. <a href="http://www.etsy.com/ca/help/article/372">Learn more</a>. </p></div> Help Etsy
most favorited all-time - page 4 | craftgawker
Where can i buy friendship bracelets and stretch peace bracelets online
Friendship Bracelets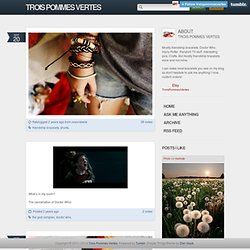 What's in my room? The cancellation of Doctor Who! You know when sometimes you meet someone so beautiful and then you actually talk to them and five minutes later they're as dull as a brick? Then there's other people, when you meet them you think, "Not bad. They're okay."
Trois Pommes Vertes
DIY Bracelets - Honestly WTF
26 Beautiful Free Retro Fonts | DeMilked - StumbleUpon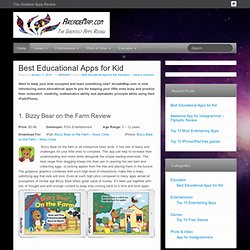 31+ Great Iconic Photos from History - Dont miss these pics !!!!! | funbazaar.com
Want to keep your kids occupied and learn something new? ArcadeMap.com is now introducing some educational apps to you for keeping your little ones busy and practice their motorskill, creativity, mathematics ability and alphabetic principle while using their iPad/iPhone. 1.
Flickr Related Tag Browser - StumbleUpon
Rick Smolan tells the story of a girl | Video on TED.com - StumbleUpon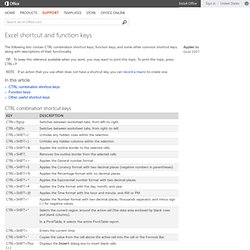 Excel shortcut and function keys - Excel - Office.com - StumbleUpon
The following lists contain CTRL combination shortcut keys, function keys, and some other common shortcut keys, along with descriptions of their functionality. Tip To keep this reference available when you work, you may want to print this topic. To print this topic, press CTRL+P. Note If an action that you use often does not have a shortcut key, you can record a macro to create one. In this article
It's been awhile since our last bracelet DIY. I don't know about you, but our wrists have been begging for another colorful addition for months now. So after playing with some materials that were already on hand, we've created a tutorial for a braided bead bracelet, which is a not so distant cousin of the hex nut and wrap bracelet.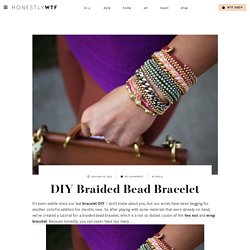 DIY Braided Bead Bracelet - Honestly WTF - StumbleUpon
Your source of daily updated funny pictures and gifs. - StumbleUpon
this isn't happiness™ Peteski
Love Quotes | Little BGCG - StumbleUpon
Picture of the Day: On A Winters Cold Evening… It was a cold Winters evening in Harlington when I captured today's featured picture. I wasn't in a hurry to be anywhere… so I stopped and watched the beautiful sight of the sun slowing...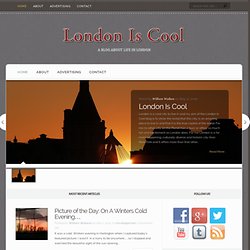 Life In London- Blog All About Living In London
Photo 40- You Totally Got This: 4 Easy Braids For Rookies
& less :mnmlist - StumbleUpon
- StumbleUpon
Charles Wysocki - Plumbellys Playground - StumbleUpon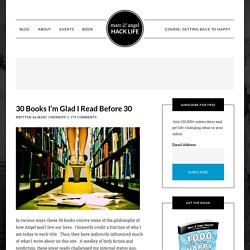 30 Books I'm Glad I Read Before 30
post written by: Marc Chernoff Email In various ways, these 30 books convey some of the philosophy of how Angel and I live our lives.
I love my job. It's hard, like every job sometimes, but it comes with these amazing perks. 10. Rainy days seem more perfect.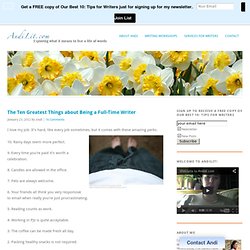 The Ten Greatest Things about Being a Full-Time Writer | AndiLit.com
100 Tips About Life, People, and Happiness - StumbleUpon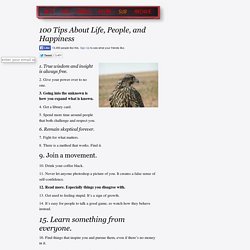 1. True wisdom and insight is always free. 2. Give your power over to no one. 3. Going into the unknown is how you expand what is known.
It's very easy to carry the past around with you. To think about what happened yesterday or a year ago or 20 years ago. To think you could have done something different that would have made things better. Or link all of the memories together into a story and calling it 'me.' But it's all nonsense.
Enlightenment & The Power of Now - Global One TV
Published Wed, Jul 8, 2009 by Austin Govella. Updated Wed, Jul 8, 2009. As an editor, I've noticed several recurring bad habits you heathens would do well to disabuse yourselves of immediately. Almost without exception, these bad habits instantiate themselves as a series of stock phrases and constructions that reflect a lack of focus, a lack of fully developed argument, or the kind of intellectual laziness that sets in as you slog through your first draft. These things happen, That's ok.
(More) tips for writing well (Austin Govella at Thinking and Making) - StumbleUpon
Curiosities: The Town With No Roads
Philosophy Timeline - StumbleUpon
Poem Starters and Creative Writing Ideas - StumbleUpon
Bookshelf Porn - StumbleUpon
Swick & 12 Of The Most Iconic Photographs Ever Taken - StumbleUpon
40 Belief-Shaking Remarks From a Ruthless Nonconformist | Raptitude.com - StumbleUpon
WriteSomething
10 Reasons You Should Write Something Each Day
Boas Notícias
General Fiction - StumbleUpon
Philosophy 132, 001|Spring 2010|UC Berkeley - Download free content from UC Berkeley on iTunes
The Best Ways To Say I Love You