Musées et organisations
Genre "symbolic painting"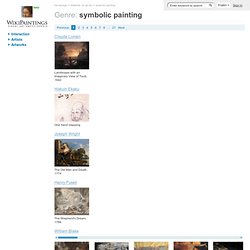 Landscape with an Imaginary View of Tivoli , 1642 The Old Man and Death , 1774 Blasphemer The House of Death The marriage of Heaven & Hell , 1790-1793 Glad Day or The Dance of Albion , c.1794 Isaac Newton , 1795 Nebuchadnezzar , 1795 The Great Red Dragon and the Beast from the S … , 1805 The Red Dragon and the Woman Clothed with the … , 1803-1805 Jacob's Ladder , c.1799-c.1806 The Great Red Dragon and the Woman clothed wi … , 1805-1810 Los , 1804-1820 Los Entering the Grave , 1804-1820
Discover art from the Tate collection and beyond We hold the national collection of British art from 1500 to the present day and international modern and contemporary art. Our collection includes nearly 70,000 artworks by over 3,000 artists and grows every year. You can also access nearly 2,500 artworks by Joseph Mallord William Turner from other collections.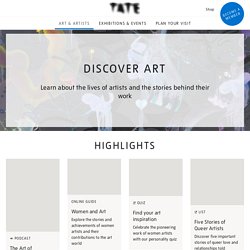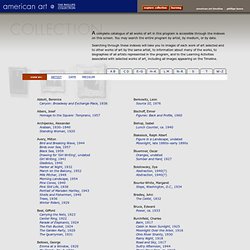 American Art at The Phillips Collection
A complete catalogue of all works of art in this program is accessible through the indexes on this screen. You may search the entire program by artist, by medium, or by date.
Log in to MoMA.org. Already have an account?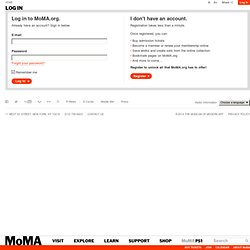 Log in
Jennifer Kostuik Gallery
The Renaissance Portrait from Donatello to Bellini
It has been said that the Renaissance witnessed the rediscovery of the individual. In keeping with this notion, early Renaissance Italy also hosted the first great age of portraiture in Europe. Portraiture assumed a new importance, whether it was to record the features of a family member for future generations, celebrate a prince or warrior, extol the beauty of a woman, or make possible the exchange of a likeness among friends.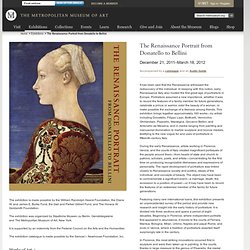 Search | Lukas
Vlaamse Kunstcollectie
De Vlaamse Primitieven | Een online museum
Qu'est-ce que la Beauté ?
Afin de vous accompagner au mieux lors de votre venue au Centre Pompidou, nous proposons différentes offres de médiation et de formation : visite, atelier, promenade, parcours, formation à la carte avec un souci constant, celui de répondre au mieux à vos attentes. Les visites de groupe peuvent s'effectuer avec un conférencier (25 personnes maximum), ou sans conférencier. Offres avec conférencier Visites des collections permanentes et des expositions: tous les jours sauf le mardi, de 9h30 à 19h.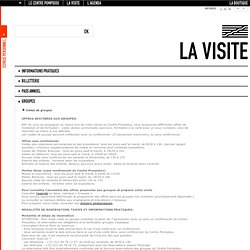 » Living Artists
The Drawing Center | Exhibitions-Current | New York, NY
Du 13 février au 25 avril, le Bruxellois Jacques André expose au Palais de Tokyo dans le cadre de Playlist qui "réunit des artistes dont la matière n'est pas le bois, le marbre ou la toile, mais la culture".
Artists > Jacques André > Abstraction Sociale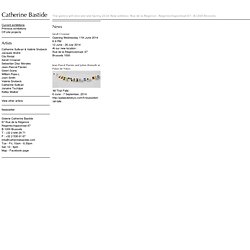 Naoya Hatakeyama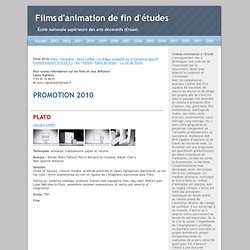 Films 2010: Plato - Noumeno - Fancy Coffee - Le dragon poubelle ou le Complexe Sportif Evolutif Couvert (C.O.S.E.C.) - Isis - Portée - Faute de temps - La vie de Simon Pour toutes informations sur les films et leur diffusion: Laure Vignalou T 01 42 34 98 03 M laure.vignalou[at]ensad.fr Léonard COHEN
Films d'animation 2010
Project Description Make the Invisible World Visible - Inspired by hospital and airport x-ray films I have created a vast collection of photographs and photogram which give the illusion of x-rays.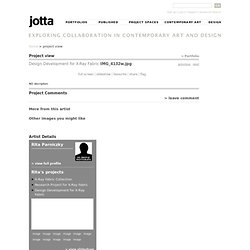 Jotta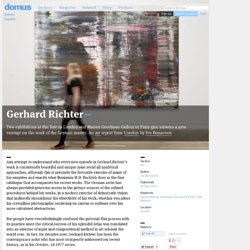 Gerhard Richter - Art
Monacopolis — At the two magnificent venues of Villa Paloma and Villa Sauber, an exhibition examines fifty years of urban planning and development in Monaco,with extensive documentation bearing the collective signature of hundreds of artist and architects. An architecture report from Monaco by Ivo Bonacorsi
Exhibitions - Marian Goodman Gallery
The Menil Collection is home to one of the world's greatest privately assembled collections of twentieth-century art, including painting, sculpture, drawing, prints, and photography. John and Dominique de Menil began collecting in the 1940s.
The Menil Collection
Cloud Cuckoo Land by Xenz
La Ruche - Ateliers d'artistes
Bienvenue sur le portail de la cartographie sémantique
Manuelle Gautrand « LAM
Drawing Autism is an incredible collection of artwork by people diagnosed with autism, from teenage amateurs to established artists. Unlike many of the books I feature on 50 Watts, this one is in print. You should buy it . This post features a small selection of my favorite images from the book, along with some quotes from the artists.
Radical Art
Service Commun de la Documentation - Patrimoine numérisé - H621/00004
M HKA
Muziekcentrum De Bijloke
Welcome to the Frontpage - Museum dr. Guislain
Promotion des créateurs mode et design Wallonie Bruxelles Design Mode
WCC-BF
Les visites virtuelles « LAM
FRAC Auvergne - Fonds Régional d'Art Contemporain Auvergne - Actualité