Perle indimenticabili
Scale of Universe - Interactive Scale of the Universe Tool
221483_Play.swf (Oggetto application/x-shockwave-flash)
A yacht was traveling in the south Pacific when the crew came across a weird sight. Look at these photos and try to imagine the thrill of experiencing this phenomenon. NO!!!!This is not a beach; it is volcanic stones floating on the water. then this was spotted,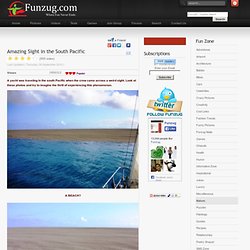 Amazing Sight in the South Pacific | Ash, Ocean, Island, Imagine, Being
Drowning Beautiful |
Interesting and Funny Infographics
Reading_Test.jpg (Immagine JPEG, 575x600 pixel) - Riscalata (93%)
The First Zombie-Proof House - All That Is Interesting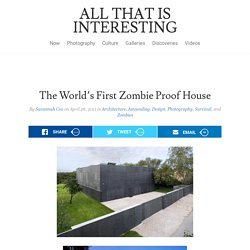 Somehow, ritual drunk-conversation concerning team captains for the apocalypse has become a major part of the lives of 20-somethings. Having been matured in the Grandaddy-crowned masterpiece film (put "A.M. 180" on and forget that you have a job) 28 Days Later and the best-selling Zombie Survival Guide, we're all a little too ready to deal with the 2012 zombie apocalypse of our dreams. "The Safe House," designed by KWK Promes, starts to get eerily close to something I could work with, if say 200 bludgeoned members of the undead army came over to eat their way into borrowing some sugar.
coke-evolution.jpg (Immagine JPEG, 600x444 pixel)
Simple mechanisms explained
Email Below you'll find animated diagrams and explanations of how various mechanisms work. Some of these have been crucial to major evolutions in mechanisms and technology, and allow us to do anything from fire weaponry to make cars move with the press of a pedal. Maltese Cross mechanism powers second hand movement in the clock: Radial engines are used in aircraft. Today, however, most aircraft use turbine engines: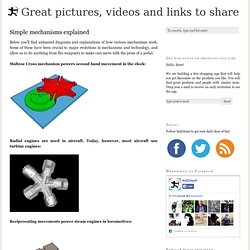 ready-for-close-up.jpg (Immagine JPEG, 900x648 pixel) - Riscalata (92%)
29 ways to stay creative
Description 3D simulation of the Solar System and night sky in real time - the Sun, planets, dwarf planets, comets, stars and constellations. - Heliocentric view with real-time positions of planets and planetary orbits - Schematic and realistic sizes of the planets and distances between them - Movement of the planets in time to see how they move in relation to each other - Virtual Orrery - Planetary exploration with info texts and additional views such as structure - Dwarf planets (Pluto, Ceres, Haumea, Makemake. Eris) and their orbits - Comets (Siding Spring, Lovejoy 2013, Lovejoy 2011, Panstarrs, ISON, Halley) - positions and trajectories - Stars and constellation of the night sky as viewed from a given location - Changes in the night sky during night, month and year - Searching of the stars and constellation, ecliptic line, grid lines and more
Interactive 3D model of Solar System Planets and Night Sky
I admit it. When I first heard there are actual tournaments for Rock-paper-scissors, sanctioned by the World Rock Paper Scissors Society, I laughed. I mean seriously, $50k to the winner of a game that requires no skill whatsoever? Absurd.
How to win Rock-paper-scissors every time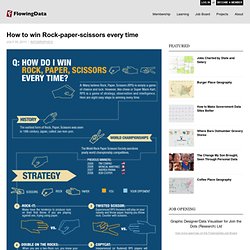 funny-bully-gif-muscles.gif (Immagine GIF, 500x326 pixel)
squirrel hit by snowball by Marco Sartori
Irish Soccer Insider