CSS 3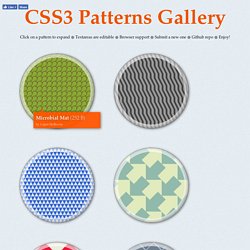 Browser support The patterns themselves should work on Firefox 3.6+, Chrome, Safari 5.1, Opera 11.10+ and IE10+. However, implementation limitations might cause some of them to not be displayed correctly even on those browsers (for example at the time of writing, Gecko is quite buggy with radial gradients). Also, this gallery won't work in Firefox 3.6 and IE10, even though they support gradients, due to a JavaScript limitation. Submission guidelines
Really Useful CSS3 Tutorials and Resources | Galaxark Blog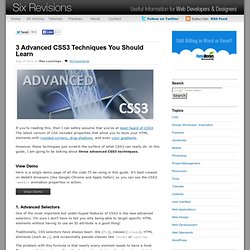 3 Advanced CSS3 Techniques You Should Learn
If you're reading this, then I can safely assume that you've at least heard of CSS3. The latest version of CSS includes properties that allow you to style your HTML elements with rounded corners, drop shadows, and even color gradients. However, these techniques just scratch the surface of what CSS3 can really do.
Beginner's Guide to CSS3
Ever since the announcement of in 2005, the development of the level 3 of Cascading Style Sheet or better known as CSS3 has been closely watched and monitored by many designers and developers. All of us excited to get our hands on the new features of CSS3 – the text shadows, borders with images, opacity, multiple backgrounds, etc, just to name a few. As of today, not all selectors of CSS3 are fully supported yet. But that doesn't mean we can't have some fun testing new CSS3 stuff. This post is dedicated to all designers and developers who are already familiar with CSS 2.1 and want to get your hands dirty on CSS3.0.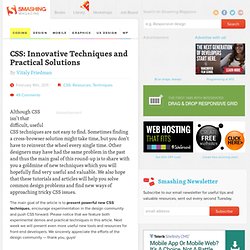 Although CSS isn't that difficult, useful CSS techniques are not easy to find. Sometimes finding a cross-browser solution might take time, but you don't have to reinvent the wheel every single time. Other designers may have had the same problem in the past and thus the main goal of this round-up is to share with you a goldmine of new techniques which you will hopefully find very useful and valuable.
inShare0 HTML5 and CSS3 are really revolutionizing web development and web design, because they are bringing so many new features to work with to the fields. In this article you'll be able to find some great tools, cheat sheets and much more you could need to master these new features.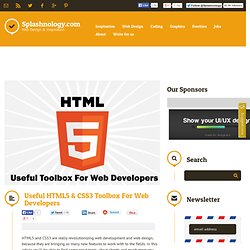 CSS3 is gaining momentum, despite the fact that the standard hasn't even been finalized. There are hundreds of tutorials out there to teach designers how to use it, but unfortunately a lot of them cover the same ground. And some of the tutorials teach designers to do things that they might not think of as useful, though the techniques can usually be adapted to fit a project perfectly. Below are more than fifty awesome CSS3 tutorials. Many are strictly CSS and HTML based, while others also incorporate JavaScript. If you have a favorite technique or tutorial that's not included below, please share it in the comments!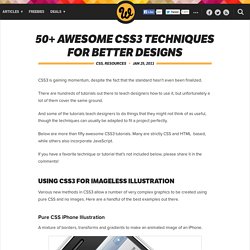 33 Must Read CSS3 Tips, Tricks, Tutorial Sites and Articles
Since previous article about CSS text effects got really big attention I decided to research and find more interesting articles and websites just focused on CSS3, teaching you how to use it, showing pros and cons and much more. To be honest it's hard for me to keep up with technologies myself, but we really cannot not to use those new great selectors to make our designs even more beautiful, user-friendly and lightweighted. However since HTML5 is sort of tied with CSS3, I will soon continue with HTML5 article as well, so don't miss it and keep coming back! Enjoy! 1.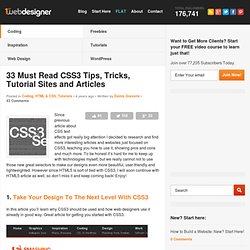 We've all had to achieve some effect that required an extra handful of divs or PNGs. We shouldn't be limited to these old techniques when there's a new age coming. This new age includes the use of CSS3. In today's tutorial, I'll show you eleven different time-consuming effects that can be achieved quite easily with CSS3. CSS3? What's that?!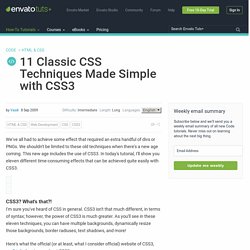 May 21 2009 With version three of CSS, many exciting features will be implemented. CSS3 leads to greater flexibility and makes it much easier to recreate previously complex effects. Many time-saving rules are being thought up for CSS3: text-shadow, box-sizing, opacity, multiple backgrounds, border-radius, border-image ,multi-column layout, etc…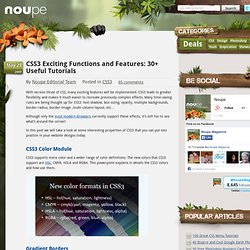 CSS3 Exciting Functions and Features: 30 Useful Tutorials - Noupe Design Blog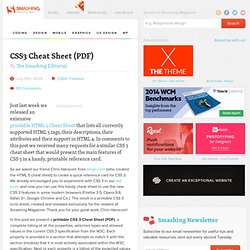 Advertisement Just last week we released an extensive printable HTML 5 Cheat Sheet that lists all currently supported HTML 5 tags, their descriptions, their attributes and their support in HTML 4. In comments to this post we received many requests for a similar CSS 3 cheat sheet that would present the main features of CSS 3 in a handy, printable reference card.
Best Collection of CSS3 Tutorials and Techniques | DesignModo
The latest revolutionary technology in web-designing, CSS3 is at the disposal of a web-designer to improve the working-flow and create exciting web pages. The new advanced features make the designing much easier, leaving the time consuming process of complex effects recreations in the past. Actually, CSS3 made classic CSS techniques easier to implement, thus providing greater flexibility and making the overall process much faster and much more effective. When implementing CSS3 techniques, take into account that only the most up-to-date browsers can support them. However, CSS3 is worth trying as the new features and effects will help to create stunning web pages.