COMPUTING IN SCHOOLS
How to use the SOICT Key Stage 3 packs - Switched on Computing. Terry Freedman discusses how the SOICT KS3 resource has been organised, and how you might use it in school.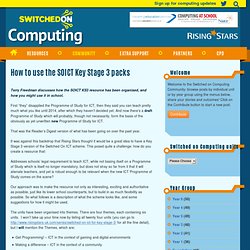 First "they" disapplied the Programme of Study for ICT, then they said you can teach pretty much what you like until 2014, after which they haven't decided yet. And now there's a draft Programme of Study which will probably, though not necessarily, form the basis of the obviously as yet unwritten new Programme of Study for ICT. MindNode. TimeRime.com - Homepage. Tinderbox. Tinderbox stores and organizes your notes, plans, and ideas.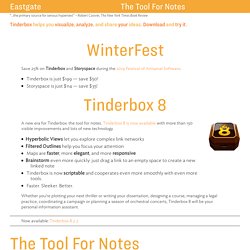 It can help you analyze and understand them. And Tinderbox is a powerful but personal content assistant that helps you share your notes through the cloud and on the Web. Writers and journalists find Tinderbox invaluable for research, world-building, sourcing, and plot construction. The Tinderbox map view shows relationships and links among dozens or hundreds of notes. Structure emerges and evolves naturally as your understanding grows. SAPERE - Home.
The Five Best Tools for Creating Videos Without Installing Software. Over the years I've published some lists and reviews of free tools for creating videos online.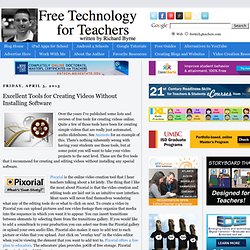 Quite a few of those tools have been for creating simple videos that are really just automated, audio slideshows. See Animoto for an example of this. Easel.ly | create and share visual ideas online. Storyboard That: The World's Best FREE Online Storyboard Creator. Free mind mapping (and related types) software. There are regular inquiries on Twitter and in forums about free mind mapping software, so to provide answers, InformationTamers have put together this list.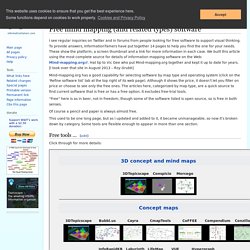 We built this article, with permission, using the most complete source for details of information mapping software on the Web: Mind-mapping.org. Hat tip to Vic Gee who put Mind-mapping.org together and kept it up to date for years. [Update: I took over that site in August 2013.] Mind-mapping.org has a good capability for selecting software by map type and operating system (click on the 'Refine software list' tab at the top right of its web page), and shows the price.
THE BEST OF THE WEB TO DISSECT. Sketch Toy: Draw sketches and share replays with friends! Japanese Anime For Kids | Children's Cartoons. HD Video Editing Software – MoviePlus X6 from Serif. VLC: Official site - Free multimedia solutions for all OS! Talking Products - They speak for themselves - Sound Chips. Basic computing Skills & ICT literacy. E safety. Mutimedia.
Online. Programming. Creating a new ICT pos.
VISUAL MEDIA RESOURCES. IT BLOGS AND OTHER IT INFO. DIGITAL LEADERS. GOOGLE TRAINING. For grownups.
---