☆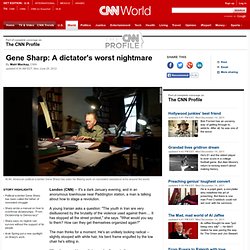 Gene Sharp: A dictator's worst nightmare
At 84, American political scientist Gene Sharp has seen his lifelong work on nonviolent resistance echo around the world. Political scientist Gene Sharp has been called the father of nonviolent struggleSharp wrote a manual on how to overthrow dictatorships, "From Dictatorship to Democracy"Sharp says no regime can survive without the support of its peopleArab Spring put a new spotlight on Sharp's work London (CNN) -- It's a dark January evening, and in an anonymous townhouse near Paddington station, a man is talking about how to stage a revolution. A young Iranian asks a question: "The youth in Iran are very disillusioned by the brutality of the violence used against them ... It has stopped all the street protest," she says.
1000 pioneers of a new world
THE ABOLITION OF WORK
EMPRESS MONE'S CLOSET
here is a tribe in Africa where the birth date of a child is counted not from when they were born, nor from when they are conceived but from the day that the child was a thought in its mother's mind. And when a woman decides that she will have a child, she goes off and sits under a tree, by herself, and she listens until she can hear the song of the child that wants to come. And after she's heard the song of this child, she comes back to the man who will be the child's father, and teaches it to him.
Philosophy & Epistemology
current-teaching-1-ilnii-1257277891710.jpg 3 636 × 1 925 pixels
A statement of a learning objective contains a verb (an action) and an object (usually a noun). The verb generally refers to [actions associated with] the intended cognitive process. The object generally describes the knowledge students are expected to acquire or construct. (Anderson and Krathwohl, 2001, pp. 4–5) The cognitive process dimension represents a continuum of increasing cognitive complexity—from remember to create. Anderson and Krathwohl identify 19 specific cognitive processes that further clarify the bounds of the six categories (Table 1).
A Model of Learning Objectives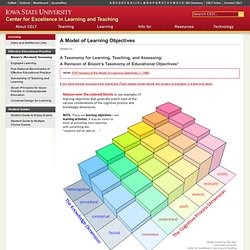 Over the past three decades a number of different theories of second language acquisition have been formed in an effort to provide explanations as to how language learning takes place, to identify the variables responsible for second language acquisition and to offer guidance to second language teachers. Each theory accounts for language acquisition from a different perspective so some criteria are needed in order to classify and evaluate each theory. Theories of second language acquisition can be classified according to different criteria.
Second Language Acquisition Theories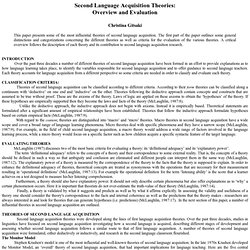 Lightheaded on Vimeo
Porteur de Lumiere ...Destiny...
Starry Night (interactive animation) on Vimeo
Sun Day on Vimeo