☆
Wikiwater
166 Free Documentaries That Will Expand Your Consciousness
Here is a list of over 100 consciousness expanding documentaries that will assist you in your evolution, all of which can watched for free online in the links below. Enjoy! 109.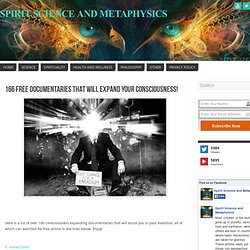 1000 pioneers of a new world
THE ABOLITION OF WORK
Games
EMPRESS MONE'S CLOSET
Philosophy & Epistemology
current-teaching-1-ilnii-1257277891710.jpg 3 636 × 1 925 pixels
A statement of a learning objective contains a verb (an action) and an object (usually a noun). The verb generally refers to [actions associated with] the intended cognitive process. The object generally describes the knowledge students are expected to acquire or construct. (Anderson and Krathwohl, 2001, pp. 4–5) The cognitive process dimension represents a continuum of increasing cognitive complexity—from remember to create. Anderson and Krathwohl identify 19 specific cognitive processes that further clarify the bounds of the six categories (Table 1).
A Model of Learning Objectives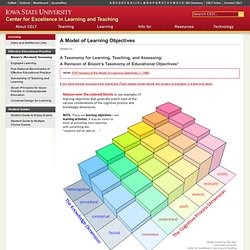 Over the past three decades a number of different theories of second language acquisition have been formed in an effort to provide explanations as to how language learning takes place, to identify the variables responsible for second language acquisition and to offer guidance to second language teachers. Each theory accounts for language acquisition from a different perspective so some criteria are needed in order to classify and evaluate each theory. Theories of second language acquisition can be classified according to different criteria.
Second Language Acquisition Theories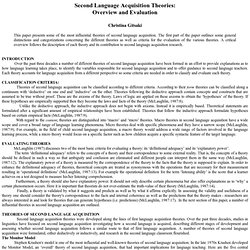 Lightheaded on Vimeo
Porteur de Lumiere ...Destiny...
Starry Night (interactive animation) on Vimeo
Sun Day on Vimeo