Social media
Jeff Hawkins on how brain science will change computing
Más de 30 buenas ideas en innovación social en 2012
"Cuando salimos de nuestro camino habitual podemos pensar que estamos perdidos pero es aquí donde lo nuevo y lo bueno comienzan" León Tolstói Nos faltó en la descripción de tendencias para 2012 de hace un par de días hablar, más allá de la política, de qué sectores serán los más innovadores, los más prometedores en cuanto a la puesta en marcha de soluciones en la capa social de internet que mejoren la realidad. En momentos de crisis como el actual, cuando como muchos repiten no hay vuelta atrás en muchos aspectos, bienvenidas sean las ideas para reinventarnos. Nadie mejor que los inversores en Silicon Valley para decidir qué sectores e iniciativas serán los/as protagonistas este 2012. De ellos en algunos casos y de mi propia cosecha en otros tomo algunas de las siguientes: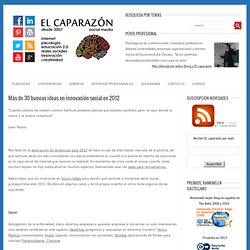 I've been thinking about how we use social media. How can we characterize what we do? I have always used Charlene Li and Josh Bernoff's Social Technographics ladder for thinking about the various levels of social media participation. I want to make it simpler for use in teaching others about social media. Perhaps there could be as few as 4 levels of involvement: Creation.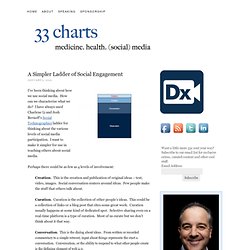 A Simpler Social Technographics Ladder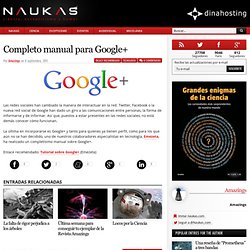 Completo manual para Google+
Las redes sociales han cambiado la manera de interactuar en la red. Twitter, Facebook o la nueva red social de Google han dado un giro a las comunicaciones entre personas, la forma de informarse y de informar.
Ampliar foto James Fowler, experto en redes sociales, Universidad de CaliforniaREDES Para saber quiénes somos tenemos que comprender cómo estamos conectados.
El poder de las redes sociales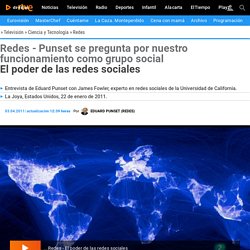 Technology TED Radio Hour asks: "Why do we collaborate?" This week's TED Radio Hour examines "Why We Collaborate," exploring why, and how, millions of people come together to work on online projects, sometimes for free. The episode begins with Jimmy Wales, the founder of Wikipedia, who spoke at TEDGlobal 2005, back when the site was still very new. The incredible growth of Wikipedia since […] Entertainment
Clay Shirky: How cellphones, Twitter, Facebook can make history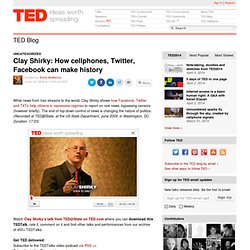 Redes - El futuro: la fusión del alma y la tecnología, Redes