Art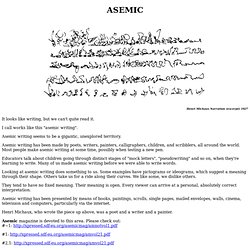 Henri Michaux Narration (excerpt) 1927 It looks like writing, but we can't quite read it. I call works like this "asemic writing". Asemic writing seems to be a gigantic, unexplored territory.
ASEMIC
Ukiyo-e (Japanese Prints)
The term outsider art was coined by art critic Roger Cardinal in 1972 as an English synonym for art brut (French: [aʁ bʁyt], "raw art" or "rough art"), a label created by French artist Jean Dubuffet to describe art created outside the boundaries of official culture; Dubuffet focused particularly on art by those on the outsides of the established art scene such as insane-asylum inmates and children.[1][2] While Dubuffet's term is quite specific, the English term "outsider art" is often applied more broadly, to include certain self-taught or naïve art makers who were never institutionalized. Typically, those labeled as outsider artists have little or no contact with the mainstream art world or art institutions. In many cases, their work is discovered only after their deaths.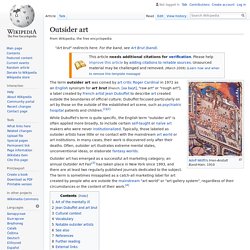 Eugene Von Bruenchenhein :: Introduction by Rich Shapero :: 1/5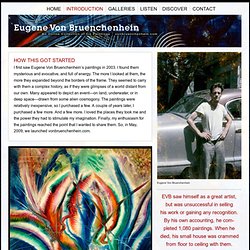 How this got started I first saw Eugene Von Bruenchenhein's paintings in 2003. I found them mysterious and evocative, and full of energy. The more I looked at them, the more they expanded beyond the borders of the frame.
Картины | Вася Ложкин. Картины, рисунки, песни