Compilations
Western Philosophy
Philosophy Study Guides - SparkNotes
Peter AbelardJane AddamsAlfred AdlerTheodor AdornoAlbert the GreatSamuel AlexanderLouis AlthusserAnaxagorasAnaximanderAnaximenesG.E.M. AnscombeSusan B. AnthonyAntisthenesKwame Anthony AppiahArchimedesHannah ArendtAristippusD.M. ArmstrongAntoine ArnauldKenneth ArrowJohn AustinA.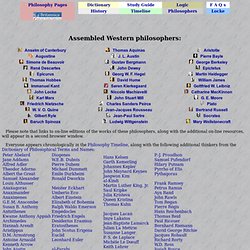 Assembled Philosophers
Philosophical humor
Philosophy Timeline
The Cynic's Sanctuary
Pondering the Big Questions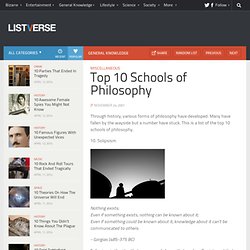 Miscellaneous Through history, various forms of philosophy have developed. Many have fallen by the wayside but a number have stuck.
Top 10 Schools of Philosophy
Philosophy Definition, Prefix, Suffix, Ologies and Isms, Philosophy Information & Meaning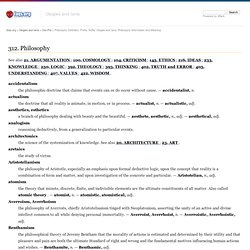 See also 21. ARGUMENTATION ; 100. COSMOLOGY ; 104. CRITICISM ; 145. ETHICS ; 216. IDEAS ; 233.
Philosophy Index
Philosophy Index Philosophy Index is a site devoted to the study of philosophy and the philosophers who conduct it. The site contains a number of philosophy texts, brief biographies and introductions to philosophers and explanations on a number of topics. Philosophy Index is a work in progress, a growing repository of knowledge. It outlines current philosophical problems and issues, as well as an overview of the history of philosophy. The goal of this site is to present a tool for those learning philosophy either casually or formally, making the concepts of philosophy accessible to anyone interested in researching them.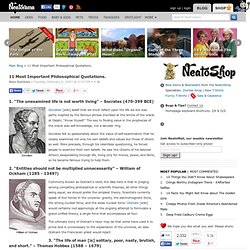 11 Most Important Philosophical Quotations
1. "The unexamined life is not worth living" – Socrates (470-399 BCE) Socrates' [wiki] belief that we must reflect upon the life we live was partly inspired by the famous phrase inscribed at the shrine of the oracle at Delphi, "Know thyself." The key to finding value in the prophecies of the oracle was self-knowledge, not a decoder ring. Socrates felt so passionately about the value of self-examination that he closely examined not only his own beliefs and values but those of others as well.
Philosophers & Their Works