Meme
searchmash
It turns out that looking at the aggregation of billions of search queries people type into Google reveals something about our curiosity, our thirst for news, and perhaps even our desires. Considering all that has occurred in 2005, we thought it would be interesting to study just a few of the significant events, and names that make this a memorable year. (We'll leave it to the historians to determine which ones are lasting and which ephemeral.) We hope you enjoy this selective view of our collective year. Click on the tabs above to see our selection.
Press Center: Zeitgeist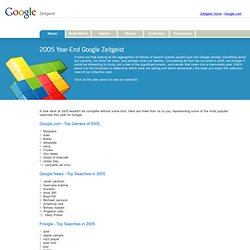 Top Stories / World
Remember The Milk
Tailrank
13 Jul 2012 10:08 Thoughts, like fleas, jump from man to man. But they don't bite everybody. ---Attrib.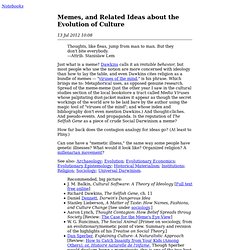 Memes, and Related Ideas about the Evolution of Culture
Radical Software