Astronomy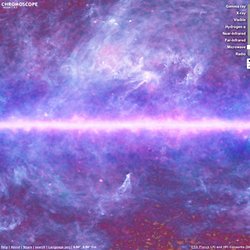 Ever wanted X-ray specs or super-human vision? Chromoscope lets you explore our Galaxy (the Milky Way) and the distant Universe in a range of wavelengths from gamma-rays to the longest radio waves. Change the wavelength using the slider in the top right of the screen and explore space using your mouse. For more information we have a quick video tour or you can read more on our blog . If you get stuck, click "Help" in the bottom left. Chromoscope is kindly funded by the Cardiff University Astronomy and Astronomy Instrumentation Groups.
Click-drag green circle to pan around the whole image. The Ultra Deep Field obtained by the Hubble Space Telescope is the deepest view into the sky by humankind to date. This image combines 800 frames with a total exposure time of 1 million seconds. The 10.000 galaxies that are visible have distances out to times where the universe was just 800 million years old, one seventeenth of its current age. For more info check the UDF press release at spacetelescope.org .
Our small world
Binary star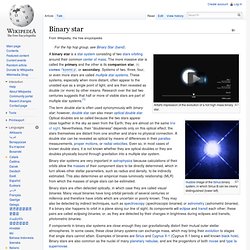 Artist's impression of the evolution of a hot high-mass binary star. Hubble image of the Sirius binary system, in which Sirius B can be clearly distinguished (lower left) A binary star is a star system consisting of two stars orbiting around their common center of mass . The brighter star is called the primary and the other is its companion star ,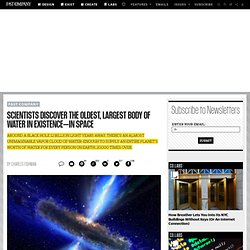 Scientists have found the biggest and oldest reservoir of water ever--so large and so old, it's almost impossible to describe. The water is out in space, a place we used to think of as desolate and desert dry, but it's turning out to be pretty lush. Researchers found a lake of water so large that it could provide each person on Earth an entire planet's worth of water--20,000 times over. Yes, so much water out there in space that it could supply each one of us all the water on Earth--Niagara Falls, the Pacific Ocean, the polar ice caps, the puddle in the bottom of the canoe you forgot to flip over--20,000 times over.