Filming tips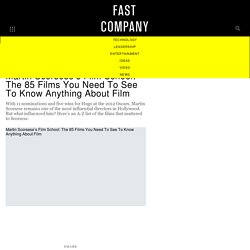 Interviewing Martin Scorsese is like taking a master class in film. Fast Company's four-hour interview with the director for the December-January cover story was ostensibly about his career, and how he had been able to stay so creative through years of battling studios. But the Hugo director punctuated everything he said with references to movies: 85 of them, in fact, all listed below.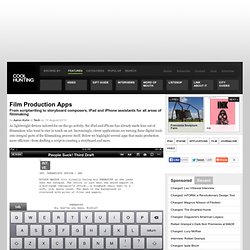 As lightweight devices tailored for on-the-go activity, the iPad and iPhone has already made fans out of filmmakers who want to stay in touch on set. Increasingly, clever applications are turning these digital tools into integral parts of the filmmaking process itself. Below we highlight several apps that make production more efficient—from drafting a script to creating a storyboard and more. Scripts Pro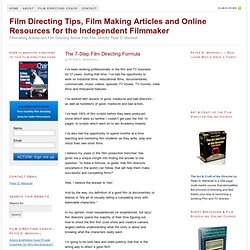 I've been working professionally in the film and TV business for 37 years. During that time, I've had the opportunity to work on industrial films, educational films, documentaries, commercials, music videos, episodic TV shows, TV movies, Indie films and Hollywood features. I've worked with dozens of good, mediocre and bad directors - as well as hundred's of good, mediocre and bad actors. I've read 100′s of film scripts before they were produced: some which were so terrible I couldn't get past the first 10 pages, to scripts which went on to win Academy Awards. I've also had the opportunity to spend months at a time teaching and mentoring film students as they write, prep and shoot their own short films. I believe my years in the "film production trenches" has given me a unique insight into finding the answer to the question: "Is there a formula, or guide, that film directors (anywhere in the world) can follow, that will help them make successful and compelling films?"
Find a camcorder with our lab tested reviews and ratings
Ever wonder what all those strange credits are when they roll by at the end of a film? I used to, until I moved to LA, where I started meeting Best Boys and Dolly Grips with their kids when I took my son to the playground—yes, Hollywood, where you meet Gaffers and Armourers at your average Saturday night house party. So I started asking questions, and here's what I've learned:
Thank you for Subscribing to DPS – Check Your Email Now
You've now entered the Dependent Films Download Center. It's unbelievable 1) how much these files can help, and 2) how hard all of these tools are to find on the net. Thus, this is why we've assembled this compilation for all of you aspiring filmmakers out there. Best of all, they're all FREE (a favorite word for all independent filmmakers). These programs have really helped our productions, and hopefully they can help yours as well.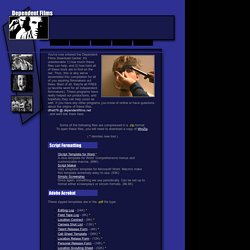 I'm totally useless at everything. This is not necessarily a problem as plenty of people working in the industry are totally useless. Some of them are Executives working in the Studios. If you don't know what this means, go to the part on Studio Executives, although it may not be very helpful, as I've never quite worked out what they do. Some people who work on the floor, i.e. actually making the film, are totally useless but they usually don't last very long, unless they are either very enthusiastic or very entertaining or very pretty or all three.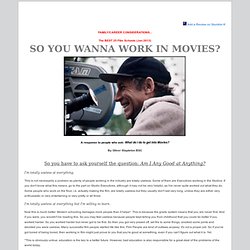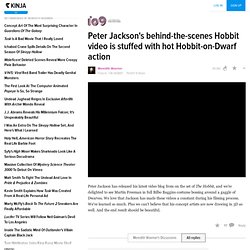 Peter Jackson's behind-the-scenes Hobbit video is stuffed with hot Hobbit-on-Dwarf action
You get that distinctive "film" feel from 24 fps and old film projecting technology, you know, the one which produces that characteristic "rrrrrrrrrrrrrr" sound which you become aware when there are sudden few mute seconds of film. I predict when all/most cinemas go over to more advanced digital projectors, the picture will be better, but that certain "softness", blurryness will be gone, which will cause lot of fuss to certain vocal minority, much like old LPs have a specific warmth of sound in which old fans swear.. 11/05/11 4:20am