Wissen
Get flash to fully experience Pearltrees
This incomplete list is not intended to be exhaustive.
WHAT YOU ARE ABOUT TO READ IN THE NEXT PARAGRAPH IS COMMONLY BELIEVED, BUT NOT TRUE – You read by recognizing the shapes of words and groups of words. Words that are in all capital letters all have the same shape: a rectangle of a certain size.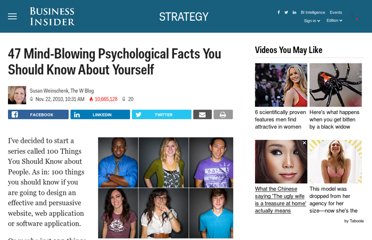 This Easter craft from TV crafter Jim "Figgy" Noonan doubles as a science project, offering an opportunity to show kids the crystallization process at work.
You are not who you think you are. Your personality and identity is significantly more malleable than you realize.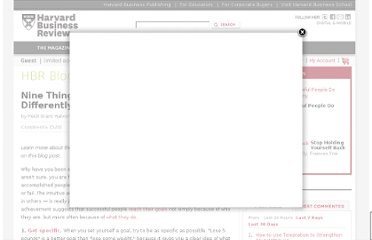 Learn more about the science of success with Heidi Grant Halvorson's HBR Single , based on this blog post. Why have you been so successful in reaching some of your goals, but not others?
I was a big fan of productivity, and, in some respects, I still am. I've been a very early adopter of GTD, and, for years, I did my weekly reviews with the discipline of a zen monk. But, eventually, I hit a roadblock.
The online forensic psychology dictionary (Over 100 Terms as of 18-2-99)
" Buffalo buffalo Buffalo buffalo buffalo buffalo Buffalo buffalo " is a grammatically valid sentence in American English , used as an example of how homonyms and homophones can be used to create complicated linguistic constructs. It has been discussed in literature since 1972 when the sentence was used by William J.
The 48 Laws of Power (2000) is the first book by American author Robert Greene . [ 1 ] The book, an international bestseller , is a practical guide for anyone who wants power, observes power, or wants to arm himself against power. [ 2 ] [ 3 ] [ 4 ] It has sold over 1.2 million copies in the United States alone and is popular with famous rappers , entrepreneurs , celebrities , athletes and actors including 50 Cent , Jay-Z , Kanye West , Busta Rhymes , Ludacris , DJ Premier , Dov Charney , Brian Grazer , Andrew Bynum , Chris Bosh , and Will Smith . [ 4 ] [ 5 ] [ 6 ] [ 7 ] [ 8 ] [ 9 ] [ edit ] Background
Backcombing is an easy way to add sexy volume to your look when done properly, but it can make a birds nest out of your hair if you don't follow the right steps.