Sweets
Strawberry Torte - StumbleUpon. This beautiful swirled torte is almost too pretty to eat.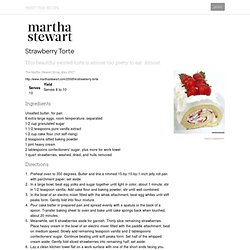 Almost. Photography: The Martha Stewart Show, May 2007. Bake sale week: raspberry lemonade bars | sophistimom - StumbleUpon. I know this seems like a bit of a cop out, seeing as last year I made those lime bars, but the name of these just makes you want one, doesn't it?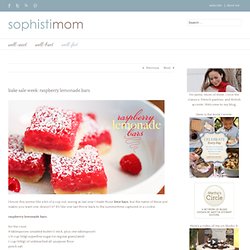 It's like one last throw back to the summertime captured in a cookie. raspberry lemonade bars for the crust: 9 tablespoons unsalted butter (1 stick, plus one tablespoon) 1/4 cup (50g) superfine sugar (or regular granulated) 1 cup (100g) of unbleached all-purpose flour pinch salt. Now youre cooking with comics. - StumbleUpon. Peanut-Butter-Cup Smoothie.
Photo: William Dickey; Styling: Margaret Dickey Ingredients 1 cup sliced ripe banana 1 cup 1% chocolate low-fat milk 1/2 cup vanilla low-fat frozen yogurt 2 tablespoons natural-style peanut butter 1 (8-ounce) carton vanilla low-fat yogurt Preparation Place banana in freezer; freeze until firm (about an hour).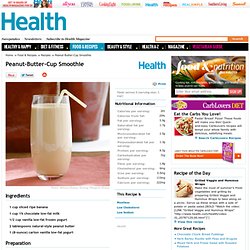 The Infamous Jacques Torres Chocolate Chip Cookies - StumbleUpon. Now, I have a chocolate chip cookie recipe that I swear by.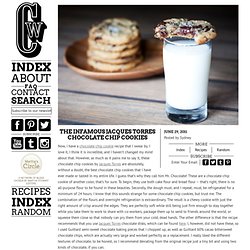 I love it, I think it is incredible, and I haven't changed my mind about that. However, as much as it pains me to say it, these chocolate chip cookies by Jacques Torres are absolutely, without a doubt, the best chocolate chip cookies that I have ever made or tasted in my entire life. I guess that's why they call him Mr. Chocolate! Oreo Fudge Bars. Well, first of all, I'm having a fantastic time in New York, even if it is our third time here in three years.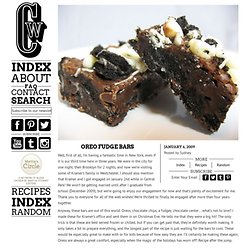 We were in the city for one night, then Brooklyn for 2 nights, and now we're visiting some of Kramer's family in Westchester. I should also mention that Kramer and I got engaged on January 2nd while in Central Park! We won't be getting married until after I graduate from school (December 2009), but we're going to enjoy our engagement for now and that's plenty of excitement for me. Thank you to everyone for all of the well wishes! Chocolate Cupcakes with Flaming Strawberries - StumbleUpon. Call me easily amused, but these little torch-topped cupcakes delight me.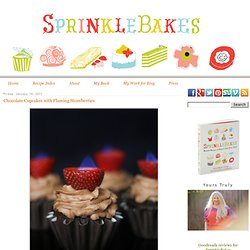 Besides being a cute novelty item for a party, I think they would add a little drama to the end of a romantic meal. I've been looking for something different to serve for Valentine's dessert, and this is definitely different. The strawberries are hollowed out and filled with a bit of liquor, then ignited with a match. For the cake portion, I chose a One Bowl Chocolate Cupcake recipe because 1. it's quick 2. it is easy, and 3. it fits my prerequisite for a light ending on date night. I should say, a light ending provided you don't eat too many. Cheesecake Stuffed Strawberries | - StumbleUpon. Cheesecake Stuffed Strawberries These cheesecake stuffed strawberries are the perfect dessert treat!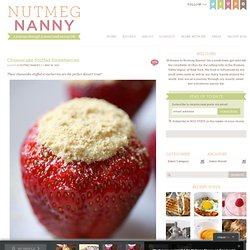 Can I just say that I have died and gone to heaven. Cheesecake stuffed strawberries….how have I not made these before?! I'm serious. They are amazing! Sticky Lemon Rolls with Lemon Cream Cheese Glaze | Apartment Therapy The Kitchn. They are modeled after the classic cinnamon roll, and partially inspired by this bread, with a buttery yeast dough flecked with nutmeg and lemon.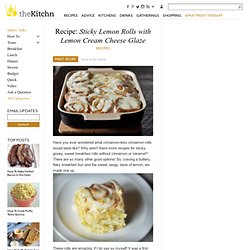 But inside each roll is a rich filling of sugar and lemon that bakes into gooey, oozey sweet-tart deliciousness. The cream cheese glaze puts it over the top, with more lemon tartness and not too much sweetness. The final word on them comes from my mother, who looked at me, wide-eyed, over the brunch table, and said, solemnly, "This is the best thing I ever put in my mouth. " Sticky Lemon Rolls with Lemon Cream Cheese Glaze. Chocolate Chip Cookie Dough + Cupcake = The BEST Cupcake. Ever. Recipe - Allrecipes.com - StumbleUpon. Red Velvet Cheesecake Brownies | Sweet Pea's Kitchen - StumbleUpon. Red Velvet Cheesecake Brownies These Red Velvet Cheesecake Brownies are rich, decadent and so perfect for Valentine's Day!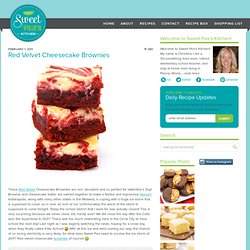 Brownie and cheesecake batter are swirled together to make a festive and impressive dessert. Indianapolis, along with many other states in the Midwest, is coping with a huge ice storm that is supposed to cover us in over an inch of ice. Unfortunately the worst of the storm is supposed to come tonight. Today the school district that I work for was actually closed! - StumbleUpon.
---