Photoshop
20 Stunning Video Tutorials Of Adobe Photoshop CS5. How To Give Your Photos a Dark Processed Lomo Effect. Follow this step by step post processing guide to give your photos a dark lomo style effect with high contrast, blue tones and vignette burns.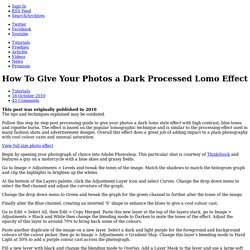 The effect is based on the popular lomographic technique and is similar to the processing effect used in many fashion shots and advertisement designs. Overall this effect does a great job of adding impact to a plain photography with cool colour casts and unusual saturation. Making Complex Selections in Photoshop. Making precise selections in Photoshop is an essential skill that every designer needs.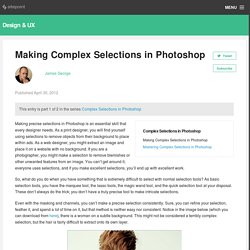 As a print designer, you will find yourself using selections to remove objects from their background to place within ads. As a web designer, you might extract an image and place it on a website with no background. If you are a photographer, you might make a selection to remove blemishes or other unwanted features from an image. You can't get around it; everyone uses selections, and if you make excellent selections, you'll end up with excellent work. So, what do you do when you have something that is extremely difficult to select with normal selection tools? 50 Photoshop Tricks for a Fast-Paced Work Environment. Are you a designer on a deadline?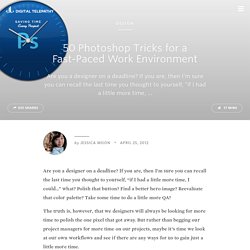 If you are, then I'm sure you can recall the last time you thought to yourself, "if I had a little more time, I could…" what? Polish that button? Find a better hero image? Playing with Displace Filter in Photoshop. I have been playing a lot with the Displace filter in Photoshop and I still get impressed with how powerful it is.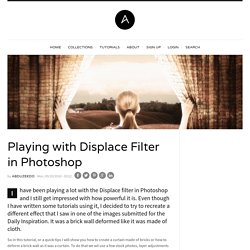 Even though I have written some tutorials using it, I decided to try to recreate a different effect that I saw in one of the images submitted for the Daily Inspiration. It was a brick wall deformed like it was made of cloth. So in this tutorial, or a quick-tips I will show you how to create a curtain made of bricks or how to deform a brick wall as it was a curtain. To do that we wil use a few stock photos, layer adjustments and the Displace filter in Photoshop CS5. 8 Photoshop Tricks I Wish I Knew when I was a Student. Photoshop is one of the (if not THE) most well known software used in the design industry when it comes to manipulating images and pixels.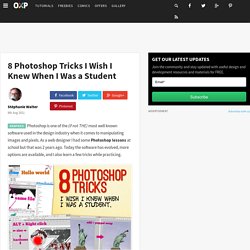 As a web designer I had some Photoshop lessons at school but that was 2 years ago. Today the software has evolved, more options are available, and I also learn a few tricks while practicing. Comictutorial.jpg (JPEG Image, 1200 × 7600 pixels) - Scaled (10%) Superb skin airbrush technique. Step 1.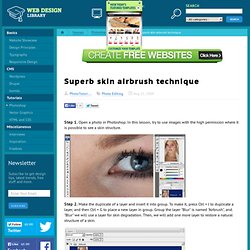 Open a photo in Photoshop. In this lesson, try to use images with the high permission where it is possible to see a skin structure. Step 2. 100 Best Photoshop Tutorials of All Time that Yield Professional Results. Photoshop tutorials are one of the most popular subjects on the web, as the digital art community continues to grow and new designers bring their unique skills.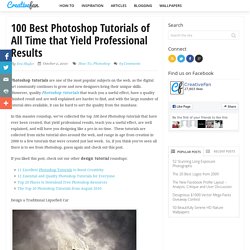 However, quality Photoshop tutorials that teach you a useful effect, have a quality finished result and are well explained are harder to find, and with the large number of tutorial sites available, it can be hard to sort the quality from the mundane. In this massive roundup, we've collected the top 100 best Photoshop tutorials that have ever been created, that yield professional results, teach you a useful effect, are well explained, and will have you designing like a pro in no time. These tutorials are collected from niche tutorial sites around the web, and range in age from creation in 2008 to a few tutorials that were created just last week. So, if you think you've seen all there is to see from Photoshop, guess again and check out this post.
Night School News, Videos, Reviews and Gossip - Lifehacker.
---