Food
Tequila-Soaked Watermelon Wedges - Martha Stewart Recipes - StumbleUpon. How to Make Greek Yogurt. Make your own regular or Greek yogurt at home with this easy method.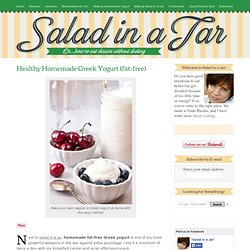 Next to salad in a jar, homemade fat-free Greek yogurt is one of my most powerful weapons in the war against extra poundage. I eat it a minimum of twice a day–with my breakfast cereal and as an afternoon snack. It's satisfying. Www.myfridgefood.com from myfridgefood.com - StumbleUpon. Foods to Improve Moods - Healthy Living Tips at WomansDay.com - StumbleUpon.
While that tub of ice cream in the back of the freezer may be what you crave when you're feeling blue, there is a long list of other (healthier!)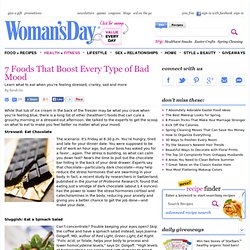 Foods that can cure a grouchy morning or a stressed-out afternoon. We talked to the experts to get the scoop on what to eat to make you feel better no matter what your mood. Stressed: Eat Chocolate. Watermelon Limeade - Martha Stewart Recipes - StumbleUpon. Sparkling Champagne Cupcakes - StumbleUpon. 2010 is almost a memory, and what remains is mostly the bitter-sweet disassembling of Christmas.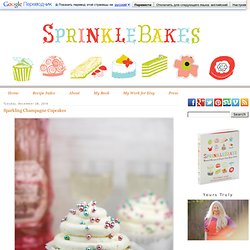 I've been finding pieces of packaging shrapnel from eager gift opening and the odd half-eaten piece of Christmas candy (a sure sign of overindulgence). For me, these days-after feel a little awkward, but reflecting on the year fills my glass half-full again. So many amazing things happened, and I am hopeful that 2011 will be even better! I may even have a resolution or two. World Hearth Recipe Collection - StumbleUpon. My Favorite Gourmet Nutrition Recipes | Precision Nutrition - StumbleUpon. The Gourmet Nutrition V2 cookbook was created to show people that great-tasting food can also be great for you.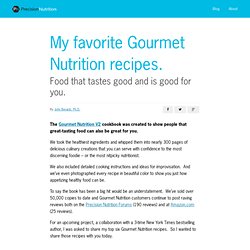 We took the healthiest ingredients and whipped them into nearly 300 pages of delicious culinary creations that you can serve with confidence to the most discerning foodie – or the most nitpicky nutritionist. We also included detailed cooking instructions and ideas for improvisation. And we've even photographed every recipe in beautiful color to show you just how appetizing healthy food can be. FOODILY - Find recipes online. Share them with your friends. - StumbleUpon. Cinnamon Roll Pancakes | RecipeGirl.com - StumbleUpon. Cinnamon Roll Pancakes Updated 9/22/11 to Add: If you're coming here to sample these delicious Cinnamon Roll Pancakes, you just might like the latest recipe that I've posted for Pumpkin Cinnamon Roll Pancakes too.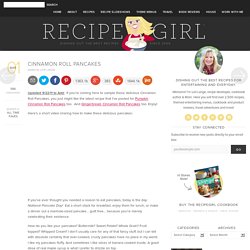 And Gingerbread- Cinnamon Roll Pancakes too. Enjoy! If you've ever thought you needed a reason to eat pancakes, today is the day: National Pancake Day. Eat a short stack for breakfast, enjoy them for lunch, or make a dinner out a manhole-sized pancake… guilt free… because you're merely celebrating their existence. 3xSgR.jpg from imgur.com - StumbleUpon. Cake Batter Truffles | Snappy Gourmet - StumbleUpon. Spring is here, or at least it's kind of here.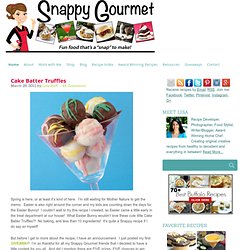 I'm still waiting for Mother Nature to get the memo. Easter is also right around the corner and my kids are counting down the days for the Easter Bunny! I couldn't wait to try this recipe I created, so Easter came a little early in the treat department at our house! Une Vie Saine: Strawberry Champagne Slushies - StumbleUpon. Parmesan Roasted Potatoes - StumbleUpon.
Ok fine.
I'm officially ready to make the transition to fall. And I thought, what better way to do it than with my all time favorite Parmesan Roasted Potatoes! These are like candy. 100% addictive. Once you stop, you just can't stop. If you knew the amount of potatoes we consumed in a week, you'd be shocked. Cinnamon Toast&Rolls - Circle B Kitchen - Circle B Kitchen - StumbleUpon. The USDA released its new food pyramid the other day (which is actually a plate now instead of a pyramid), and I am sorely disappointed to report that cinnamon rolls did not appear anywhere on that plate.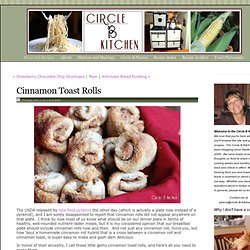 I think by now most of us know what should be on our dinner plate in terms of healthy, well-rounded nutrient-laden meals, but it is my considered opinion that our breakfast plate should include cinnamon rolls now and then. And not just any cinnamon roll, mind you, but how 'bout a homemade cinnamon roll hybrid that is a cross between a cinnamon roll and cinnamon toast, is super easy to make and gosh darn delicious. In honor of their ancestry, I call these little gems cinnamon toast rolls, and here's all you need to make them… French Fries: The No-Guilt Version - StumbleUpon. There's nothing like a french fried potato.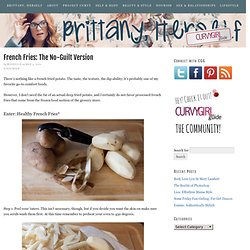 The taste, the texture, the dip-ability; it's probably one of my favorite go-to comfort foods. However, I don't need the fat of an actual deep fried potato, and I certainly do not favor processed french fries that come from the frozen food section of the grocery store. Enter: Healthy French Fries* Step 1: Peel your 'taters. This isn't necessary, though, but if you decide you want the skin on make sure you scrub-wash them first. My Favorite Gourmet Nutrition Recipes | Precision Nutrition - StumbleUpon. 50 Amazingly Helpful Time-Tested Tips for the Kitchen | Life Hackery - StumbleUpon. You know all of those helpful kitchen-related suggestions that old-timers are so willing to share with the younger generations?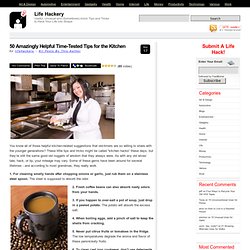 These little tips and tricks might be called "kitchen hacks" these days, but they're still the same good old nuggets of wisdom that they always were. As with any old wives' tale, hack, or tip, your mileage may vary. Some of these gems have been around for several lifetimes - and according to most grandmas, they really work. 1.
---