Tutoriales
50 Carefully Selected Photoshop Text Effect Tutorials. Removing a White Background with Photoshop Actions. There are a ton of textures available on the internet, like spray paint drips that have a white background.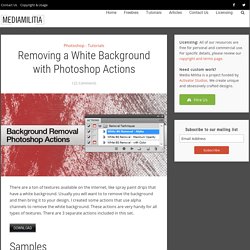 Usually you will want to to remove the background and then bring it to your design. I created some actions that use alpha channels to remove the white background. These actions are very handy for all types of textures. There are 3 separate actions included in this set. After you have downloaded the file, unzip it and save it to a location that you prefer. Create a Realistic Panoramic Matte Painting in Photoshop. Matte paintings are images commonly used in the film industry to create the illusion of an environment that would otherwise be too expensive or impossible to build.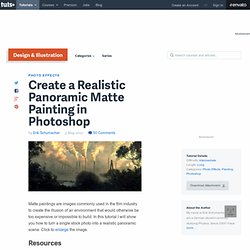 In this tutorial I will show you how to turn a single stock photo into a realistic panoramic scene. Click to enlarge the image. 15 Tutorials for Recreating Authentic Photo Effects. Photoshop effects usually bring up thoughts of vibrant swirling lines and abstract pieces of stunning artwork, not to mention the not so cool Photoshop filters that have been the cause of eye-wrenching design choices for years.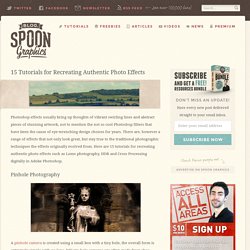 There are, however a range of effects that not only look great, but stay true to the traditional photographic techniques the effects originally evolved from. Here are 15 tutorials for recreating authentic photo effects such as Lomo photography, HDR and Cross Processing digitally in Adobe Photoshop. Pinhole Photography. Amazing Photoshop light effect in 10 Steps. Last year I had written a tutorial showing how to create some lighting effects in Photoshop, it was called Magic Lighting Effects.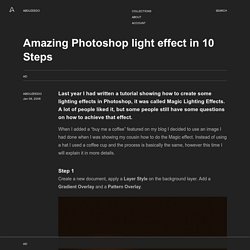 A lot of people liked it, but some people still have some questions on how to achieve that effect. When I added a "buy me a coffee" featured on my blog I decided to use an image I had done when I was showing my cousin how to do the Magic effect. Instead of using a hat I used a coffee cup and the process is basically the same, however this time I will explain it in more details.
Photoshop CS4: A Picture Worth a Thousand Words - Layers Magazine | Layers Magazine. I love Photoshop techniques that offer all kinds of possibilities for experimentation—and the following tutorial is a perfect example of one of those techniques.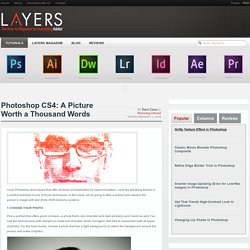 In this issue, we're going to take a portrait and replace the person's image with text (think 2009 Grammy posters). Pick a portrait that offers good contrast—a photo that's very dramatic and dark probably won't work as well. I've had the best success with straight-on head and shoulder shots, but again, feel free to experiment with all types of photos. For the best results, choose a photo that has a light background (or select the background around the person and make it lighter). Create a new document (File>New) in a size that's smaller than your photo: the specifics don't really matter. 40 Sources To Download High-Quality Free Photoshop PSD Stuff | Showcases. When it comes to Image editing or photo enhancement, Adobe Photoshop is usually the primary option to consider.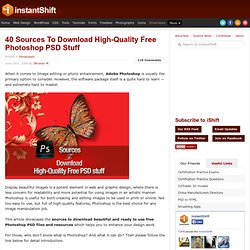 However, the software package itself is a quite hard to learn — and extremely hard to master. Display beautiful images is a potent element in web and graphic design, where there is less concern for readability and more potential for using images in an artistic manner. Super Cool Watercolor Effect in 10 steps in Photoshop. Last year I wrote a Photoshop tutorial for PSDTUTS showing how to create a very nice design using watercolor brushes.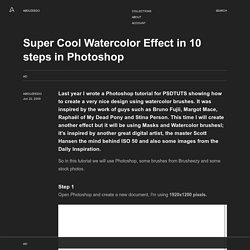 It was inspired by the work of guys such as Bruno Fujii, Margot Mace, Raphaël of My Dead Pony and Stina Person. This time I will create another effect but it will be using Masks and Watercolor brushesl; it's inspired by another great digital artist, the master Scott Hansen the mind behind ISO 50 and also some images from the Daily Inspiration. So in this tutorial we will use Photoshop, some brushes from Brusheezy and some stock photos. Step 1 Open Photoshop and create a new document, I'm using 1920x1200 pixels. Create an Editable On Screen Text Effect using Smart Objects « PsAwesome★ Awesome Photoshop Tutorials. In this Awesome★ Photoshop tutorial, i'm going to show you how to create an editable screen shot text effect.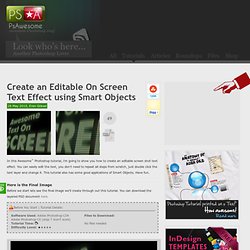 You can easily edit the text, you don't need to repeat all steps from scratch, just double click the text layer and change it. This tutorial also has some good applications of Smart Objects. Have fun. Here is the Final Image Before we start lets see the final image we'll create through out this tutorial. You can download the layered PSD document here. The 100 Most Popular Photoshop Tutorials 2009. Under Articles Sometimes, you may find it difficult to look for some of the highest quality photoshop tutorials using search engines.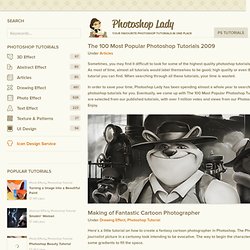 As most of time, almost all tutorials would label themselves to be good, high quality or even the best photoshop tutorial you can find. When searching through all these tutorials, your time is wasted. In order to save your time, Photoshop Lady has been spending almost a whole year to search for the best photoshop tutorials for you. 40 Free Tutorials on Advanced Drawing Techniques. The traditional form of drawing and sketching is a highly sought after skill.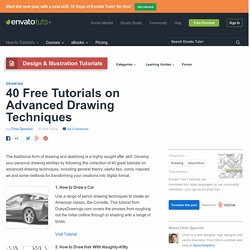 Develop your personal drawing abilities by following this collection of 40 great tutorials on advanced drawing techniques, including general theory, useful tips, comic inspired art and some methods for transforming your creations into digital format. 1. How to Draw a CarUse a range of pencil drawing techniques to create an American classic, the Corvette. This tutorial from DueysDrawings.com covers the process from roughing out the initial outline through to shading with a range of tones.Visit Tutorial 2. How to Draw Hair With Naughty-KittyFollow this tutorial by Naughty Kitty to gain some useful tips on recreating Manga inspired hair in a range of styles.Visit Tutorial 3. How To Make Subtle Textured Brushes In Photoshop. You know how in just about every Photoshop tutorial one of the first steps is to go and download a set of brushes? Well, it's time to change that.
Making your very own custom Photoshop brushes is a simple process that we can all take advantage of. Create a realistic folded paper text in Photoshop. Today we will learn how to realize a folded paper text effect from scratch in Photoshop. We will firstly create the background using a couple of patterns, then we will work on the type treatment with the help of the pen tool, layer masks and other useful techniques related to dodge,burn and the transform tool. This tutorial is very simple to follow, so I suggest to everyone to give a try. 20 PSD Tuts That Will Turn You Into A Photoshop Guru. Many people can use Photoshop, but only a select few can call themselves gurus.
Learn all the methods in the 20 tutorials below and you'll be well on your way to joining this elite. Rather than focus on tuts for beginners, intermediates or advanced users, we've simply chosen ones which produce jaw-dropping effects. All of them are easy to follow, although most do require at least some prior knowledge and experience. 1. 100 Helpful Photography Tutorials for Beginners and Professionals. Photography as both a profession and a hobby is an incredibly expansive topic that covers a remarkably vast range of subjects from science and art. No matter where you lie on the professional spectrum, there is simply always more to learn. We spent countless hours scouring the web for the best content we could find and share with you, and today we'll help you expand your knowledge with 100 photography related tutorials!
20 Superb Adobe Illustrator Tutorials. CSS - Noupe. Total Recall #1: The Ultimate Collection of the Best Free Templates 2013 in PSD and HTML/CSS The past leaves its own mark, so it is very useful to look back early in the year, and put up a best-of-collection of remarkable things and resources. May be you have missed something valuable that might come in handy in the near future, probably something that will make your working process more efficient, time-saving and cost-effective. Or be it something that can help to quickly "kickstart" your web project, and is available free of charge and can freely undergo different changes. Today we are going to give a rundown of the previous year's free stuff.
---