Cookies
Tina's Shortbread Chocolate Chip Cookies Recipe. Giant Oatmeal Raisinet Cookies. We really can't leave well enough alone now can we?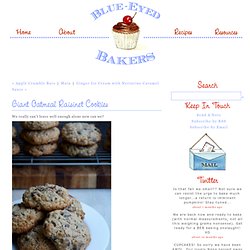 Remember those Whopper brownies from just a few weeks ago? Who do we think we are? Taking a perfectly delicious brownie and insisting on adding malt balls?! Cream Cheese Chocolate Chip Cookies « Betchacanteatjustone's Blog. This just may be my new favorite Chocolate Chip Cookie.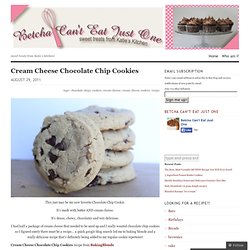 It's made with butter AND cream cheese. It's dense, chewy, chocolatey and very delicious. I had half a package of cream cheese that needed to be used up and I really wanted chocolate chip cookies so I figured surely there must be a recipe… a quick google blog search led me to baking blonde and a really delicious recipe that's definitely being added to my regular cookie repertoire! Cream Cheese Chocolate Chip Cookies recipe from BakingBlonde 4 oz cream cheese, softened (recipe called for 5-6 but I only had 4)3/4 cup unsalted butter, melted and cooled1 cup brown sugar1/2 cup granulated sugar2 tsp vanilla extract1/2 tsp baking soda1/2 tsp salt2 cups plus 3 tbsp all purpose flour1 1/2 cups semi sweet chocolate chips.
Colorful Spiral Cookies. Just try to be in a bad mood around one of these.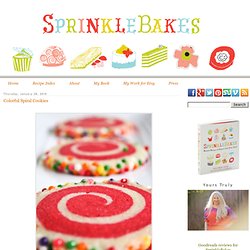 Impossible! I was naturally drawn to these because of the bright, eye-catching swirl, not to mention the jumbo sprinkles-encrusted edges! Recipe: Waffled chocolate chip cookies - Waffleizer. People ask me what made me think of doing this blog.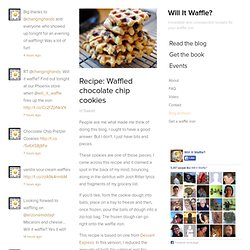 I ought to have a good answer. But I don't. I just have bits and pieces. Million Dollar Prize. This cookie just took the $1 Million Dollar Prize in the Pillsbury Bake-Off competition.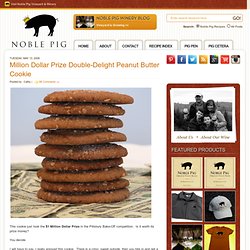 Is it worth its prize money? You decide. I will have to say, I really enjoyed this cookie. There is a crisp, sweet outside, then you bite in and get a creamy center. Cowboy Cookies | Scarletta Bakes. Howdy.
Have a cookie. You'll need it to sustain you through the following paragraphs of immensely dorky cowboy references. HowTo: Girl Scout Cookie Recipe Rip-Offs - Sorry, Ladies! « Wonderment Blog. Apple Butter Cookies Recipe. Rolo Stuffed Chocolate Chip Cookie Recipe. Ingredients Directions 1.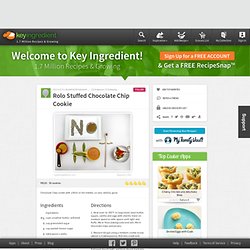 Heat oven to 350°F. Homemade Samoas Recipe. Roll out the dough on a well-floured surface.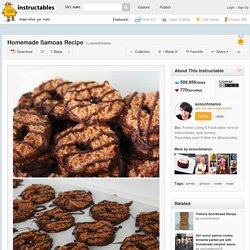 Cut out the shapes with a biscuit cutter, or two differently-size round cutters, or a small round cutter and a straw. You get the idea! Bake your batches of cookies one sheet at a time for 10-12 minutes, rotating the cookie sheet 180 degrees, halfway through baking. This ensures that all the cookies turn the same color instead of getting browner in the hotter parts of your oven. Let cookie sheets cool before putting new cookies to be baked on them. Peanut Butter Cream'wich Cookies. This is it, the last day to enter my give away for a copy of The 'Wichcraft Cookbook !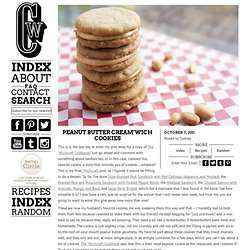 Just go ahead and comment with something about sandwiches, or in this case, cookies! You favorite cookie, a story that reminds you of cookies…whatever! One-pan dark chocolate chunk skillet cookie. For some reason, I was craving this on Saturday.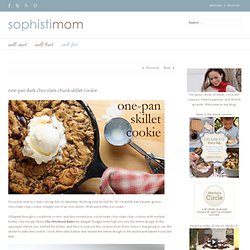 Nothing else would do. All I wanted was a warm, gooey, chocolate chip cookie, straight out of an iron skillet. With just a little ice cream. Mint Chocolate Chip Cookies Recipe. Hershey Kiss Cookies. Chocolate Chip Oreo Cookies. Chocolate Chip Oreo Cookies I procrastinate from my homework the best when I'm baking. Seriously. Lunch Lady Bars | Do you attend cookie exchanges this time of year? I've only ever attended a couple of them in my life, but every year, I tell myself that I'm either going to attend one or host one. Of course, this usually doesn't happen. Brown Butter Double Fudge Chocolate Chip Cookie Dough Cookies.
Little bit of a mouthful there. But it's like a cookie on top of another cookie! Yeah. Like total dirty cookie on cookie action. Butterfinger Cookie Mix - Mixes in a Jar. Attach to Jar/Container Print Label Butterfinger Cookie Mix Preheat oven to 360 degrees 1 cup unsalted butter 1 large egg 1 cup Butterfinger bar chunks 1 recipe of Butterfinger Cookie mix Beat butter until smooth in electric mixer, add egg & beat until combined. Then add Butterfinger bar chunks, the cookie mix and blend on low. Form cookies into 1 1/2 inch balls & place 2 inches apart on ungreased cookie sheet. Lofthouse Sugar Cookies. Traditional French macaron recipe. Brown Sugar Cookies with Sea Salted Caramel and Dark Chocolate. Homemade Twix Bars. The Infamous Jacques Torres Chocolate Chip Cookies. * Remodelaholic *: It's What's Inside That Counts! Rolo Cookies.
Soft Lofthouse Style Frosted Cookies. Homemade Twix Cookies | Foodie With Family. Millionaire's Shortbread. Chewiest Sugar Cookies recipe from food52. Homemade versions of Girl Scout cookies.
---