CLIMATE CRISIS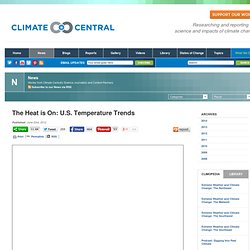 Global warming isn't uniform.
The Heat is On: U.S. Temperature Trends
Support the EPA's proposal to limit industrial carbon pollution from power plants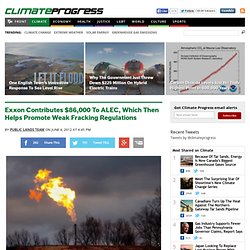 Exxon Contributes $86,000 To ALEC, Which Then Helps Promote Weak Fracking Regulations
By Jessica Goad As the New York Times reported last month, the American Legislative Exchange Council, a right-wing corporate front group , has been behind various efforts to enact watered down state regulations for the natural gas drilling technique known as hydraulic fracturing, or fracking. The Times noted that ALEC's model legislation being shopped to state legislators was sponsored by Exxon Mobil.
oddkalzj Shared by jp966
Don't Have Flash? Watch this video on your iPad or iPhone here While temperatures soared for many this summer, this video takes the longer historical view.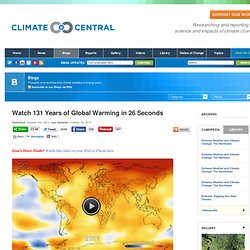 Watch 131 Years of Global Warming in 26 Seconds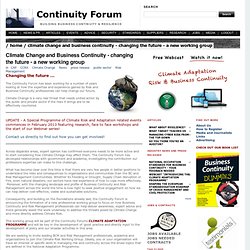 Changing the future ... The Continuity Forum has been working for a number of years looking at how the expertise and experience gained by Risk and Business Continuity professionals can help change our future. Climate Change is a very real threat that needs united action by the public and private sector if the risks it brings are to be effectively countered.
Developing Business Continuity and Risk Management capability to meet Climate Risk
Brown Argus (Aricia agestis) butterfly roosting on grass. Photograph: Bob Gibbons/Alamy A modest but resilient British butterfly has bucked the trend of worried predictions about the species' health, with scientists reporting it appears to have benefited rather than lost out from climate change .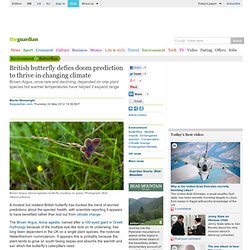 British butterfly defies doom prediction to thrive in changing climate | Environment
By Oliver Milman, The Guardian An Australian university has embarked upon an ambitious project — hailed as the first of its kind in the world — to simulate how the environment would cope with runaway climate change.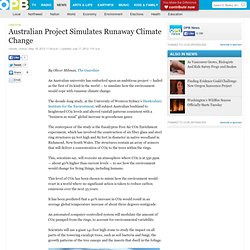 Australian Project Simulates Runaway Climate Change
Rubene De Sousa: Graphic: An Iceberg the Si
When the ice breaks apart, it will produce an iceberg more than 340 square miles (880 square kilometers), said Studinger, who is part of the US space agency's IceBridge project.
Graphic: An iceberg the size of New York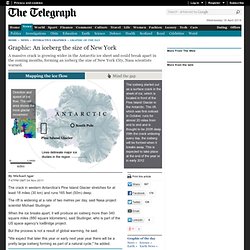 Live Stream
The global output of heat-trapping carbon dioxide has jumped by a record amount, according to the US department of energy, a sign of how feeble the world's efforts are at slowing man-made global warming.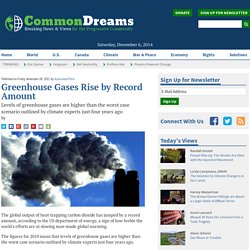 Greenhouse Gases Rise by Record Amount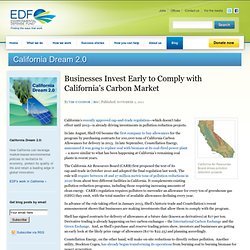 Businesses Invest Early to Comply with California's Carbon Market
California Air Resources Board drives pollution reduction projects
Polar Bear Probe Careens in New Directions
WASHINGTON - October 26 - A controversial investigation by the Interior Department Office of Inspector General (IG) into a 2006 peer-reviewed journal article on drowned polar bears has veered off into new directions which appear to solidify rather than impeach the article, according to Public Employees for Environmental Responsibility (PEER). Among the revelations by the IG was that it has received oral reports of more drowned polar bears in open Arctic waters than had been officially reported.
Worst Flooding in Decades Swamps Thailand - Alan Taylor - In Focus
Heavy monsoon rains have been drenching Southeast Asia since mid-July, causing mudslides and widespread flooding along the Mekong River.
Geoengineering Goes Legit | Jeff Goodell | Rolling Stone
Syd Walker: Ozone loss over Arctic thi
The U.N.
Little Preparation Under Way for Climate Change at World's Seaports
State Farm Insurance has paid $5 billion to its customers for weather-related catastrophes -- damage to cars, homes and other property so far this year -- the largest U.S. insurer of homes and cars said Sunday. That payout has been increased by wildfires, tropical storms and hurricanes during the summer, which came after last spring's spate of tornadoes and hail storms. The company did not provide a comparable figure for the year-ago period.
State Farm Pays $5 Billion in Weather Claims
Not the way climate scientists see it.
Scientists Say Atlas Is Wrong on Greenland's Glaciers
On climate change, it's all-out war
'The carbon tax is only the first step along the path of sustainability.'
Arctic ozone loss at record level
Suicide epidemic hits bankrupt farmers of India
EU climate chief 'shocked' at US debate - The Hill's E2-Wire
Simarprit Singh: Headlinesworld.com - Melti
Al Gore: clear proof that climate change causes extreme weather | Environment
Will Climate Change Make National Parks More Dangerous?
Pennsylvania Crushed By Climate Disaster After State Withdraws From Global Warming 'Endangerment' Cases
JetBlue lets passengers rebook to avoid hurricane
FDL Book Salon Welcomes Christian Parenti, Tropic of Chaos: Climate Change and the New Geography of Violence
German state minister: The Kochs are ruining U.S. renewables
Too Hot for Chocolate? Climate Change Could Decimate the $9 Billion Cocoa Industry, Study Finds
Crisis worsens in flood-hit Pakistan - Central & South Asia
Floods hit Indian farmers hard - Central & South Asia
Time to Face the Facts Regarding Climate Change - Opinion - St. Norbert Times
Climate change: The heat is on
Local View: Climate change policy could make Keystone XL obsolete
When you talk too much for Twitter
World Bank Urges Scrapping Fossil Fuel Subsidies To Help Poor Nations Adapt To Climate Change
Deep oceans can mask global warming for decade-long periods
Fire fighters battle Central Australian blazes
Global Warming Could Cost Canada Billions, Study Warns
Melting Glaciers: Monitoring Global Warming at World's 'Third Pole' - SPIEGEL ONLINE - News - International
You Aren't Hearing About Pakistan's Biggest Problems | Afghanistan / Pakistan | FRONTLINE
Too Hot for Chocolate? Climate Change Could Decimate the $9 Billion Cocoa Industry, Study Finds
Climate fix technical test put on hold
Danish Government Aims To Cut Emissions By 40 Percent By 2020
Europeans fear climate change more than financial turmoil, poll shows | Environment
Climate Change and the End of Australia | Politics News | Rolling Stone
Canada's Arctic ice shelves breaking up fast - US news - Environment - Climate Change
Climate change could cost Canada billions of dollars yearly, study group says
Dirty, Muggy Summer Air Reminds Us Why We Need Stronger Air Quality Standards that Cut Pollution | Kim Knowlton
Typhoon makes landfall in central Japan
As Drought Continues, Some Texans Resort to Feeding the Wildlife | The EnvironmentaList | Earth Island Journal | Earth Island Institute
Sea Level Shenanigans
News in Nepal: Fast, Full & Factual
Most of NJ Placed Under Flood Warning
EPA Delays Greenhouse Gas Regulations, Raising Concerns Over Climate Change And Public Health
Climate change threatens Yellowstone region
Blow to US airlines in emissions fight
Environment Victoria: Oh dear, not good! Fire fi
Rick Perry officials spark revolt after doctoring environment report | Environment
How Climate Change Could Hurt Yellowstone National Park
Arctic Ice Cover Hits Historic Low, Due to Global Warming Says Scientists
Weather breaks September records - Home News, UK
Malcolm M. Campbell: The cost of ignoring the #
Scientists Say Climate Change is Contributing to More Extreme Weather Now | Steve Fleischli
Insurance Companies Unprepared for Climate Change, Report Says
American Cattle Ranching is Outgunned by Climate Change | CleanTechnica