CLIMATE CRISIS
The Heat is On: U.S. Temperature Trends. Global warming isn't uniform.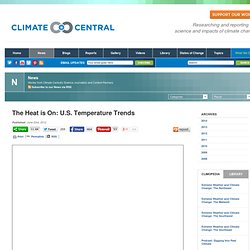 The continental U.S. has warmed by about 1.3°F over the past 100 years, but the temperature increase hasn't been the same everywhere: some places have warmed more than others, some less, and some not much at all. Natural variability explains some of the differences, and air pollution with fine aerosols screening incoming solar radiation could also be a factor.
Our state-by-state analysis of warming over the past 100 years shows where it warmed the most and where it warmed the least. Support the EPA's proposal to limit industrial carbon pollution from power plants. Exxon Contributes $86,000 To ALEC, Which Then Helps Promote Weak Fracking Regulations. By Public Lands Team on June 4, 2012 at 4:45 pm "Exxon Contributes $86,000 To ALEC, Which Then Helps Promote Weak Fracking Regulations" By Jessica Goad.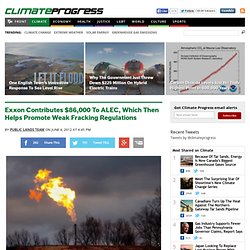 Oddkalzj Shared by jp966. Watch 131 Years of Global Warming in 26 Seconds. Don't Have Flash?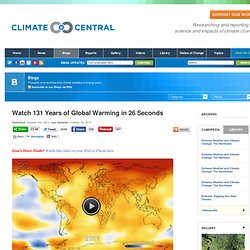 Watch this video on your iPad or iPhone here While temperatures soared for many this summer, this video takes the longer historical view. Developing Business Continuity and Risk Management capability to meet Climate Risk. Changing the future ...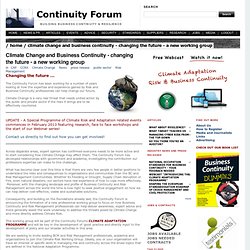 The Continuity Forum has been working for a number of years looking at how the expertise and experience gained by Risk and Business Continuity professionals can help change our future. Climate Change is a very real threat that needs united action by the public and private sector if the risks it brings are to be effectively countered. British butterfly defies doom prediction to thrive in changing climate | Environment. A modest but resilient British butterfly has bucked the trend of worried predictions about the species' health, with scientists reporting it appears to have benefited rather than lost out from climate change.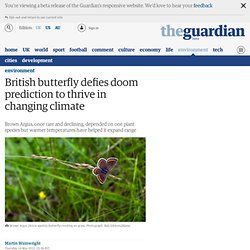 The Brown Argus, Aricia agestis, named after a 100-eyed giant in Greek mythology because of the multiple eye-like dots on its underwing, has long been dependent in the UK on a single plant species, the rockrose Helianthemum nummularium. It appears this is probably because the plant tends to grow on south-facing slopes and absorbs the warmth and sun which the butterfly's caterpillars need. But hundreds of records kept by amateur butterfly enthusiasts since 1990 show that Brown Arguses have expanded their range by 40 miles in the past two decades, moving north at more than 2.3 times the average pace of other flourishing insect species. Australian Project Simulates Runaway Climate Change. By Oliver Milman, The Guardian An Australian university has embarked upon an ambitious project — hailed as the first of its kind in the world — to simulate how the environment would cope with runaway climate change.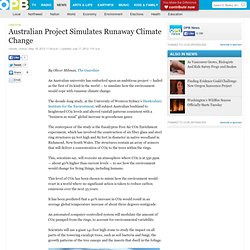 The decade-long study, at the University of Western Sydney's Hawkesbury Institute for the Environment, will subject Australian bushland to heightened CO2 levels and altered rainfall patterns consistent with a "business as usual" global increase in greenhouse gases. The centerpiece of the study is the Eucalyptus Free Air CO2 Enrichment experiment, which has involved the construction of six fiber glass and steel ring structures 92 feet high and 82 feet in diameter in native woodland in Richmond, New South Wales. The structures contain an array of sensors that will deliver a concentration of CO2 to the trees within the rings.
Rubene De Sousa: Graphic: An Iceberg the Si... Graphic: An iceberg the size of New York. When the ice breaks apart, it will produce an iceberg more than 340 square miles (880 square kilometers), said Studinger, who is part of the US space agency's IceBridge project.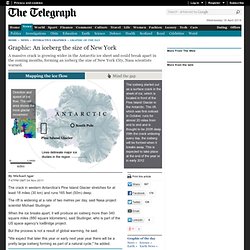 "These are cyclical events that occur every few years. The last big calving event occurred in 2001, so in general people have been expecting something to happen like that very soon. "For us it is very exciting to actually see this while it is happening. " Live Stream. Greenhouse Gases Rise by Record Amount. The global output of heat-trapping carbon dioxide has jumped by a record amount, according to the US department of energy, a sign of how feeble the world's efforts are at slowing man-made global warming.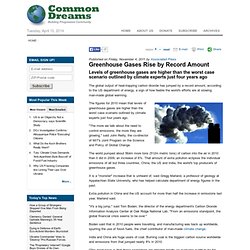 The figures for 2010 mean that levels of greenhouse gases are higher than the worst case scenario outlined by climate experts just four years ago. "The more we talk about the need to control emissions, the more they are growing," said John Reilly, the co-director of MIT's Joint Program on the Science and Policy of Global Change. Businesses Invest Early to Comply with California's Carbon Market. California Air Resources Board drives pollution reduction projects California's recently approved cap-and-trade regulation—which doesn't take effect until 2013—is already driving investments in pollution reduction projects.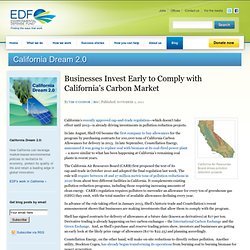 In late August, Shell Oil became the first company to buy allowances for the program by purchasing contracts for 100,000 tons of California Carbon Allowances for delivery in 2013. In late September, Constellation Energy, announced it was going to replace coal with biomass at its coal-fired power plant – a move similar to what has been happening at California's remaining coal plants in recent years. The California Air Resources Board (CARB) first proposed the text of its cap-and-trade in October 2010 and adopted the final regulation last week. Polar Bear Probe Careens in New Directions. WASHINGTON - October 26 - A controversial investigation by the Interior Department Office of Inspector General (IG) into a 2006 peer-reviewed journal article on drowned polar bears has veered off into new directions which appear to solidify rather than impeach the article, according to Public Employees for Environmental Responsibility (PEER).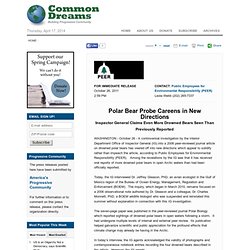 Among the revelations by the IG was that it has received oral reports of more drowned polar bears in open Arctic waters than had been officially reported. Today, the IG interviewed Dr. Jeffrey Gleason, PhD, an avian ecologist in the Gulf of Mexico region of the Bureau of Ocean Energy, Management, Regulation and Enforcement (BOEM). The inquiry, which began in March 2010, remains focused on a 2006 observational note authored by Dr. Gleason and a colleague, Dr. Worst Flooding in Decades Swamps Thailand - Alan Taylor - In Focus.
Heavy monsoon rains have been drenching Southeast Asia since mid-July, causing mudslides and widespread flooding along the Mekong River. Parts of Thailand are now experiencing the worst floods in half a century, as water inundates villages, historic temples, farms, and factories. At least 281 people have been killed in Thailand, and another 200 in neighboring Cambodia. Rescue workers are scrambling to prevent a humanitarian disaster, and Thailand's prime minister is warning businesses not to use the flooding as an excuse to raise prices. About 8.2 million people in 60 of Thailand's 77 provinces have been affected by the flooding, and economic losses are so far estimated to top $2 billion. Geoengineering Goes Legit | Jeff Goodell. Syd Walker: Ozone loss over Arctic thi... Little Preparation Under Way for Climate Change at World's Seaports.
State Farm Pays $5 Billion in Weather Claims. State Farm Insurance has paid $5 billion to its customers for weather-related catastrophes -- damage to cars, homes and other property so far this year -- the largest U.S. insurer of homes and cars said Sunday. That payout has been increased by wildfires, tropical storms and hurricanes during the summer, which came after last spring's spate of tornadoes and hail storms. The company did not provide a comparable figure for the year-ago period. Through Sept. 23, State Farm has receive more than 970,000 catastrophe claims, stretching from wildfires in western Texas to storm damage in Maine.
Scientists Say Atlas Is Wrong on Greenland's Glaciers. Not the way climate scientists see it. "Fiasco" was the word chosen by one scientist in an e-mail to the National Snow and Ice Data Center in Boulder, Colo., alerting his colleagues to erroneous claims made by the publishers of the atlas (whose name derives from The Times of London) about the speed at which 's glaciers are melting. He also feared that a map in the atlas, along with news accounts repeating an error in the news release, could pull climate scientists into another vortex of damaging controversy. The news release, echoed by the news media, claimed that Greenland had lost 15 percent of its permanent ice cover from 1999 to 2011. That translates to 125,000 cubic miles, according to a rough calculation by Etienne Berthier, a glaciologist with the University of Toulouse, enough melted ice to raise sea levels three to five feet.
On climate change, it's all-out war. 'The carbon tax is only the first step along the path of sustainability.' Photo: Reuters The world continues to pour billions into fossil fuels. Arctic ozone loss at record level. 2 October 2011Last updated at 18:05 By Richard Black Environment correspondent, BBC News The Arctic ozone hole lay over over populated regions for parts of winter and spring Ozone loss over the Arctic this year was so severe that for the first time it could be called an "ozone hole" like the Antarctic one, scientists report. Suicide epidemic hits bankrupt farmers of India. Simarprit Singh: Headlinesworld.com - Melti... Al Gore: clear proof that climate change causes extreme weather | Environment. Will Climate Change Make National Parks More Dangerous? Pennsylvania Crushed By Climate Disaster After State Withdraws From Global Warming 'Endangerment' Cases. FDL Book Salon Welcomes Christian Parenti, Tropic of Chaos: Climate Change and the New Geography of Violence.
German state minister: The Kochs are ruining U.S. renewables. Too Hot for Chocolate? Climate Change Could Decimate the $9 Billion Cocoa Industry, Study Finds. Crisis worsens in flood-hit Pakistan - Central & South Asia. Floods hit Indian farmers hard - Central & South Asia. Time to Face the Facts Regarding Climate Change - Opinion - St. Norbert Times. Climate change: The heat is on. Local View: Climate change policy could make Keystone XL obsolete. When you talk too much for Twitter. World Bank Urges Scrapping Fossil Fuel Subsidies To Help Poor Nations Adapt To Climate Change. Deep oceans can mask global warming for decade-long periods. Fire fighters battle Central Australian blazes. Global Warming Could Cost Canada Billions, Study Warns. Melting Glaciers: Monitoring Global Warming at World's 'Third Pole' - SPIEGEL ONLINE - News - International. You Aren't Hearing About Pakistan's Biggest Problems | Afghanistan / Pakistan | FRONTLINE. Too Hot for Chocolate? Climate Change Could Decimate the $9 Billion Cocoa Industry, Study Finds.
Climate fix technical test put on hold. Danish Government Aims To Cut Emissions By 40 Percent By 2020. Europeans fear climate change more than financial turmoil, poll shows | Environment. Climate Change and the End of Australia | Politics News. Canada's Arctic ice shelves breaking up fast - US news - Environment - Climate Change. Climate change could cost Canada billions of dollars yearly, study group says. Dirty, Muggy Summer Air Reminds Us Why We Need Stronger Air Quality Standards that Cut Pollution | Kim Knowlton. Typhoon makes landfall in central Japan. As Drought Continues, Some Texans Resort to Feeding the Wildlife | The EnvironmentaList | Earth Island Journal | Earth Island Institute.
Sea Level Shenanigans. News in Nepal: Fast, Full & Factual. Most of NJ Placed Under Flood Warning. EPA Delays Greenhouse Gas Regulations, Raising Concerns Over Climate Change And Public Health. Climate change threatens Yellowstone region. Blow to US airlines in emissions fight. Environment Victoria: Oh dear, not good! Fire fi... Rick Perry officials spark revolt after doctoring environment report | Environment. How Climate Change Could Hurt Yellowstone National Park. Arctic Ice Cover Hits Historic Low, Due to Global Warming Says Scientists. Weather breaks September records - Home News, UK. Malcolm M. Campbell: The cost of ignoring the #... Scientists Say Climate Change is Contributing to More Extreme Weather Now | Steve Fleischli. Insurance Companies Unprepared for Climate Change, Report Says.
American Cattle Ranching is Outgunned by Climate Change.
---