Math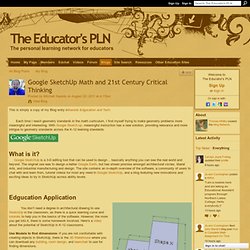 Google SketchUp Math and 21st Century Critical Thinking
This is simply a copy of my Blog entry inSwords Edgucation and Tech. Each time I reach geometry standards in the math curriculum, I find myself trying to make geometry problems more meaningful and interesting. With Google Sketch-up, meaningful instruction has a new solution, providing relevance and more intrigue to geometry standards across the K-12 learning standards.
Siemens STEM - QR Codes in the STEM Classroom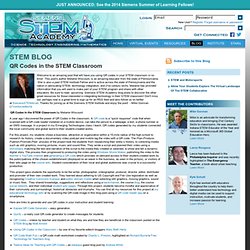 QR Codes in the STEM Classroom Welcome to an amazing post that will have you using QR codes in your STEM classroom in no time! This post's author Melanie Wiscount, is an amazing educator from the state of Pennsylvania. She is also a past STEM Institute Fellow and is active across the state of Pennsylvania and the nation in advocating STEM, technology integration, and 21st century skills. Melanie has provided information that you will want to make part of your STEM program and share with other educators. Be sure to read upcoming Siemens STEM Academy blog posts to discover the other great resources for those interested in integrating technology in their STEM classroom!
NSDL Science Literacy Maps help teachers connect concepts, standards, and NSDL educational resources by providing a way to see and discover how scientific concepts relate to one another. View the NSDL Science Literacy Maps NSDL provides access to audio, video, and other multimedia resources for science and math education through Apple's iTunes Store. There is no cost to use or download materials from NSDL on iTunes U.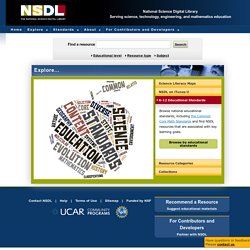 ABCya.com is the leader in free educational kids computer games and activities for elementary students to learn on the web. All children's educational computer activities were created or approved by certified school teachers. All educational games are free and are modeled from primary grade lessons and enhanced to provide an interactive way for children to learn. Grade level lessons incorporate areas such as math and language arts while introducing basic computer skills.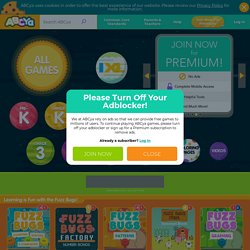 Can I take a course at HippoCampus for credit? How do I enroll in a course at HippoCampus? Are there any fees to take your courses? How do I make a comment or ask a question? How do I get individual help with my homework assignment?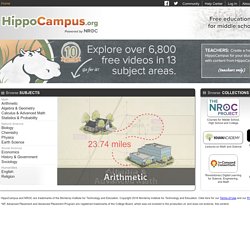 Edheads is an online educational resource that provides free science and math games and activities that promote critical thinking. Choose from Simple Machines, Virtual Knee Surgery or Stem Cell Heart Repair, among others. All activities meet state and national standards. We partner with corporations, universities, and school systems throughout the United States, which help us research, design, and test our activities every step of the way. Not only do teachers and students appreciate our free activities, Edheads has been recognized by almost every major award on the Web for our excellent educational content. So click the "Choose an Activity" tab at the top of the page to dive into an activity and let the fun and learning begin!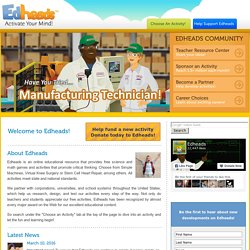 Google Earth is by no means a new resource in education, but it is a great one and I always love sharing ideas for how to integrate this tool into the classroom. Take a look at some of the great resources below to learn how to use GE to engage students with virtual explorations of our world! To start, take a look at Google's own site, Google Earth for Educators. This site has something for everyone, whether you are just getting started, are looking for new ideas, or want to see if you are qualified to apply for a Google Earth Pro Grant. Check out some Google Earth tutorials, connect with other teachers using Google Earth, or showcase your student work. Real World Math – This is a great resource for math teachers looking for ideas of how to integrate Google Earth into the math curriculum.
Google Earth in the Classroom
5 More Free Digital Resources for Math Teachers
Last month, I posted a list of 5 Free Digital Resources for Math Teachers. Since then, I have stumbled upon several more to add to the list. Let's take a look at five more great resources to teach match in the digital classroom! 1. Gooru is a search engine with more than 2,600 standards-aligned resources, called study guides, in 5th-12th grade math and science.
Teens Tackle Real-World Math in Oklahoma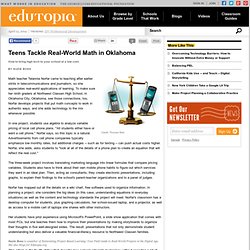 How to bring high tech to your school at a low cost. Credit: Thomas Reis Math teacher Telannia Norfar came to teaching after earlier stints in telecommunications and journalism, so she appreciates real-world applications of learning. To make sure her ninth graders at Northwest Classen High School, in Oklahoma City, Oklahoma, see those connections, too, Norfar develops projects that put math concepts to work in authentic ways, and she adds technology to the mix whenever possible.
Teaching strategies which involve project based learning offer students the potential of gaining deep insights into mathematical concepts. Mathematics projects prompt students into developing and answering their own questions. This strategy assists students in developing higher order math skills that allow them to make the all important connections between one math concept and other math concepts. Math Problems Math problems in project based learning must challenge students with an in-depth investigation of a mathematical concept. These type of problems lead to students using critical thinking and reasoning skills in solving problems.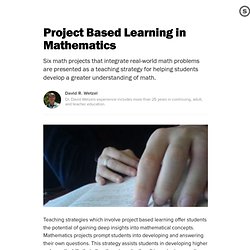 Project Based Learning in Mathematics: Learning Activities in Math Designed to Extend Concept Awareness
Activities
We set out to reimagine the graphing calculator from the ground up, building on the best technologies available. This is beautiful, powerful, intuitive math that lives in your browser . Graph multiple functions in vivid color and watch them update as you type. Save your work to the cloud or share it with friends . Transform your computer or tablet into a math engine.
Reel Math Challenge
Math 2 Success - Real World Math Problems
Guest Post - Using Microsoft Word to Create better Word Walls
5 Free Digital Resources for Math Teachers
The internet is full of great resources for math teachers, but often it's difficult to find the time to dig through and find the best ones for your students. Today's post focuses on some free resources to help math students visualize difficult concepts and manipulate numbers and variables to discover the language of mathematics. 1. Geogebra
Free Math Videos Online
RobbWorld's Channel