Math
StudyJams. Google SketchUp Math and 21st Century Critical Thinking. This is simply a copy of my Blog entry inSwords Edgucation and Tech.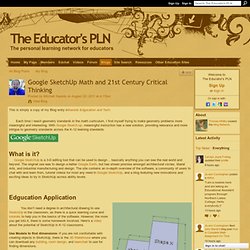 Each time I reach geometry standards in the math curriculum, I find myself trying to make geometry problems more meaningful and interesting. With Google Sketch-up, meaningful instruction has a new solution, providing relevance and more intrigue to geometry standards across the K-12 learning standards. Siemens STEM - QR Codes in the STEM Classroom. QR Codes in the STEM Classroom Welcome to an amazing post that will have you using QR codes in your STEM classroom in no time!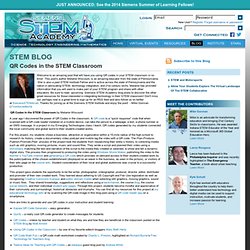 This post's author Melanie Wiscount, is an amazing educator from the state of Pennsylvania. She is also a past STEM Institute Fellow and is active across the state of Pennsylvania and the nation in advocating STEM, technology integration, and 21st century skills. Melanie has provided information that you will want to make part of your STEM program and share with other educators. Be sure to read upcoming Siemens STEM Academy blog posts to discover the other great resources for those interested in integrating technology in their STEM classroom! NSDL.org - National Science Digital Library. Conrad Wolfram: Teaching kids real math with computers. ABCya.com | Kids Educational Computer Games & Activities.
HippoCampus - Homework and Study Help - Free help with your algebra, biology, environmental science, American government, US history, physics and religion homework. Edheads - Activate Your Mind! Google Earth in the Classroom. Google Earth is by no means a new resource in education, but it is a great one and I always love sharing ideas for how to integrate this tool into the classroom.
Take a look at some of the great resources below to learn how to use GE to engage students with virtual explorations of our world! To start, take a look at Google's own site, Google Earth for Educators. This site has something for everyone, whether you are just getting started, are looking for new ideas, or want to see if you are qualified to apply for a Google Earth Pro Grant. Check out some Google Earth tutorials, connect with other teachers using Google Earth, or showcase your student work. Real World Math – This is a great resource for math teachers looking for ideas of how to integrate Google Earth into the math curriculum. 5 More Free Digital Resources for Math Teachers.
Last month, I posted a list of 5 Free Digital Resources for Math Teachers.
Since then, I have stumbled upon several more to add to the list. Let's take a look at five more great resources to teach match in the digital classroom! 1. Gooru is a search engine with more than 2,600 standards-aligned resources, called study guides, in 5th-12th grade math and science. Teens Tackle Real-World Math in Oklahoma. How to bring high tech to your school at a low cost.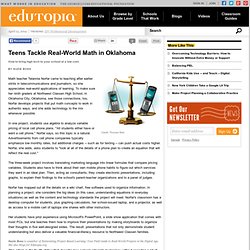 Credit: Thomas Reis Math teacher Telannia Norfar came to teaching after earlier stints in telecommunications and journalism, so she appreciates real-world applications of learning. To make sure her ninth graders at Northwest Classen High School, in Oklahoma City, Oklahoma, see those connections, too, Norfar develops projects that put math concepts to work in authentic ways, and she adds technology to the mix whenever possible. Project Based Learning in Mathematics: Learning Activities in Math Designed to Extend Concept Awareness. Teaching strategies which involve project based learning offer students the potential of gaining deep insights into mathematical concepts.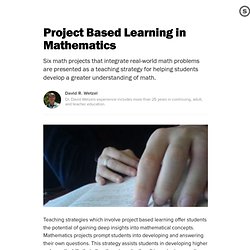 Mathematics projects prompt students into developing and answering their own questions. This strategy assists students in developing higher order math skills that allow them to make the all important connections between one math concept and other math concepts. Math Problems Math problems in project based learning must challenge students with an in-depth investigation of a mathematical concept. These type of problems lead to students using critical thinking and reasoning skills in solving problems. Algebasics™ Algebra Tutorials. Activities. GeoGebra. Desmos | Interactive education. For every platform. For everyone. Desmos | A Better Calculator.
Reel Math Challenge. Gooru. Free Online Math Games | Cool Math Games | Math Chimp. Math 2 Success - Real World Math Problems. Guest Post - Using Microsoft Word to Create better Word Walls. 5 Free Digital Resources for Math Teachers. The internet is full of great resources for math teachers, but often it's difficult to find the time to dig through and find the best ones for your students.
Today's post focuses on some free resources to help math students visualize difficult concepts and manipulate numbers and variables to discover the language of mathematics. 1. Geogebra. Free Math Videos Online. Videos By Topic. College Algebra Prep:A four-week course to get you ready to take college algebra.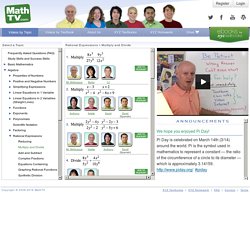 Click here for more information. Enrollment is limited. RobbWorld's Channel. Calculus - Ch 1 Limits Play These videos correlate with the 8th Edition Houghton Mifflin Calculus Textbook.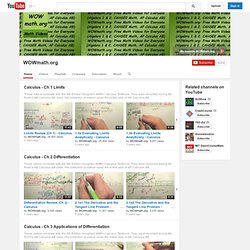 They were recorded during Mr. Robb's AB Calculus AB class. His collection of videos cover the entire year of AP Calculus AB. Great Video Lessons from Great Teachers | LearnZillion.
---