Desert
The Best (Brazilian) Dessert You'll Ever Make. Tripbase is starting a community: Apply to be a Founding Member.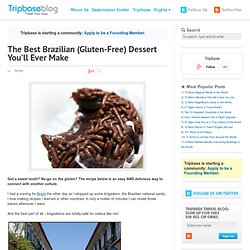 Got a sweet tooth? No-go on the gluten? The recipe below is an easy AND delicious way to connect with another culture. Streuseled Apple Oatmeal Cinnamon Chip Muffins. It is seriously cold in Oregon right now and according to a poll I did on Facebook last night, it seems everyone is feeling a little "Arctic" at the moment.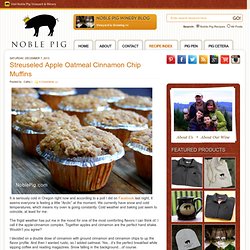 We currently have snow and cold temperatures, which means my oven is going constantly. Cold weather and baking just seem to coincide, at least for me. The frigid weather has put me in the mood for one of the most comforting flavors I can think of, I call it the apple-cinnamon complex. Together apples and cinnamon are the perfect hand shake. Make a Quick Cream Cheese Apple Braid. The Best Original New York Style Cheesecake! | niner bakes. …at least for me.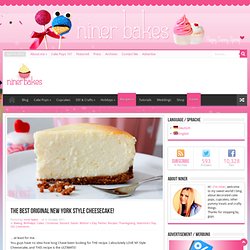 You guys have no idea how long I have been looking for THE recipe. I absolutely LOVE NY Style Cheesecake, and THIS recipe is the ULTIMATE! A couple sneak peaks… Chocolate chip cookies (koekjes met chocolade) - Recept. Bake or Break - Adventures of an amateur baker - StumbleUpon. The Best Banana Bread. We've been eating a lot of bananas recently – on cereal, Stonyfield Farm Banilla yogurt, with chocolate in crepes, even with peanut butter on toast.
While all delicious, nothing really beats freshly baked banana bread. If you buy a bunch of bananas, and some start to get a little mushy, well, they are a prime target for making into banana bread. You want the bananas to be really ripe; the riper the better. I don't know if there is some science behind this, maybe it just makes them easier to mash.
I mashed by hand, using the back of a spoon. Kaneelrolletjes. Mix de eivervanger met het water tot het dik en romig is.Meng 280 g bloem met de gist.Warm in een kleine sauspan de sojamelk, boter, suiker en zout op tot de boter gesmolten is.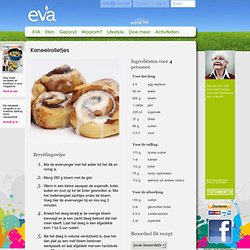 Mix het melkmengsel zachtjes onder de bloem. Voeg hier de eivervanger bij en mix nog 3 minuten.Kneed het deeg terwijl je de overige bloem toevoegt en je een zacht deeg bekomt dat niet meer kleeft. How to Make Awesome Peanut Butter Chocolate Chip Cookies. Dry ingredients: - 1 cup flour - 1 tsp baking soda - 1/4 tsp salt Stir in small bowl Wet ingredients: - 1 cup light brown sugar, packed* - 1 cup crunchy peanut butter - 1 stick (1/4 pound or 8 tbsp) unsalted butter, room temperature - 1 tsp vanilla extract - 1 large egg - 1/4 cup honey.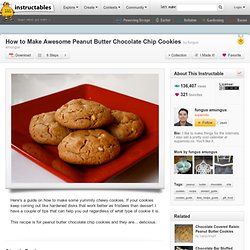 Caramel-Filled Chocolate Cookies Recipe from Pillsbury. Moist Chocolate Chip Banana Bread. Long time readers know I'm a little hooked on baking for breakfast.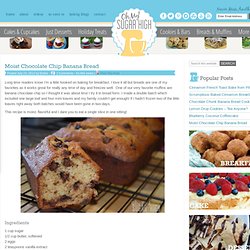 I love it all but breads are one of my favorites as it works great for really any time of day and freezes well. One of our very favorite muffins are banana chocolate chip so I thought it was about time I try it in bread form. I made a double batch which included one large loaf and four mini loaves and my family couldn't get enough! If I hadn't frozen two of the little loaves right away both batches would have been gone in two days. Caramel Brownie Cheesecake. This is a monkeyhead concoction so please don't be disappointed with me that it's not 100% homemade.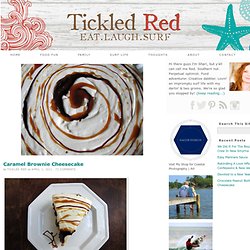 Sometimes as a mom you have to go with your childrens ideas in order to lift their creative wings. Monkey One loves cheesecake and caramel, Monkey Two has a passion for brownies you put the two of these knuckleheads together and look at what they come up with… Caramel Brownie Cheesecake. You gotta love the way these boys think.
To see their vision come to fruition we used one of our favorite brownie mixes, a no bake white chocolate cheesecake recipe from Williams-Sonoma and we tried Jamie's homemade caramel recipe from My Baking Addiction. My girl has it going on in the kitchen y'all, get ready to drool. Perfect Iced Coffee | The Pioneer Woman Cooks | Ree Drummond - StumbleUpon. Iced coffee is my life.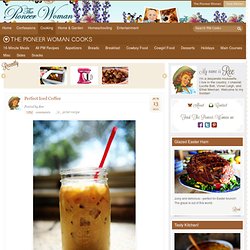 When I wake up, often around the time party animals on the west coast are just heading home, I start each day not with a cup of freshly brewed hot java, but with a tall, blessed glass of creamy iced coffee in a glass. I've been an iced coffee freakazoid for years and years. To say I couldn't live without it is an understatement. It gives me the tools I need to cope. The Brownie That Will Change Your Life - StumbleUpon. Let me start off by saying that viewer discretion is advised for today's post.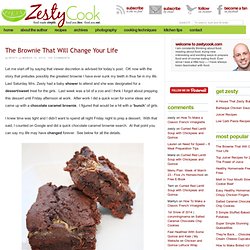 OK now with the story that preludes possibly the greatest brownie I have ever sunk my teeth in thus far in my life. Last Saturday Mrs. Zesty had a baby shower to attend and she was designated for a dessert/sweet treat for the girls. Last week was a bit of a zoo and I think I forgot about prepping this dessert until Friday afternoon at work. After work I did a quick scan for some ideas and came up with a chocolate caramel brownie. Recipe/chantals-new-york-cheesecake/detail.aspx. Chocolate Chip Cookie Dough Peanut Butter Cups. Soooooo… you know that episode of Sex and the City where Miranda has to dump dish soap on top of chocolate cake just so she will stop eating it??
Uh. Yeeeeeah. Web's Tastiest: Pancakes Recipes. Everyone knows that breakfast is the most important meal of the day. So of course you want to get off to a good, healthy start. However, anyone with kids knows that some mornings are just too special to worry about a properly balanced meal. Spending time in the kitchen as a family, whipping up something absolutely decadent and definitely too sweet, is the stuff that memories are made of. The Web's Tastiest Pancake Recipes are here to turn Saturday into Whattaday! Cinnamon Roll Pancakes. Pull Apart Lemon Coffee Cake. The title says "cake" but I really feel that "bread" better describes what this is.
Sweet yeasty dough cut and slathered with butter and lemon infused sugar is baked and then spread with lemon cream cheese icing. Once its iced you can just peel the slices off, no need to cut (who has time to find a knife anyways??) How to Make a Cake with Zebra Stripes on the Inside! & MyCakeSchool Blog - StumbleUpon. Hi everyone! Happy Friday! Okay, it is just about 15 minutes until Saturday here, but I'm still going to call this a Friday blog -:0) — Let's celebrate by making a zebra cake! In my last video tutorial, I demonstrated how to decorate a cake with zebra stripes–a very fun look for your safari, fashion or just plain funky themed cakes! Well, today I'll show you how to continue the theme to the inside of the cake. Cinnamon Toast&Rolls - Circle B Kitchen - Circle B Kitchen - StumbleUpon.
The USDA released its new food pyramid the other day (which is actually a plate now instead of a pyramid), and I am sorely disappointed to report that cinnamon rolls did not appear anywhere on that plate. I think by now most of us know what should be on our dinner plate in terms of healthy, well-rounded nutrient-laden meals, but it is my considered opinion that our breakfast plate should include cinnamon rolls now and then. And not just any cinnamon roll, mind you, but how 'bout a homemade cinnamon roll hybrid that is a cross between a cinnamon roll and cinnamon toast, is super easy to make and gosh darn delicious.
---