Texts and articles
Get flash to fully experience Pearltrees
As a new college student, whether national or international, you know that textbooks, food and other daily expenses can add up quickly. Now that you're on your own, you may find yourself responsible for managing how and when you spend your money.
Pearce burst onto the scene when he played Det.
UC Berkeley Press Release Language affects half of what we see
This page is brought to you by UC Berkeley Parents Network Back to the Jokes & Quotes Collection (author unknown) 1. It's more fun to color outside the lines. 2.
John Sterns is diagnosed with schizoaffective disorder (a co-diagnosis of schizophrenia and bipolar disorder), chronic depression and chronic anxiety. He describes a lifetime of fighting demons ... Special to MORE INTELLIGENT LIFE
The Egg By: Andy Weir You were on your way home when you died.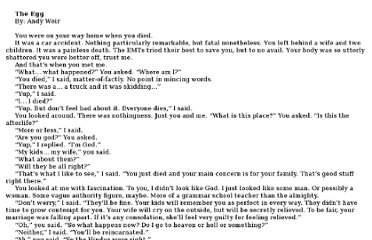 Posted on Tuesday March 31, 2009 by Staff Writers
The following short quiz consists of 4 questions and tells whether you are qualified to be a "manager." The questions are not that difficult. How do you put a giraffe into a refrigerator? The correct answer is: Open the refrigerator, put in the giraffe and close the door. This question tests whether you tend to do simple things in an overly complicated way. How do you put an elephant into a refrigerator?