Digital stories
Stories bring us together, encourage us to understand and empathize, and help us to communicate. Long before paper and books were common and affordable, information passed from generation to generation through this oral tradition of storytelling. Consider Digital Storytelling as the 21st Century version of the age-old art of storytelling with a twist: digital tools now make it possible for anyone to create a story and share it with the world. WHY Digital Storytelling? Digital stories push students to become creators of content, rather than just consumers. Weaving together images, music, text, and voice, digital stories can be created in all content areas and at all grade levels while incorporating the 21st century skills of creating, communicating, and collaborating. Peter Kittle Northern California Writing Project Inquiry: Will studying and composing multimodal texts help students create compelling communications? I. Navigating the Genre: What is a Multimodal Text? James Gee, What Video Games Have to Teach Us about Learning and Literacy (2003) Multimodal texts mix various modes of communication (text, image, sound) into a single document Each mode of communication may transmit a message independent of the other mode(s) Taken together, the modes create effects on their readers that are different than any single mode considered on its own (ch. 2, pp. 12-50) Seven Things You Should Know About Digital Storytelling II.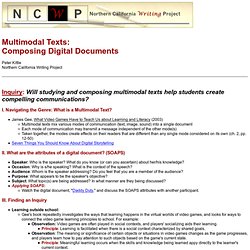 Multimodal Documents Inquiry
iPhoneography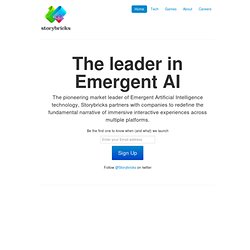 Building better worlds Modern gamers deserve more than what modern games provide. We want to develop games that can create personalized stories for you to enjoy. Across multiple platforms and devices. Emotion matters
StoryKeepers - home
Remember on this one thing, said Badger. The stories people tell have a way of taking care of them. If stories come to you, care for them.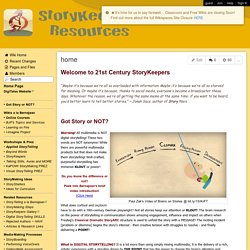 This is the follow up post to the theoretical Wondering About Hyperlinked Writing. The post ended with Now…on from the wondering, theory and resources…to the practice in the classroom. I am ready to bring hyperlinked writing (and reading) as an important genre into the classroom! Can one just start "throwing" hyperlinked writing" at our students (or teaches for that matter) at any time, at any age? Is hyperlinked writing part of a process?
Hyperlinked Writing in the Classroom- From Theory to Practice 
Storytelling continues to gain popularity as an educational activity. As it stimulates a deep thinking, creativity and basic literacies, it also enhances and enriches the learning experience for student voices. Storytelling is an art form that uses a story ARC regardless of digital tools used while modernizing the traditional oral storytelling. It is more than "tell about" or "explain something" - a rich, powerful storytelling unfolds a dilemma - a struggle and a resolution organized around a story point or lesson learned. The emotional journey very powerful way of communicating [supported by research] with our audiences be they peers and portraying to others who we are and what our own stories are.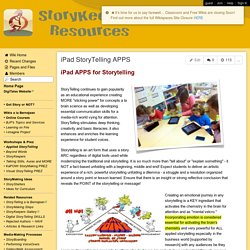 The DAOW of literacy in a storytelling environment Digital, Art, Oral and Written literacies- the DAOW of literacy - are crucial for personal, academic and workplace success in the Digital Age and blend very well in a digital storytelling environment.
jason ohler : Digital Storytelling - DAOW of storytelling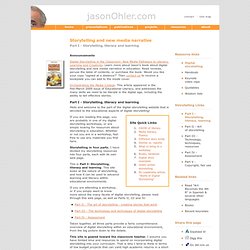 Digital Storytelling - Home
In this article, I will demonstrate how you can increase the levels of complexity both technically and linguistically in web-based storytelling by using tools that ask more of your students at each stage. This is always prefaced by an offline warm up, which will enable you to connect the digital version to the analogue. If necessary because you don't have access to a computer room or enough computers for it to be feasible, you could spend most or all of the lesson time with the offline activities and set the online activities as homework.
The 5 Levels of Digital Storytelling | Digital Play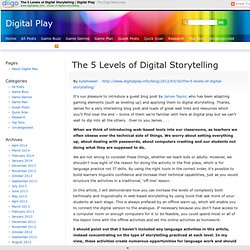 Latina Life Digital Life Stories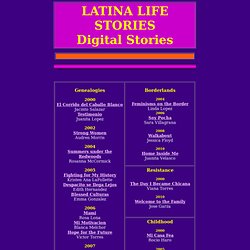 Genealogies 2000 El Corrido del Caballo Blanco Jacinto Salazar Testimonio Juanita Lopez 2002 Strong Women Audren Morris 2004 Summers under the Redwoods Rosanna McCormick 2005 Fighting for My History Kristen Ana LaFollette Despacito se Ilega Lejos Edith Hernandez Blessed Culturas Emma Gonzalez
[Voorbeeld] Momnotmom door Thenmozhi Soundarajan
Welcome to YouTube! The location filter shows you popular videos from the selected country or region on lists like Most Viewed and in search results.To change your location filter, please use the links in the footer at the bottom of the page. Click "OK" to accept this setting, or click "Cancel" to set your location filter to "Worldwide".
LGBTyouth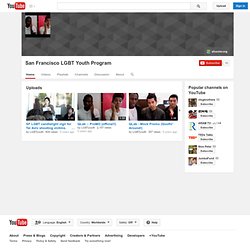 Six word memoirs
YUMEDIALP
This is a training and employment program at the Youth UpRising community center in East Oakland, CA. This program is designed to teach young people how to develop a critical eye towards the media they consume on a daily basis and learn how to use new technologies to produce their own media, with their own voice, their own messages, through diverse forms of creative self-expression. Students learn professional photography, audio/video production and web content creation in order to become youth multimedia producers. http://www.YUmediaArts.org/
Digital Histories
The Digital Histories crew will be representing at the Seattle Asian American Film Festival! Student films "More than 1000 Words" and "Class of '58" by Steve and Danny were selected for the festival! Congratulations! Also congrats to our... instructors, Jeff and Gena, whose films "That Particular Time" and "The Crumbles" were also selected! Please check them out if you're in the Seattle area!
Children's Life in Cambodia | creative narrations
Producer: Tra Yary, Na Yary, Solid Yary, Chanra Chhean In this parable, recently arrived youth from Cambodia tell the story of how a boy learned to avoid gangs and respect the wisdom of his elders. How this story is being used for change: This story was created as part of an anti-gang effort bringing together Cambodian, Cape Verdean, and Vietnamese youth to share their commonalities through story.
Life N Rhyme
Many educators interpret fair use as freedom to use copyrighted materials as long as their use is restricted to instructional purposes. Are they correct in that belief? Not exactly! Learn how the law really works. Included: Fair use guidelines for educators! Copyrights and Copying Wrongs, the first part in the Education World series on copyright and fair use, set out a good rule of thumb for using copyrighted material -- when in doubt, ask permission.
Is Fair Use a License to Steal?
Digital Storytelling Presentation
Mentor Texts in the Digital Writing Workshop - Home
Teach Story » Digital Storytelling