Digital stories
8 Steps To Great Digital Storytelling. Stories bring us together, encourage us to understand and empathize, and help us to communicate. Long before paper and books were common and affordable, information passed from generation to generation through this oral tradition of storytelling. Consider Digital Storytelling as the 21st Century version of the age-old art of storytelling with a twist: digital tools now make it possible for anyone to create a story and share it with the world. WHY Digital Storytelling? Digital stories push students to become creators of content, rather than just consumers. Weaving together images, music, text, and voice, digital stories can be created in all content areas and at all grade levels while incorporating the 21st century skills of creating, communicating, and collaborating. Multimodal Documents Inquiry. Peter Kittle Northern California Writing Project Inquiry: Will studying and composing multimodal texts help students create compelling communications?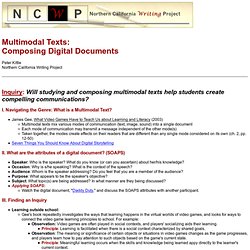 I. Navigating the Genre: What is a Multimodal Text? James Gee, What Video Games Have to Teach Us about Learning and Literacy (2003) Multimodal texts mix various modes of communication (text, image, sound) into a single document Each mode of communication may transmit a message independent of the other mode(s) Taken together, the modes create effects on their readers that are different than any single mode considered on its own (ch. 2, pp. 12-50) Seven Things You Should Know About Digital Storytelling II. iPhoneography. Web Demo. StoryKeepers - home. Hyperlinked Writing in the Classroom- From Theory to Practice  This is the follow up post to the theoretical Wondering About Hyperlinked Writing.
The post ended with Now…on from the wondering, theory and resources…to the practice in the classroom. I am ready to bring hyperlinked writing (and reading) as an important genre into the classroom! Can one just start "throwing" hyperlinked writing" at our students (or teaches for that matter) at any time, at any age? Is hyperlinked writing part of a process? StoryKeepers - iPad StoryTelling APPS.
Storytelling continues to gain popularity as an educational activity.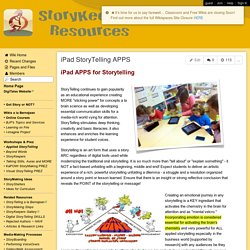 As it stimulates a deep thinking, creativity and basic literacies, it also enhances and enriches the learning experience for student voices. Storytelling is an art form that uses a story ARC regardless of digital tools used while modernizing the traditional oral storytelling. It is more than "tell about" or "explain something" - a rich, powerful storytelling unfolds a dilemma - a struggle and a resolution organized around a story point or lesson learned. The emotional journey very powerful way of communicating [supported by research] with our audiences be they peers and portraying to others who we are and what our own stories are. Jason ohler : Digital Storytelling - DAOW of storytelling. The DAOW of literacy in a storytelling environment Digital, Art, Oral and Written literacies- the DAOW of literacy - are crucial for personal, academic and workplace success in the Digital Age and blend very well in a digital storytelling environment.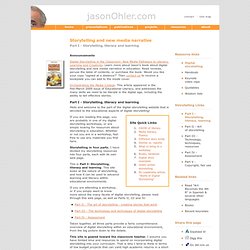 Digital Storytelling - Home. The 5 Levels of Digital Storytelling | Digital Play. Latina Life Digital Life Stories. Genealogies 2000 El Corrido del Caballo Blanco Jacinto Salazar Testimonio Juanita Lopez 2002 Strong Women Audren Morris 2004 Summers under the Redwoods Rosanna McCormick 2005 Fighting for My History Kristen Ana LaFollette Despacito se Ilega Lejos Edith Hernandez Blessed Culturas Emma Gonzalez.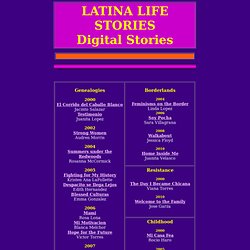 [Voorbeeld] Momnotmom door Thenmozhi Soundarajan. LGBTyouth. Six word memoirs. YUMEDIALP. Youth UpRising (YU) is a multi-service community transformation hub, located in the heart of East Oakland, providing comprehensive, fully integrated health, wellness, educational, career, arts, and cultural programming to Alameda County youth and young adults, ages 13-24.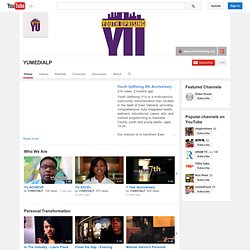 Our mission is to transform East Oakland into a healthy and economically robust community by developing the leadership of youth and young adults and improving the systems that impact them. Show less. Digital Histories. Children's Life in Cambodia | creative narrations. Producer: Tra Yary, Na Yary, Solid Yary, Chanra Chhean In this parable, recently arrived youth from Cambodia tell the story of how a boy learned to avoid gangs and respect the wisdom of his elders.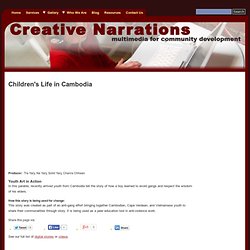 How this story is being used for change: This story was created as part of an anti-gang effort bringing together Cambodian, Cape Verdean, and Vietnamese youth to share their commonalities through story. Life N Rhyme. Is Fair Use a License to Steal? Many educators interpret fair use as freedom to use copyrighted materials as long as their use is restricted to instructional purposes.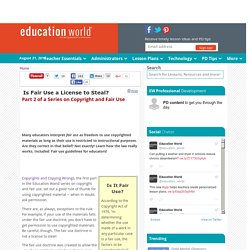 Are they correct in that belief? Not exactly! Learn how the law really works. Included: Fair use guidelines for educators! Copyrights and Copying Wrongs, the first part in the Education World series on copyright and fair use, set out a good rule of thumb for using copyrighted material -- when in doubt, ask permission. Digital Storytelling Presentation. A great way to begin learning about Digital Storytelling is by watching a digital story.
One of my favorites is The Look, created by Craig Jacobson, which presents a personal reflection about how an educator teaches science fiction. The story is told in a humorous and interesting manner filled with little known historical information on the subject and combines still images, film clips and historical resources. Mentor Texts in the Digital Writing Workshop - Home. Educational Uses of Digital Storytelling. Digital Storytelling.
Teach Story » Digital Storytelling. With the rise of electronic entertainment, we are seeing games reach a very prominent status in everyday life. Modern culture is increasingly dominated by electronics, and the new games that electronics have made possible are compelling creations that suck away huge amounts of time. At such a time of adjustment, it's a good idea to go back to the roots of games, and think about why they exist in every human culture, why children of all ages play them, and what important role they play in the development of our brains. – From Raph Koster's Theory of Fun I've been to a lot of conferences. And most of them are often disappointing because the presenters are not effective public speakers or the workshop sessions do not really match the description in the conference program. This conference was different.
CogDogRoo - StoryTools. 50 Web 2.0 Ways to Tell a Story (return) Note! 50+ Ways is no longer being updated here but over at the new site for 50+ Web 2.0 Ways to Tell a Story-- It has more organizational features and includes ways for you to add content to the site once you join the new wiki.
---