Ruby
JRuby 1.5.0 Released: The Best Alternative Ruby Implementation Gets Even Better
Following on five months after the release of the popular JRuby 1.4, the JRuby team have delivered JRuby 1.5! Forgetting the de facto "official" Ruby implementations of 1.8.x and 1.9.1/2, JRuby is the fastest and most stable Ruby implementation available and already has 9 years of progress under its belt. JRuby takes a lot of its performance and versatility from running on the Java Virtual Machine ( JVM ), which has provided JRuby's developers with a solid base from which to optimize how Ruby is implemented. JRuby 1.5.0's release notes provide the full detail, but essentially the biggest new features are: Native launcher for UNIX -based platforms Ant support (effectively a Java based built tool, a la make ) Rails 3 related fixes Updates to the standard library, RubyGems, and RSpec ruby-debug is now included Significantly improved Windows support (a breath of fresh air for Windows-based Ruby developers used to getting second best in the Ruby world) Overall performance improvements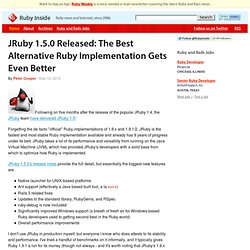 Rails Installer: Ruby and Rails on Windows in a Single, Easy Install
RailsInstaller is a new project from Wayne E Seguin (of RVM fame) that brings RubyInstaller -style simplicity to getting Ruby and Rails set up on Microsoft Windows (XP, Vista, or 7). In a single wizard-driven installation you get Ruby 1.8.7-p330 (with DevKit ), Rails 3.0.3, Git, and SQLite 3. Rails Installer was developed with help from Luis Lavena (a Ruby on Windows expert) and Dr. Nic Williams (Engine Yard's resident Australian comedian ) and its release comes just weeks after Wayne was (re)hired by Engine Yard to work on new open source initiatives. To get started, go to railsinstaller.org , download the "Rails Welcome Kit" and run the installer. There's a screencast you can watch too.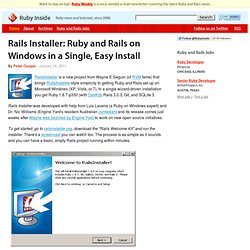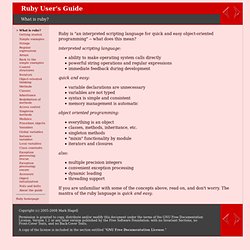 What is ruby?
Ruby is "an interpreted scripting language for quick and easy object-oriented programming" -- what does this mean? interpreted scripting language: ability to make operating system calls directly powerful string operations and regular expressions immediate feedback during development
We recommend Ruby 1.9.3 for use with Rails. Rails 3.2 is the last one that supports Ruby 1.8. Ruby 1.8.6 and earlier are not supported, neither is version 1.9.1. Source: Compile it yourself Windows installer: Ruby, popular extensions, editor OS X 10.5+: Included with developer tools (then do "gem update rails")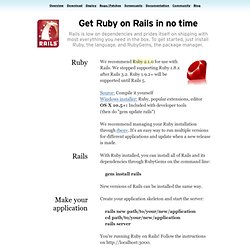 by Curt Hibbs 01/20/2005 Editor's note: Curt Hibbs and Bill Walton have updated this tutorial for Rails 1.2 in Rolling with Ruby on Rails Revisited and Rolling with Ruby on Rails Revisited, Part Two . We recommend those tutorials for all new Rails development. Also check out Bill Walton's monthly series, Cookin' With Ruby on Rails . Maybe you've heard about Ruby on Rails, the super productive new way to develop web applications, and you'd like to give it a try, but you don't know anything about Ruby or Rails.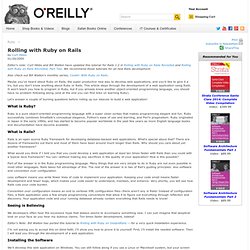 Rolling with Ruby on Rails
RDoc Documentation [ruby-doc.org]
There were 8 Ruby vulnerability reports in the last 14 days. 8 undetermined. Most recent: CVE-2013-2617. See details.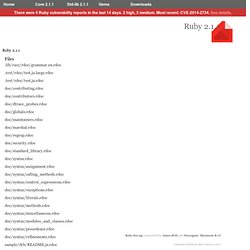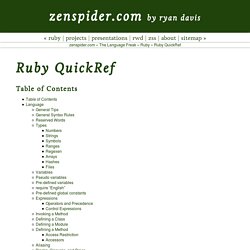 Table of Contents Language General Tips
Ruby 1.9.2 Standard Library Documentation
Ruby is a programming language from Japan (available at ruby-lang.org ) which is revolutionizing the web. The beauty of Ruby is found in its balance between simplicity and power. Try out Ruby code in the prompt on the right. In addition to Ruby's built-in methods, the following commands are available: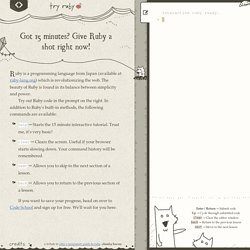 In this massive and advanced Premium Nettuts+ tutorial, we'll learn how to build a file-sharing web application, like Dropbox , using Ruby on Rails. Become a Premium member to read this tutorial, as well as hundreds of other advanced tutorials and screencasts. For those unfamiliar, the family of Tuts+ sites runs a premium membership service. For $19 per month, you gain access to exclusive premium tutorials, screencasts, and freebies from Nettuts+ , Psdtuts+ , Phototuts+ , Aetuts+ , Audiotuts+ , Vectortuts+ , and CgTuts+ For the price of a pizza, you'll learn from some of the best minds in the business.
Build a Dropbox-like File Sharing Site with Ruby on Rails: Premium