Projects, Tutorials
Cheap Arduino Wireless Communications. I was looking for a way to handle wireless communications between two Arduino boards.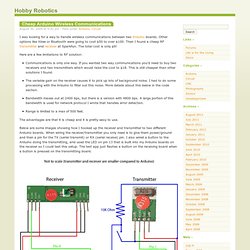 Other options like Xbee or Bluetooth were going to cost $50 to over $100. Then I found a cheap RF transmitter and receiver at Sparkfun. The total cost is only $9! Arduino Tutorial - Lesson 5. DIY Projects, Inspiration, How-tos, Hacks, Mods & More @ Makezine.com - Tweak Technology to Your Will. The format of this book is very different from the regular O'Reilly books.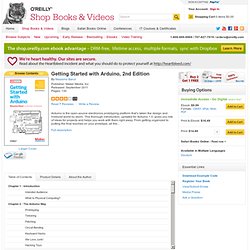 It is written by a geek for geeks. So it doesn't start with a smooth introduction about the basics. Labs / DC Motor Control Using an H-Bridge. Overview In this tutorial, you'll learn how to control a DC motor's direction using an H-bridge.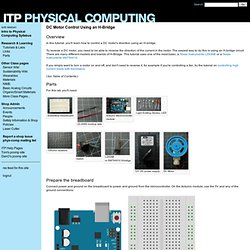 To reverse a DC motor, you need to be able to reverse the direction of the current in the motor. The easiest way to do this is using an H-bridge circuit. Arduino Tutorial: An Introductory Guide. Update!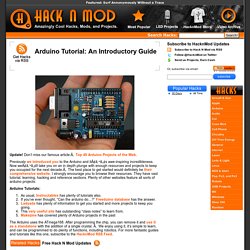 Don't miss our famous article: Top 40 Arduino Projects of the Web. Previously we introduced you to the Arduino and it's awe-inspiring incredibleness. Now we'll take you on an in depth plunge with enough resources and projects to keep you occupied for the next decade. The best place to get started would definitely be their comprehensive website. Martijn Thé – iPhone & iPad Development & Interaction Design » Interfacing an optical mouse sensor to your Arduino. In this tutorial I'll describe how you can connect the optical sensor inside a cheap mouse to your Arduino and have it read out the x- and y-movements.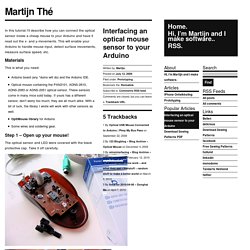 This will enable your Arduino to handle mouse input, detect surface movements, measure surface speed, etc. Materials This is what you need: Arduino-Python 4-Axis Servo Control | Principia Labs. Tutorials / Using a transistor to control high current loads with an Arduino. In this tutorial, you'll learn how to control a high-current DC load such as a DC motor or an incandescent light from a microcontroller.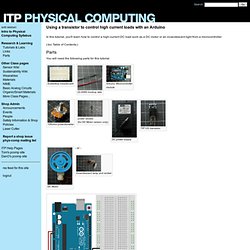 (:toc Table of Contents:) Parts You will need the following parts for this tutorial. Arduino Tutorial - connecting a parallel LCD. Using Relays with Arduino – Turning on the Lights. Warning!!!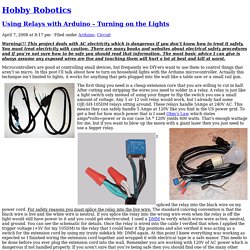 This project deals with AC electricity which is dangerous if you don't know how to treat it safely. You must treat electricity with caution. There are many books and websites about electrical safety procedures and if you're not sure how to be safe you should read that information. Arduino Interrupts. Often when working on microcontroller projects you need a background function to run at regular intervals.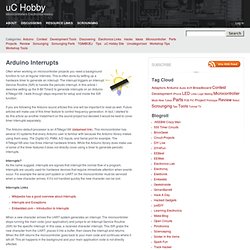 This is often done by setting up a hardware timer to generate an interrupt. The interrupt triggers an Interrupt Service Routine (ISR) to handle the periodic interrupt. Arduino Tutorial - Learn electronics and microcontrollers using Arduino! Arduino Tutorial Learn Electronics using Arduino!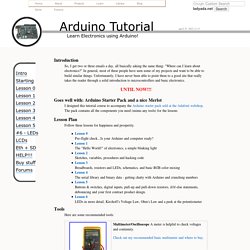 Ladyada.net So, I get two or three emails a day, all basically asking the same thing: "Where can I learn about electronics? " A Multi-Protocol Infrared Remote Library for the Arduino. Note for Arduino 1.0 An updated version with 1.0 support is available on github.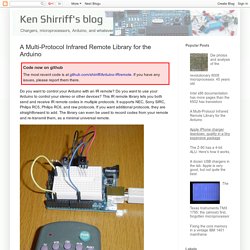 Installation instructions are at the bottom of that page. Let me know if you encounter any problems. Do you want to control your Arduino with an IR remote? The World Famous Index of Arduino & Freeduino Knowledge. Spooky Projects – Introduction to Microcontrollers with Arduino. Spooky Projects is a set of four 3-hour classes in October 2006 hosted by Machine Project and taught by Tod E. Kurt. It is an introduction to microcontroller programming and interfacing with the real world using the Arduino physical computing platform. In the class, participants are shown and experiment with the Arduino's capabilities and learn the basics of common microcontroller interfacing, such as: digital output to control lights and LEDs, digital input to read switches and buttons, analog output to control motor position or LED brightness, and analog input to read sensor inputs.
From these tools all sorts of interesting projects can be created. In the class, a few simple project sketches are covered using the provided parts kit, under the theme of spooky animatronics for Halloween. Tutorials / Setting up an Arduino on a breadboard. Arduino Diecimila / Burning the Bootloader without AVR-Writer. Online | Arduino. My older son recently started school and needed his own desk for doing homework. I wanted to make something nicer than a simple tabletop with legs, and realized that I could also build in a bit of fun for when the homework is finished. Both my boys and I still had space travel on our minds from our summer trip to Kennedy Space Center. For this desk project, I decided to go with a NASA theme. I researched the Apollo Program as well as NASA's Mission Control Center, and designed my own console roughly based on those.
Arduino Tutorials. This is the start page for our series of over fifty Arduino tutorials. Each tutorial from chapter zero to thirteen will cover a variety of topics and lessons, then from chapter fourteen each chapter will cover a particular topic. If you are looking to learn about the world of Arduino – this is a great place for beginners to start, or for more experienced users to brush up on their knowledge.
Top 40 Arduino Projects of the Web.
---