Projects, Tutorials
I was looking for a way to handle wireless communications between two Arduino boards.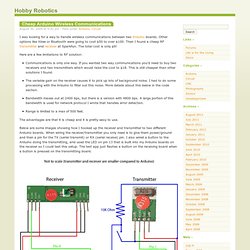 We've done a lot so far, blinking lights, printing messages...all of that stuff is output: signals coming from the Arduino. The next step is to start playing with input, with the Arduino responding to outside events.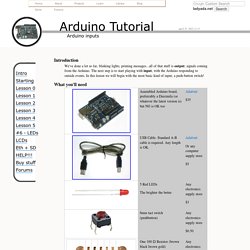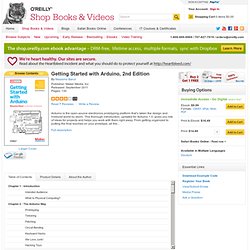 The format of this book is very different from the regular O'Reilly books. It is written by a geek for geeks. So it doesn't start with a smooth introduction about the basics.
DIY Projects, Inspiration, How-tos, Hacks, Mods & More @ Makezine.com - Tweak Technology to Your Will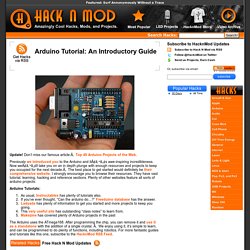 Arduino Tutorial: An Introductory Guide
Update!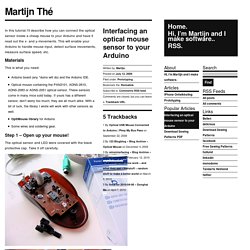 In this tutorial I'll describe how you can connect the optical sensor inside a cheap mouse to your Arduino and have it read out the x- and y-movements.
Martijn Thé – iPhone & iPad Development & Interaction Design » Interfacing an optical mouse sensor to your Arduino
Arduino-Python 4-Axis Servo Control | Principia Labs
In this tutorial, you'll learn how to control a high-current DC load such as a DC motor or an incandescent light from a microcontroller.
Tutorials / Using a transistor to control high current loads with an Arduino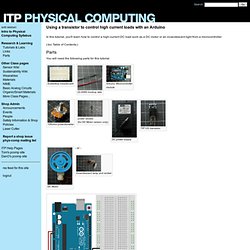 Often when working on microcontroller projects you need a background function to run at regular intervals. This is often done by setting up a hardware timer to generate an interrupt. The interrupt triggers an Interrupt Service Routine (ISR) to handle the periodic interrupt.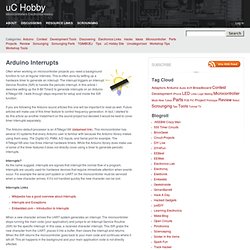 Arduino Interrupts | uC Hobby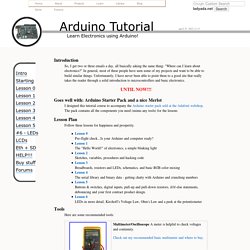 So, I get two or three emails a day, all basically asking the same thing: "Where can I learn about electronics?" In general, most of these people have seen some of my projects and want to be able to build similar things. Unfortunately, I have never been able to point them to a good site that really takes the reader through a solid introduction to microcontrollers and basic electronics.
Spooky Projects is a set of four 3-hour classes in October 2006 hosted by Machine Project and taught by Tod E. Kurt.
Overview This tutorial shows you how to build an Arduino compatible breadboard with an Atmel Atmega8/168 AVR microcontroller and FTDI FT232 breakout board from SparkFun.
Arduino Diecimila / Burning the Bootloader without AVR-Writer
Meditation strikes a special chord with me as a maker because it is said to foster creativity, intuition, imagination, and fantasy.
Make: Online | Arduino
This is the start page for our series of over fifty Arduino tutorials. Each tutorial from chapter zero to thirteen will cover a variety of topics and lessons, then from chapter fourteen each chapter will cover a particular topic. If you are looking to learn about the world of Arduino – this is a great place for beginners to start, or for more experienced users to brush up on their knowledge.