Projects, Tutorials
I was looking for a way to handle wireless communications between two Arduino boards.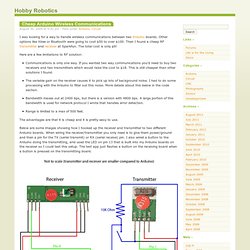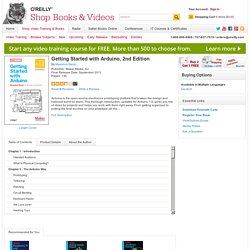 The Open Source Electronics Prototyping Platform
DIY Projects, Inspiration, How-tos, Hacks, Mods & More @ Makezine.com - Tweak Technology to Your Will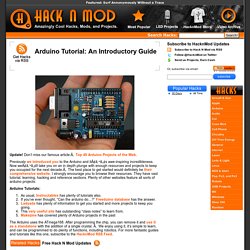 Arduino Tutorial: An Introductory Guide
Update!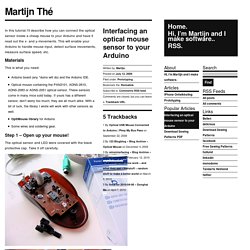 In this tutorial I'll describe how you can connect the optical sensor inside a cheap mouse to your Arduino and have it read out the x- and y-movements.
Martijn Thé – iPhone & iPad Development & Interaction Design » Interfacing an optical mouse sensor to your Arduino
Arduino-Python 4-Axis Servo Control | Principia Labs
In this tutorial, you'll learn how to control a high-current DC load such as a DC motor or an incandescent light from a microcontroller.
Tutorials / Using a transistor to control high current loads with an Arduino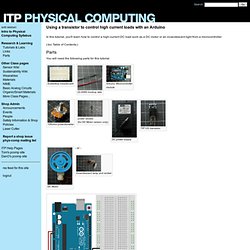 Arduino Tutorial - connecting a parallel LCD
Often when working on microcontroller projects you need a background function to run at regular intervals. This is often done by setting up a hardware timer to generate an interrupt. The interrupt triggers an Interrupt Service Routine (ISR) to handle the periodic interrupt.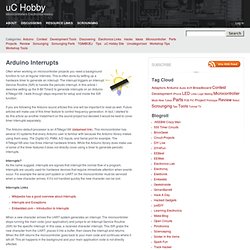 Arduino Interrupts | uC Hobby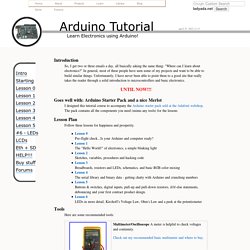 So, I get two or three emails a day, all basically asking the same thing: "Where can I learn about electronics?" In general, most of these people have seen some of my projects and want to be able to build similar things. Unfortunately, I have never been able to point them to a good site that really takes the reader through a solid introduction to microcontrollers and basic electronics.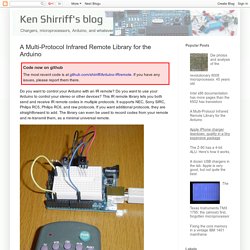 Note for Arduino 1.0
Spooky Projects is a set of four 3-hour classes in October 2006 hosted by Machine Project and taught by Tod E. Kurt.
Overview This tutorial shows you how to build an Arduino compatible breadboard with an Atmel Atmega8/168 AVR microcontroller and FTDI FT232 breakout board from SparkFun .
When we burn the bootloader of Arduino Diecimila, we connected external AVR-Writer to ICSP of Diecimila.
Arduino Diecimila / Burning the Bootloader without AVR-Writer
Complete instructions for this episode of Weekend Projects can be found at http://makeprojects.com/Project/PIR+Sensor+Arduino+Alarm/72/1
Make: Online | Arduino
This is the start page for my series of over fifty Arduino tutorials .