Cooking
Strange (But Useful) Human Tricks | Can You Believe This?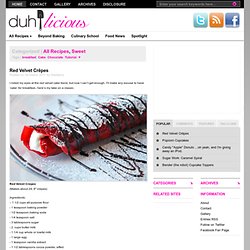 Red Velvet Crêpes
I rolled my eyes at the red velvet cake trend, but now I can't get enough.
After last weekend, I had a ton of Oreos to use up.
Triple Layer Cookies and Cream Crunch Bars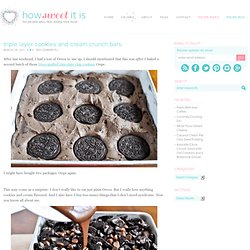 Oh how I love a treat that can be whipped up in about 15 minutes.
No-Bake Chewy Cookies and Cream Bars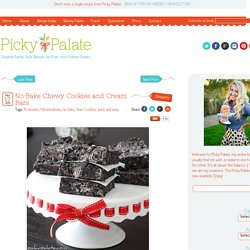 Buffalo Chicken Calzones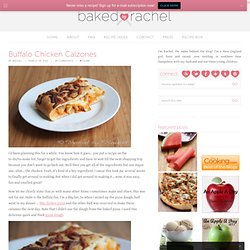 Buffalo Chicken Calzones
Pink Heart–Filled Cupcakes with Strawberry Taffy Frosting
Bake It in a Cake ? Bake a Heart in a Cake!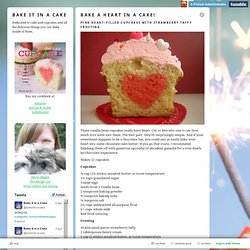 S'mores Cookies
These cookies are every bit as delicious as they look.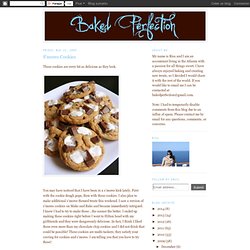 Pig Pig's Corner | Pillow Cheesecake with Salted Butter Caramel Sauce
I'm back!!! I've finally submitted my thesis - a week earlier than planned - phew...more than 3 years of hard work all wrapped up in a book.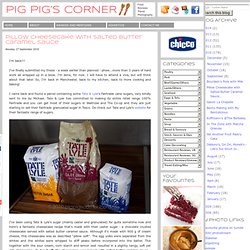 Step-by-Step: Amazing Spiced Chai Concentrate – Tasty Kitchen Blog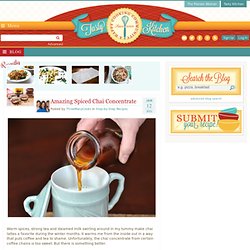 Warm spices, strong tea and steamed milk swirling around in my tummy make chai lattes a favorite during the winter months. It warms me from the inside out in a way that puts coffee and tea to shame. Unfortunately, the chai concentrate from certain coffee chains is too sweet.
Strawberry-Chocolate Ice Cream Sandwiches
Monkey Bread V Recipe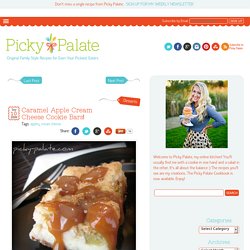 Good Thursday!
Caramel Apple Cream Cheese Cookie Bars!
Chocolate-covered cherry lambic float | Girlson.Org
Chocolate-covered cherry lambic float
Our tour of Brazil continues. After posting the moqueca recipe, several of you asked if I had a recipe for Pão de Queijo, or Brazilian cheese bread, sort of like a chewy cheese puff made with tapioca flour.
Easy Brazilian Cheese Bread (Pão de Queijo) Recipe
Individual Blueberry Grunts
Yeah, I'd never heard of a blueberry grunt, either. Until I became friends with Sandy.
This week, Ree's in Orlando, ditching the boots for a pair of flip flops.
A Tasty Recipe: My Granny's Chocolate Cobbler – Tasty Kitchen Blog
Chocolate Chip Cookie Dough + Cupcake = The BEST Cupcake. Ever. Recipe
I was in the mood for something cold and lip-smackingly sweet.
Cheesecake Bars
Everywhere I look food bloggers are preparing celebratory dishes for St. Patrick's day in the same way, with Guinness!
Guinness Chocolate Pudding or "Chocolate Guinness Goodness"
Summer Recipe: No-Bake Strawberry Icebox Cake | Apartment Therapy The Kitchn
Sorry Kelloggs, these Pop-Tarts will make you crumble! « Bake Me More
Anadama Cinnamon Rolls – dlyn
Butterbeer recipe | Chica and Jo
Cherry Coke Cupcakes-Yum! | Taste of Home Community
Grown Up S'mores
Million $$$ Brownies «
Recipe for Fudgy Brownie Cookies at Life
Killer Peanut Butter Mousse Brownie Pie « What We're Eating – A Food & Recipe Blog
How to Microwave Gourmet Popcorn in a Brown Paper Bag
Zebra Cheesecake recipe @Not Quite Nigella
Salad Dressing Recipes
Pie Pops
Mexican Food Recipes
Nectarine and Strawberry Pops - 60 Ice Cream Treats - 60 Days of Summer - MarthaStewart.com
50 Mashed Potatoes : Recipes and Cooking
Cinnamon Doughnut Muffins
Rainbow Jello Recipe
My Favorite Cake. Period.
mingmakescupcakes.yolasite
something-new
simply delicious home-cooked meals, etc.. ]
chocolate peanut butter cake
Buns In My Oven — Buns: The Yeasty Kind. Not The Baby Kind.
Cook'n Newsletter
Create Old-Fashioned Cotton Candy Right in Your Kitchen
Easy Pumpkin Cheesecake Muffins
5 Minute Chocolate Mug Cake
Soft Pretzels (Jumbo)
a tiny gingerbread house that perches on the edge of your mug