Cooking
Strange (But Useful) Human Tricks | Can You Believe This? Red Velvet Crêpes. I rolled my eyes at the red velvet cake trend, but now I can't get enough.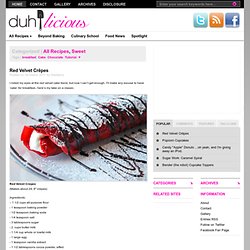 I'll make any excuse to have 'cake' for breakfast– here's my take on a classic. Red Velvet Crepes (Makes about 24, 8″ crepes) Ingredients: – 1 1/2 cups all-purpose flour - 1 teaspoon baking powder - 1/2 teaspoon baking soda - 1/4 teaspoon salt - 3 tablespoons sugar - 2 cups butter milk - 1 1/4 cup whole or lowfat milk - 1 large egg - 1 teaspoon vanilla extract - 1 1/2 tablespoons cocoa powder, sifted - 1 tablespoon red food color gel - 2 tablespoons unsalted butter, melted + 2 tablespoons cooking oil (for pan) *Update: Because the buttermilk lends to the acidity of this batter, do not substitute the baking soda for extra baking powder.
Triple Layer Cookies and Cream Crunch Bars. After last weekend, I had a ton of Oreos to use up.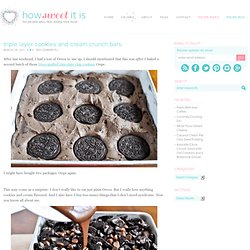 I should mentioned that this was after I baked a second batch of those Oreo-stuffed chocolate chip cookies. Oops. I might have bought two packages. No-Bake Chewy Cookies and Cream Bars. Oh how I love a treat that can be whipped up in about 15 minutes.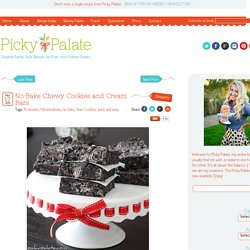 My boys and their buddies couldn't get enough of these Chewy Oreo Bars we had as an after school snack this week. Sometimes my spontaneous recipe creations turn out to be the most fun, lol! Yes you use an entire package of Oreo Cookies, but what you get in return is a marshmallow-y Oreo treat that is worth every bite Surprise the kids (and yourself) with this one, they'll be all smiles, Enjoy! Buffalo Chicken Calzones. Buffalo Chicken Calzones I'd been planning this for a while.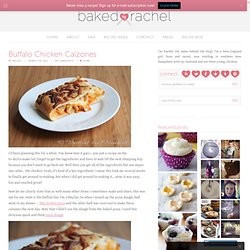 You know how it goes… you put a recipe on the to-do/to-make list, forget to get the ingredients and have to wait till the next shopping trip because you don't want to go back out. Well then you get all of the ingredients but one major one, uhm… the chicken. Yeah, it's kind of a key ingredient. Bake It in a Cake ? Bake a Heart in a Cake! Pink Heart–Filled Cupcakes with Strawberry Taffy Frosting These vanilla bean cupcakes really have heart.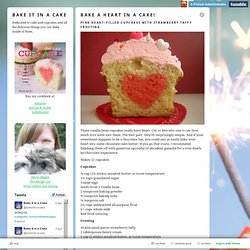 Cut or bite into one to see how much love went into them. The best part: they're surprisingly simple. S'mores Cookies. These cookies are every bit as delicious as they look.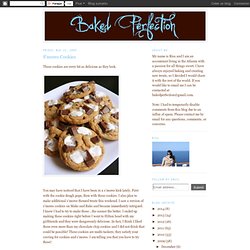 You may have noticed that I have been in a s'mores kick lately. First with the cookie dough pops, then with these cookies. I also plan to make additional s'mores themed treats this weekend. Pillow Cheesecake with Salted Butter Caramel Sauce. I'm back!!!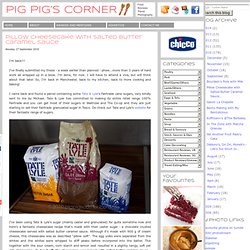 I've finally submitted my thesis - a week earlier than planned - phew...more than 3 years of hard work all wrapped up in a book. I'm done, for now. I will have to attend a viva, but will think about that later. So, I'm back in Manchester, back to my kitchen, back to more cooking and baking! I came back and found a parcel containing some Tate & Lyle's Fairtrade cane sugars, very kindly sent to me by Michael. Step-by-Step: Amazing Spiced Chai Concentrate – Tasty Kitchen Blog. Warm spices, strong tea and steamed milk swirling around in my tummy make chai lattes a favorite during the winter months.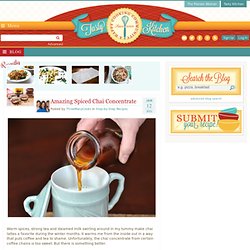 It warms me from the inside out in a way that puts coffee and tea to shame. Unfortunately, the chai concentrate from certain coffee chains is too sweet. Strawberry-Chocolate Ice Cream Sandwiches. Monkey Bread V Recipe. Caramel Apple Cream Cheese Cookie Bars! Good Thursday!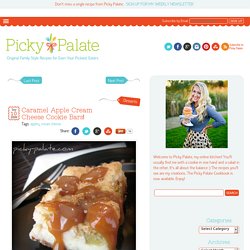 Phew what a week, school started Tuesday for the boys and we are all still trying to get used to the new schedules. The earlier bedtime has been the trickiest. I have to admit, it's been 7 years since I've had 4 hours to myself in the mornings. I hardly know what to do with myself, ok that was a joke. Chocolate-covered cherry lambic float | Girlson.Org. Chocolate-covered cherry lambic float Posted on 09 August 2010 by Melanie Kramer You may have heard the term "food porn"?
For this concoction we need a new term. Maybe "food/beer porn"? Easy Brazilian Cheese Bread (Pão de Queijo) Recipe. Our tour of Brazil continues. After posting the moqueca recipe, several of you asked if I had a recipe for Pão de Queijo, or Brazilian cheese bread, sort of like a chewy cheese puff made with tapioca flour. As a matter of fact, I do. My friend Bill gave me this recipe years ago, a favorite from his Brazilian wife Silvia. I've made it several times, each time with different cheeses. Talk about addictive! Individual Blueberry Grunts. Yeah, I'd never heard of a blueberry grunt, either. Until I became friends with Sandy. Every since we became friends, I couldn't use the word "blueberry" without her saying "Mmmm, blueberry grunt…" eyes half-closed and smiling.
I knew it was one of her favorite desserts, but I couldn't bring myself to make something called a grunt. Until, that is, I had four cups freshly picked blueberries. A grunt is in the cobbler family, and it's a traditional East Coast maritime dessert. A Tasty Recipe: My Granny's Chocolate Cobbler – Tasty Kitchen Blog. This week, Ree's in Orlando, ditching the boots for a pair of flip flops. Right now, she's either lost in Wally World, hiding in the bathroom, or clutching the bars of some insane ride and crying for her mommy. So we have another special guest filling in for this week's Tasty Recipe post! Today, missamy takes over with a decadent chocolate dessert that looks almost too good to be true.
If you remember Amy from her feature some months back, then you know you're in for a wild and delicious ride. Chocolate Chip Cookie Dough + Cupcake = The BEST Cupcake. Ever. Recipe. Cheesecake Bars. I was in the mood for something cold and lip-smackingly sweet. Something I could sink my teeth into. Something to maintain my weight. So I made this treat with a few of my favorite things. Guinness Chocolate Pudding or "Chocolate Guinness Goodness" Everywhere I look food bloggers are preparing celebratory dishes for St. Patrick's day in the same way, with Guinness! While I claim to love everything, (it's a growing problem) I have to say that extra dark stout beers are not high on the list. The last dark beer I tried was on the aforementioned (previous post) Scotland trip, and I didn't even drink half of what was given to me.
It was good, but so filling! Afterward, I felt like I had eaten a large, yeasty piece of bread. Summer Recipe: No-Bake Strawberry Icebox Cake | Apartment Therapy The Kitchn. Sorry Kelloggs, these Pop-Tarts will make you crumble! « Bake Me More. Anadama Cinnamon Rolls – dlyn. Butterbeer recipe | Chica and Jo. Cherry Coke Cupcakes-Yum! Grown Up S'mores. Million $$$ Brownies « Recipe for Fudgy Brownie Cookies at Life. Killer Peanut Butter Mousse Brownie Pie.
How to Microwave Gourmet Popcorn in a Brown Paper Bag. Zebra Cheesecake recipe @Not Quite Nigella. Salad Dressing Recipes. Pie Pops. Mexican Food Recipes. Nectarine and Strawberry Pops - 60 Ice Cream Treats - 60 Days of Summer - MarthaStewart.com. 50 Mashed Potatoes : Recipes and Cooking. Cinnamon Doughnut Muffins. Rainbow Jello Recipe. My Favorite Cake. Period. Mingmakescupcakes.yolasite. Something-new. Simply delicious home-cooked meals, etc.. ] Chocolate peanut butter cake. Buns In My Oven — Buns: The Yeasty Kind. Not The Baby Kind. Cook'n Newsletter. Create Old-Fashioned Cotton Candy Right in Your Kitchen. Easy Pumpkin Cheesecake Muffins. 5 Minute Chocolate Mug Cake. Soft Pretzels (Jumbo) A tiny gingerbread house that perches on the edge of your mug.
---