Text Editor
10 jQuery and non-jQuery javascript Rich Text Editors
Introduction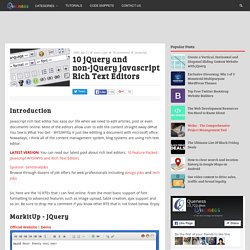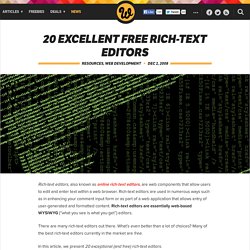 Rich-text editors, also known as online rich-text editors, are web components that allow users to edit and enter text within a web browser. Rich-text editors are used in numerous ways such as in enhancing your comment input form or as part of a web application that allows entry of user-generated and formatted content.
20 Excellent Free Rich-Text Editors
Mylyn/WikiText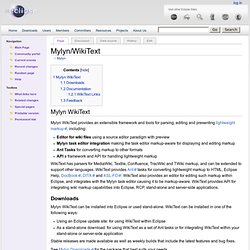 Mylyn WikiText Mylyn WikiText provides an extensible framework and tools for parsing, editing and presenting lightweight markup, including: Editor for wiki files using a source editor paradigm with preview Mylyn task editor integration making the task editor markup-aware for displaying and editing markup Ant Tasks for converting markup to other formats API a framework and API for handling lightweight markup
Primary Links Vex - A Visual Editor for XML Vex is a Visual Editor for XML that hides the raw XML tags from the user, providing instead a word processor like interface.
Vex - A Visual Editor for XML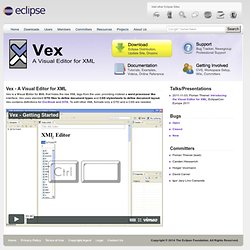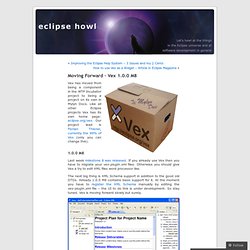 Vex has moved from being a component in the WTP Incubator project to being a project on its own in Mylyn Docs. Like all other Eclipse projects Vex has its own home page: eclipse.org/vex. Our project lead is Florian Thienel, currently the 99% of Vex (only you can change this). Last week milestone 8 was released.
Moving Forward – Vex 1.0.0 M8 « eclipse howl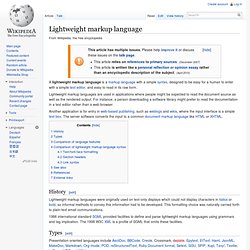 Lightweight markup languages are used in applications where people might be expected to read the document source as well as the rendered output. For instance, a person downloading a software library might prefer to read the documentation in a text editor rather than a web browser. Another application is for entry in web-based publishing, such as weblogs and wikis, where the input interface is a simple text box.
Lightweight markup language
Markdown is a plain text formatting syntax [4] designed so that it can optionally be converted to HTML using a tool by the same name.
Markdown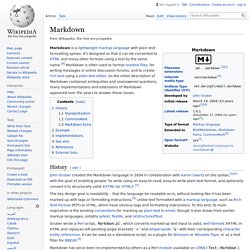 Bug 329528 – Support Markdown in WikiText
Macchiato : encore un éditeur Markdown pour Mac
Espresso, Chocolat et maintenant Macchiato : les développeurs d'éditeurs de texte / code sont visiblement inspirés quand vient le moment de nommer leur application. Macchiato [1.1 - 1,3 Mo - 15,99 €] n'est cependant un concurrent ni d'Espresso ni de Chocolat : il vient plutôt ferrailler dans un marché en plein développement sur Mac, celui des éditeurs en texte brut minimalistes compatibles Markdown — comme Byword ou iA Writer. Sorti il y a quelques jours, Macchiato se rapproche de Byword par son interface dépouillée, et sa mise en valeur subtile du Markdown.
textish - A lightweight markup language library for Java.
RestEditor-Plugin