Videos/Media
Art video of the month - LIGHT SCULPTURES. Zdzislaw Beksinski - Official website presented by Belvedere Gallery. Movie Guide | Anime Movie Guide. Movie Count: 63 Do you have feedback, questions, movie suggestions or review copy offers?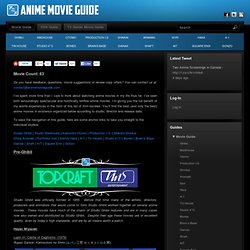 You can contact us at contact@animemovieguide.com *protected email* I've spent more time than I care to think about watching anime movies in my life thus far. I've seen both astoundingly spectacular and horrifically terrible anime movies. PINA - Dance, dance, otherwise we are lost - International Trailer on Vimeo. One year in 40 seconds. Forked from: [Stardust] KiraKira Waypoints. 3D Interactive View - Fremont River - Capitol Reef National Park.
HELVETICTOC. Lines go all over the place. SUPAKITCH &KORALIE - ARTE, PINTURA DE UN MURAL , Song is by D.L.I.D.... Tall Painting.
---